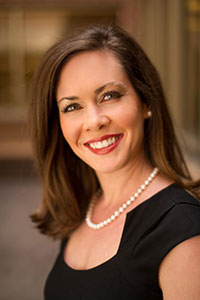 LOUISVILLE, Ky. — Childhood cancer research, prevention and treatment advocate Jamie Ennis Bloyd of Lexington has been named a Healthy Kentucky Policy Champion by the Foundation for a Healthy Kentucky.
Bloyd is president of both the Kentucky Pediatric Cancer Research Trust Fund and the Kentucky Pediatric Cancer Foundation, as well as national director of government relations and external affairs for the American Childhood Cancer Organization.
She's also the mother of three including a son who has survived stage 4 Burkitt's Lymphoma. She works at both the state and national levels to advance research and policies to improve diagnosis, research, treatment, psychosocial standards of supportive care and survivorship for children and adolescents with cancer.
"Jamie's efforts have led to improvements in the Kentucky Cancer Action Plan, wide dissemination of information about childhood cancer in Kentucky, funding for childhood cancer research to address Kentucky's high burden and also to federal funding for pediatric and adult cancer research," said Eric Durbin, director of the Kentucky Cancer Registry.
The Kentucky Cancer Action Plan is now a model for other states as Bloyd speaks across the country about the importance of including childhood cancer in state cancer action plans. She's also leading the effort to create a national grant program to support states that do not currently have childhood cancer in their state cancer action plans.
Also at the national and even multinational levels, Bloyd helped secure $30 million in first-year funding to implement a comprehensive childhood cancer bill (the Childhood Cancer STAR Act) passed by Congress in 2018. In addition, she secured a partnership with Amazon to launch a multinational childhood cancer awareness campaign, and has helped lead events in more than 30 locations and pediatric oncology programs around the country. She also helped organize childhood cancer awareness days in multiple state capitols and led national grassroots efforts to stop Affordable Care Act changes that would have reduced or eliminated benefits for children diagnosed with pre-existing conditions such as cancer.
In Kentucky, Bloyd worked with the legislature to create the trust fund she now leads as an umbrella organization to organize all pediatric cancer work across the state. She was elected president by her peers, members of a coalition she helped build of parent advocates, children in treatment, and survivors to help close the gap between adult and childhood cancer research funding.
Dr. Jason Chesney, director of the James Graham Brown Cancer Center, said that Bloyd's leadership directly led Kentucky to become the first state to allocate a specific budget line item to childhood cancer research.
"In 2018, her advocacy led to $5 million in funding for first-time pediatric cancer research at the state's two children's oncology group hospitals," Chesney and Dr. Ashok Raj wrote in a letter endorsing the award.
Bloyd is now eligible for the Healthy Kentucky Policy Champion of the Year award, which comes with a $5,000 grant from the Foundation to a Kentucky-based nonprofit of the winner's choice. The winner of that award will be announced Sept. 23 at the Foundation's Howard L. Bost Memorial Health Policy Forum in Lexington. Nominations for the Healthy Kentucky Policy Champion Award are accepted at any time. See details on the Foundation's website.