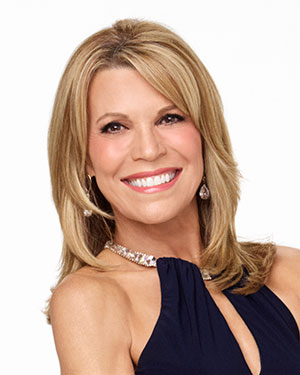 LOUISVILLE, Ky. — TV icon Vanna White of "Wheel of Fortune" fame will be greeting fans in Louisville at the KFC YUM! Center. White will be signing autographs, posing for photos, participating in a Q&A session and watching that night's episode of "Wheel of Fortune" with the crowd.
White is coming to help launch the new Kentucky Lottery "Wheel of Fortune" Scratch-off ticket.
"Kentucky's Largest Wheel Watch Party" will be 4-8 p.m. Sept. 24 at the YUM! Center. It will kick off with an autograph signing starting a few minutes after 4 p.m. Admission is with a non-winning "Wheel of Fortune" Scratch-off ticket or a mobile device which shows the game has been played online. Anyone under the age of 18 will be admitted without any purchase necessary.
White was one of 200 women selected to audition for "Wheel of Fortune" in 1982, selected by show creator Merv Griffin because he liked her chemistry with host Pat Sajak. In 1992, she was recognized in the Guinness Book of World Records as "Television's Most Frequent Clapper". Averaging 720 claps per episode, she puts her hands together more than 28,800 times per season.
"We're excited to welcome one of the most recognizable TV personalities in America to Kentucky," said Kentucky Lottery President and CEO Tom Delacenserie. "The fan response to Vanna is always fantastic, she's very personable and friendly, and we look forward to our players getting to spend some time with her."