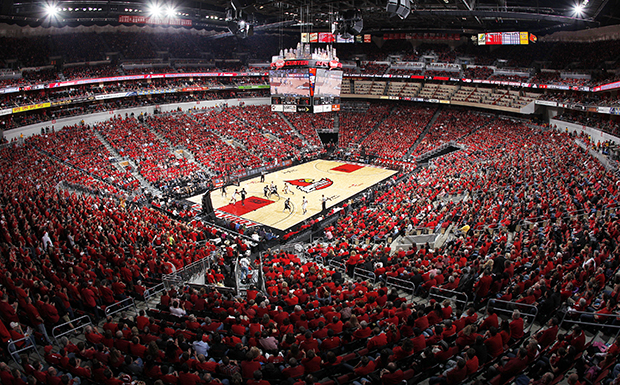 LOUISVILLE, Ky. — The KFC Yum! Center had a record-breaking 2018/19 fiscal year for concerts it reported during the Louisville Arena Authority's bi-monthly board meeting on Monday, September 9, 2019. Metallica was the venue's top selling concert of all time, with 23,084 tickets sold for their March 2019 concert.
The AEG Facilities managed venue hosted an all-time record 29 concerts including Tool, Elton John, Bob Seger, Maroon 5, Shania Twain and Travis Scott. The previous record was set during the 2016/17 fiscal year when 28 concerts were hosted at the KFC Yum! Center.
The record-breaking year included 9 sold-out concerts/family shows. Of these sold out events, Elton John, Bob Seger, Metallica and Hot Wheels Monster Trucks all hosted the largest selling performances of their North American tours at the KFC Yum! Center.
"The KFC Yum! Center continues to attract the world's top-selling artists and garner tremendous community support," KFC Yum! Center General Manager Eric Granger said. "We would not be in this position without the continued support from our promoters, the regional community and the Louisville Arena Authority. We're so grateful that the community embraces our successes and continues to demonstrate its support of great entertainment, and we look forward finishing 2019 with several huge events."
Just under one million visitors packed the KFC Yum! Center for ticketed events during the 2018/19 fiscal year, including University of Louisville Men's and Women's basketball games, which resulted in significant visitor spending in the surrounding district. As a result of the record number of concerts, special events and the NCAA Men's Basketball Regional, the arena saw an unprecedented net operating profit.
The KFC Yum! Center will finish 2019 with a strong slate of shows, including Backstreet Boys, Celine Dion, Phil Collins, Carrie Underwood, Luke Combs, among many others. Recent announcements include Brantley Gilbert and Mike Epps New Year's Eve Comedy Fest, which are set to go on sale this week.
For tickets or more information on upcoming events, visit kfcyumcenter.com.