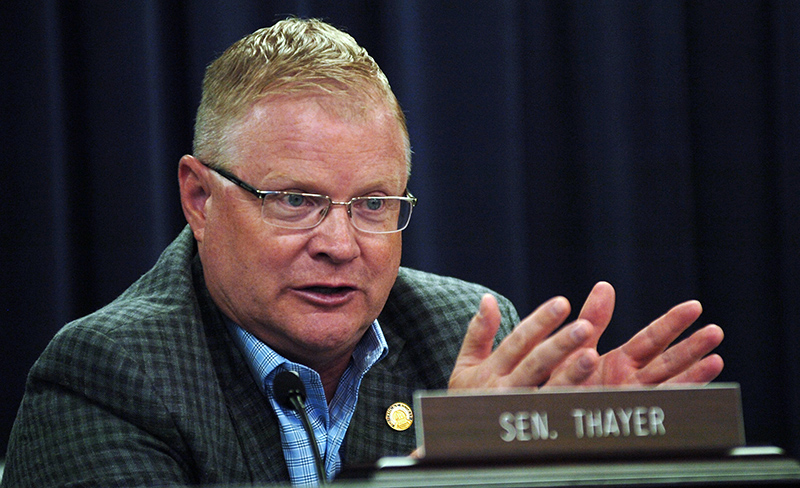 FRANKFORT, Ky. — Market changes were at play when Kentucky lost 66% of its dairy farmers between 2005 and 2018 at the same time the state's milk production increased by 43%, dairy industry experts say.
Today, one of those experts said market changes will likely be what helps to revive the state's dairy industry.
Kentucky Dairy Development Council Executive Director and lifelong dairy farmer H.H. Barlow told the Industry Joint Committee on Agriculture that a sluggish milk supply nationally combined with growth in out-of-state dairy processing could mean new in-state opportunities for Kentucky dairies.
A massive new cheese plant coming online in Michigan next year will take much of the out-of-state milk that's been coming into Kentucky, Barlow predicts, giving Kentucky dairies a better chance to sell and process their milk at home.
"I think there's going to be a real opportunity for the milk market in Kentucky to open up for Kentucky products," said Barlow. "I think we can honestly say that you'll be buying local milk as we go down the road, and that's very important."
Kentucky dairy farmers will also have opportunities to focus on developing more value-added products, including cheese, cheese powders (used in snack foods and other products), protein drinks, and other products, said Barlow. Cheese, he said, is today's dairy "star" while bottled, or "fluid," milk only accounts for 40% of today's dairy consumption.
Development of products that combine milk and bourbon was also suggested by Barlow, with   Senate Majority Floor Leader Damon Thayer, R-Georgetown, responding that bourbon cream—a liqueur consisting mostly of cream and Kentucky bourbon—is now marketed by a handful of Kentucky companies. Barlow said he doesn't know where the companies source their cream but he would like to find out.
Thayer said he believes there is growth potential for the bourbon cream product.
"There are only a couple of bourbon makers out there that have the (product), and it would seem to me that there is tremendous room in that market," he said. "And it would also seem to make sense that they would want to source it locally near where the bourbon is distilled. Obviously that would cut down on transportation costs."
Regarding dairy pricing, Rep. Wilson Stone, D-Scottsville, asked Barlow if there is a way to ensure that farmers selling milk for cheese received a "cheese price" instead of being paid according to fluid milk pricing. Barlow said the issue is "extremely complicated."
Barlow said the southern U.S. has historically and largely been under federal order for pricing for fluid milk processing while the rest of the nation has been under federal order pricing for "product" processing, or pricing for the proteins used to make cheese and other dairy-based products.
"We are interested in federal order hearings to try and change that pricing system to bring back more value to the protein side," Barlow said. "We're trying to address it."
Senate President Pro Tem David P. Givens, R-Greensburg, a farmer and farm supplier who represents Barlow in the Kentucky Senate, said one challenge facing KDDC and other agriculture groups is a growing disconnect between consumers and the farm.
"When we get to the space where we have a whole generation of separation from the farm … we're moving toward where agriculture is not known; it's simply not a reality in the minds of a lot of folks once we get to that place," said Givens. He asked Barlow what he sees as KDDC's role, if any, in bridging that type of separation.
Barlow said educating the public about farming and agriculture is a challenge that KDDC and other like-minded groups must accept.
"We've got to be more noisy," he said. "We've got to tell our story."