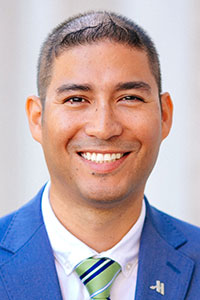 LEXINGTON, Ky. — The Lexington Marriott City Center Hotels has named Edson Vizcarra banquet and event operations manager at the Lexington Marriott City Center.
"Edson joins our city center team with extensive knowledge of food and beverage," said Ricky Carpentieri, director of food and beverage. "His strong commitment to family and 'his rolling up the sleeves' work philosophy is the perfect balance to ensure that the events held at city center will be flawless."
Vizcarra was born in Chiclayo, a small town in northern Peru, and lived in Lima until he moved to Middlesex, N.J. at the age of 8. He began his hospitality career at 16 working as a banquet houseman, worked full time through school and moved up the ranks with companies that included Marriott, Starwood and Hyatt.
Vizcarra has held leadership roles in the hotel industry for over 19 years in New Jersey, Miami, Orlando and most recently in Jekyll Island, Ga. as a director of food and beverage. During these years he has been part of two other hotel openings and has gained recognition for increasing guest satisfaction scores and building successful teams.
"My family and I are extremely happy to be in Lexington. This city has been on our radar for a few years now and we are here to stay!" said Vizcarra. "It is very motivating and exciting to be part of the Lexington Marriott City Center and this very important opening project."
Vizcarra and his wife Heather have 2 children, Gamila and Mateo.