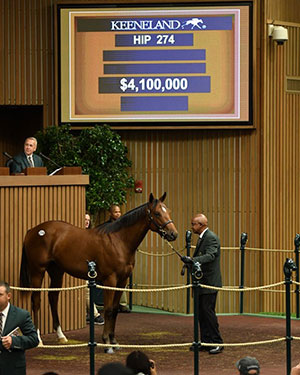 LEXINGTON, Ky. — Sheikh Mohammed Bin Rashid Al Maktoum's Godolphin continued its dominance of the Keeneland September Yearling Sale during Tuesday's second session by purchasing the day's two highest-priced yearlings, headlined by the $4.1 million Curlin colt out of New Zealand champion sprinter Bounding (AUS), who is the most expensive September Sale yearling since 2010. Godolphin also took home a War Front colt out of Kentucky Oaks (G1) winner Believe You Can for $2.9 million.
Through the first two sessions of the September Sale, Godolphin has acquired six yearlings for $13,250,000, among them the four highest-priced yearlings so far in the sale. They include Monday's session-topper, a $2.5 million Tapit colt who is a half-brother to champion and Kentucky Derby (G1) winner Nyquist and a Medaglia d'Oro colt out of Grade 1 winner Tara's Tango for $2.15 million.
Bloodstock agent Anthony Stroud, who signed the tickets for Godolphin's purchases, explained Sheikh Mohammed's strong participation in the September Sale.
"The love of horse racing and the hope of finding a champion," Stroud said. "He loves this sport, he loves coming to America and he loves Keeneland – all those things. That's why he's doing what he's doing."
Godolphin outbid Irish-based Coolmore to acquire the top seller, the most expensive yearling sold at public auction anywhere in the world in 2019.
"It makes me feel better, because they're so talented at what they do," Stroud said about Coolmore. "I think it's a huge compliment that they liked the horse because they're a great group of people and they buy wonderful horses."
On Tuesday, five yearlings brought $1 million and more to increase the total number of seven-figure horses sold during the first two sessions to 12.
"What an incredible day," Keeneland Vice President of Racing and Sales Bob Elliston said. "Today the average horse sold for $451,000 and the median jumped $50,000 more from yesterday – that's just staggering. It wasn't just the $4.1 million colt or the $2.9 million colt. There was depth to the market; the increase in the median shows you it wasn't two horses that caused those numbers to jump. There was incredible trade throughout the course of the day, a lot of people struggling to get horses bought. People whose names we see every day on the summaries. I talked to one who is a consistently top five buyer – he's bought two so far and has been the underbidder on about 10.
"I'm hoping they don't get frustrated; I know they're going to find quality. It continues tomorrow in our third session of Book 1 and beyond through Books 2 and 3. I fully expect these people are going to fill their orders, and that's exciting for us."
The session-topping $4.1 million Curlin colt is the first foal out of 2014 champion New Zealand sprinter Bounding, by Lonhro (AUS). He is the September Sale's most expensive horse since Besilu Stables went to $4.2 million to acquire Mr. Besilu in 2010.