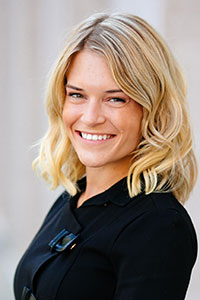 LEXINGTON, Ky. — Kelsey Hooker has been named sales manager at the Lexington Marriott City Center and Residence Inn Lexington City Center.
"Kelsey brings to us her excitement and amazing expertise of taking care of guests," said Courtney Jones, director of sales and marketing. "She has vast experience in different areas of the hospitality industry and will be a great attribute to our team."
Hooker grew up moving throughout the West and Midwest – primarily in Denver, Colo. Her career in hospitality began with her first job selling hot dogs in a truck outside a neighborhood grocery store when she was 13.
After attending college at the University of Kansas, she joined the dynamic world of hotel sales with Marriott International in Boston and worked at several properties in New York City in the following years. She has worked on sales teams for several different destination management companies in the last decade.
---
IT'S FREE | Sign up for The Lane Report email business newsletter. Receive breaking Kentucky business news and updates daily. Click here to sign up
---
Having recently relocated to Lexington, with her fiancé, she has decided that joining this opening team for Lexington Marriott City Center & Residence Inn Lexington City Center would be the perfect place to make an impact on first-rate guest experiences in her new home.
"I'm truly so energized by the prospect of creating something new and exciting in the heart of this charming city," said Hooker. "I just know this project will result in top-notch experiences for our guests and hotel staff and I feel confident that we can make a positive impact on elevating the world of travel, tourism and hospitality in Lexington."
When not at the office, Hooker enjoys spending time with her fiancé Andrew and their dachshund Hermione.