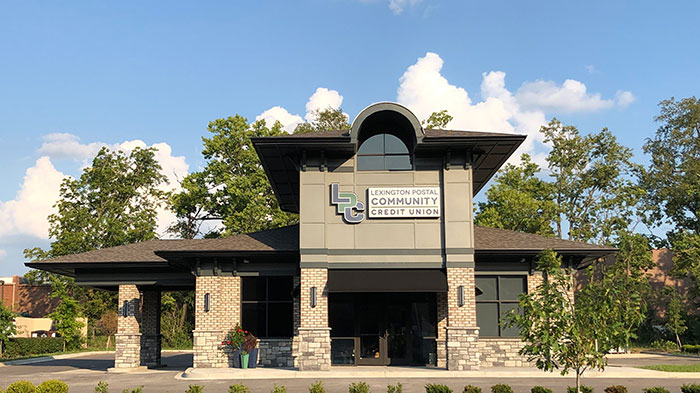 LEXINGTON, Ky. — The public is invited to the grand opening of Lexington Postal Community Credit Union's new main office in Townley Center off Leestown Road at New Circle Road Sept. 26.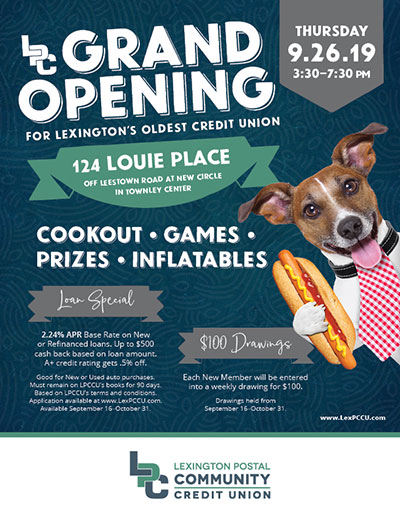 This new building serves current members and expands accessibility to all residents of Fayette and surrounding counties. The location behind the main post office at 1088 Nandino Boulevard will continue as a branch office.
The event will take place at 124 Louie Place off Leestown Road from 3:30–7:30 p.m. Guests will be treated to grilled hamburgers and hot dogs, a rock climbing wall, bounce house, obstacle course, photo booth, carnival games, door prizes and loan specials.
"With this expansion, we hope to grow our family by being visible to the community," said Phil Lykins, chairman of the board. "We are excited to provide drive-up service, Saturday hours, and a 24-hour ATM."
Established in February 1928, LPCCU is the oldest credit union in Lexington. Because credit unions are smaller and have a member-focused philosophy, you get fast and personal one-on-one service. 
Credit unions are not-for-profit organizations that exist to serve and operate for their members. They offer reduced service fees, higher savings rates, and lower loan rates. LPCCU's auto loan rates are typically lower than competitors.
LPCCU is celebrating the new building with a 2.24% APR base rate loan special on new, used or refinanced loans from another financial institution. An A+ credit rating gets .5% off base rate. In addition, they are offering up to $500 cash back based on loan amount.
Loans must remain on LPCCU's books for 90 days, and are available Sept. 16–Oct. 31. Apply online at www.LexPCCU.com.