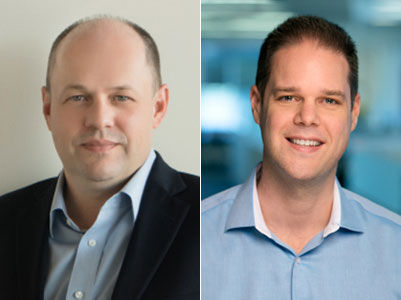 LOUISVILLE, Ky. (BUSINESS WIRE) — Yum! Brands Inc. announced Wednesday that it has hired Clay Johnson as chief digital and technology officer, and promoted Gavin Felder to chief strategy officer. These newly created leadership positions will partner with the global brand divisions to elevate the customer experience and accelerate global growth.
Johnson, 49, will join the Yum! Brands Global Leadership Team and oversee global technology strategy, partnering with the KFC, Pizza Hut and Taco Bell divisions to ensure the company provides a best-in-class digital journey across mobile, online, delivery and restaurant operations.
He will lead a coordinated, cross-brand effort to accelerate digital commerce strategy, use of data and advanced analytics and emerging technologies to enhance the customer and employee experience. As the chair of the Global Technology Leadership Team, Johnson will work closely with each global brand division technology chief who reports to his or her respective executive leader.
In addition, Yum! Brands' global technology risk management and IT shared services teams will report to Johnson.
Previously, Johnson served as executive vice president and enterprise chief information officer for Walmart, and brings more than 20 years of technology leadership across FORTUNE 50 companies and industries, successfully driving digital transformation initiatives into all aspects of business. His appointment is effective Oct. 15, 2019.
As chief strategy officer, Felder, 40, will be responsible for developing Yum! Brands' long-term corporate strategies and partnering with the global brand divisions to implement initiatives to unlock new sources of growth and disruptive innovation.
Felder will work closely with Johnson to integrate technology-centric solutions across store operations, including the restaurant automation strategy, to elevate the customer and team member experience. Felder has served as KFC Division chief financial officer for the last five years, overseeing strategy, digital and technology, financial planning, supply chain and IT security for the KFC business spanning over 23,000 restaurants across 135 countries.
He will retain his current KFC Division chief financial officer role, title and responsibilities through the end of 2019 while the company conducts a search for a successor. His appointment is effective Dec. 1, 2019.
"We believe Clay Johnson and Gavin Felder are the ideal executives to accelerate Yum! Brands' growth through technology-centric strategies that advance the customer experience and ultimately deliver better economics and more value for our franchisees and shareholders," said David Gibbs, Yum! Brands president and COO and the company's incoming CEO, effective Jan. 1, 2020. "Clay's insights into developing connected digital commerce capabilities and integrated enterprise solutions will be invaluable as we strengthen our business model with technology at the forefront. Gavin is a successful digital leader and proven growth strategist at KFC, our largest and most profitable global brand division. I look forward to Gavin, Clay and their teams collaborating to ensure our technology efforts support and are aligned with the technological innovation happening in our restaurants."
Johnson and Felder will report to Yum! Brands Chief Financial Officer Chris Turner.
"Clay has the deep knowledge and skills needed to oversee a cross-brand effort to fast-track our digital commerce capabilities, unlock value from data and advanced analytics and integrate cost-effective technology solutions to enhance restaurant operations and the customer experience. And Gavin's outstanding strategic capabilities and global experience make him the perfect leader to help set our long-term strategies and drive collaboration across our brands to unlock innovation in our business model and operations," said Turner. "This is an exciting time at Yum! because we have an incredible opportunity to leverage our massive scale and expand our digital and technology competencies in order to drive global same-store sales and net-new unit growth and improve franchise unit economics."
Johnson most recently served as chief information officer and head of Global Business Services for Walmart, where he was responsible for leading enterprise information technology strategy, services, operations and cyber security. Under his leadership, Johnson played a key role in leading Walmart's digital transformation and leveraging technology to increase speed, value and provide a better customer experience. He built innovation hubs in Dallas and Austin, Texas, to focus on emerging technologies, such as artificial intelligence, machine vision, machine learning, blockchain, big data and the "internet of things."
With an emphasis on the customer journey, he moved Walmart's technology organization to a product model with an agile way of working. He is well recognized in the industry for his ability to drive new innovation and was recently named CIO of the Year and one of the Most Influential CIOs in the industry.
Prior to Walmart, Johnson served as CIO at General Electric Power where he had end-to-end responsibility for information technology, cyber security, data and digital transformation. Johnson previously held leadership roles at The Boeing Company and Dell. He started his career at FedEx as a software engineer. Johnson served five years in the U.S. Coast Guard, where he held numerous leadership positions. He holds an MBA and a bachelor's degree in computer science engineering from the University of Texas.
"Technology is an enabler to unlock value for the business and the end customer," said Johnson. "I'm thrilled to join Yum! Brands and look forward to collaborating with the KFC, Pizza Hut and Taco Bell teams on leveraging omnichannel strategies, advanced analytics and emerging technologies to benefit customers, employees and franchisees."
Felder's leadership has been a strong asset to the KFC Division, which delivered three consecutive years of positive same-store sales growth and increased KFC's global restaurant footprint by more than 2,500 net-new units as of year-end 2018. Partnering with franchisees, a key part of the KFC Division's growth strategy has been to make it easier and more rewarding to access the brand through digital and restaurant technology innovation around the world.
"Yum! Brands has a unique opportunity to leverage our global scale and build capabilities that transform both the customer and team member experience," said Felder. "There is so much growth ahead of us at Yum! and I couldn't be more excited to partner with our brand teams and franchisees to find new, innovative ways to unlock this."