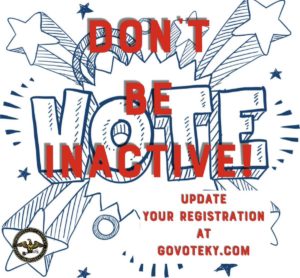 FRANKFORT, Ky. — Secretary of State Alison Lundergan Grimes announced Wednesday that more than 1.2 million Kentuckians visited GoVoteKY.com, the Commonwealth's first-ever online voter registration system.
Of those visitors, over 200,000 have updated their registration with 79,448 registering to vote for the first time.
"Yesterday, on National Voter Registration Day, over 5,000 Kentuckians updated their registration or registered to vote for the first time," said Grimes, Kentucky's chief election official. "This November our constitutional officers are on the ballot and my hope is that voters show up at the polls on Election Day."
On the heels of approximately 175,000 Kentucky voters' records being designated as "inactive" by the State Board of Elections, Grimes has raised concerns to the State Board of Elections that many of these "inactive" voters voted as early as the 2018 General Election.
"With the State Board of Elections designating voters as inactive or active, it's important that Kentucky voters go review and update their registration," said Grimes.
The deadline to register to vote in the 2019 General Election on Nov. 5 is Monday, Oct. 7.
Despite Secretary Grimes' request, GoVoteKY.com does not display an "inactive" or "active" status. Voters should call the State Board of Elections at 502-573-7100, with any questions.
For more information on elections, visit GoVoteKY.com.