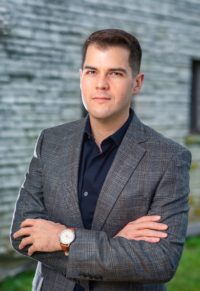 RICHMOND, Ky. — Eastern Kentucky University has named John Dixon executive director of human resources and institutional equity. He had served in the role on an interim basis the past few months.
Dixon joined EKU in 2015 as an equal opportunity investigator in the Office of Equity and Inclusion and became director of that office in January 2016. He has also served as the Title IX coordinator and ADA/Section 504 coordinator.
"I have been very impressed with John's performance as the interim leader, and I am confident that he will excel in this new role," said Barry Poynter, senior vice president for finance and administration at Eastern.
Dixon, who grew up in Barbourville and Corbin, earned undergraduate and law degrees from the University of Kentucky in 2006 and 2009, respectively. Before joining EKU, he operated a private law practice. He was also a member of the marketing, communications and public relations team for Bingham McCutchen, a global law firm based in Boston with offices across the United States as well as the United Kingdom and China.
"Every position I've held has informed my work that followed, from selling shoes as an undergraduate to serving as director of EKU's Office of Equity and Inclusion," Dixon said. "I use all of it. At the shoe store, I learned I enjoy helping people. As a lawyer in practice, I worked with many people from various backgrounds on a number of issues – some complex, some upsetting, some even uplifting. I've learned to adapt to new circumstances on a routine basis. My job in marketing taught me that clear and effective internal communication is just as necessary as it is for external communication. And my work with the Barbourville Tourism Commission taught me that good customer service skills are essential in every profession."
Dixon added that he has "a lot of respect for the faculty and staff here, and certainly the students. I'm grateful to work in an environment that feels like home."