By Lorie Hailey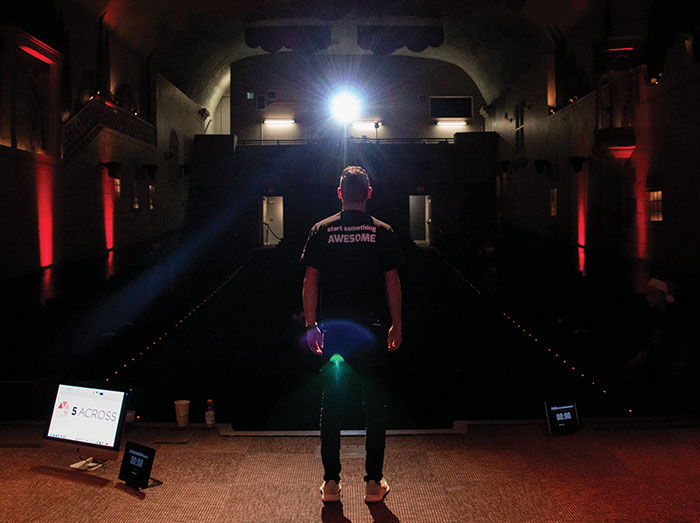 If you have a million-dollar idea, where do you go? How do you figure out whether your idea is truly marketable? And if it is, what's next? How do you find startup capital?
In Central Kentucky, the answers to these questions – and dozens more – are readily available. There's access to an active community of experts and fellow entrepreneurs to help you.

"Lexington is a good city to be an entrepreneur," said Bob Farinelli, experienced entrepreneur and CEO of Smart Farm Systems Inc., a local startup that produces irrigation control and monitoring systems for small- and large-scale agriculture operations.
And a strong entrepreneurial community is really good for Lexington.
Lexington entrepreneurs set a record for capital raised in 2018 with more than $107 million, according to data provided by Commerce Lexington. That's an increase of 87% over 2017. Local entrepreneurs created 287 direct jobs paying an average wage of $69,580 and an annual direct payroll of nearly $20 million. Central Kentucky's entrepreneur companies employed 951 people in 2018.
The number of patents issued by the U.S. Patent and Trademark Office to Lexington innovators grew nearly 70% from 2005 to 2018, from 157 to 266.
At the University of Kentucky's Office of Technology Commercialization (OTC), 101 inventions were disclosed during Fiscal Year 2018, 23 patents were issued and 29 licenses and options were executed, a 123% increase from 2017 and the most ever for UK, according to Ian McClure, OTC executive director.
Lexington is home to the Bluegrass Angels, the most active angel investing group in Kentucky. Its leaders are a group of skilled, experienced, volunteer business leaders who find, fund and mentor high-tech Kentucky startups. The group's membership has doubled in the past three years. Since its founding in 2004, Bluegrass Angels has invested $9.6 million in 47 startup companies. There's also the Kentucky Angels, an online investor network that brings new ventures and investors together monthly. It has 104 investor members.
"Lexington has had a tremendous amount of vibrant entrepreneurial efforts ongoing for years," said Brian Mefford, executive director of KY Innovation, the state's entrepreneurship and innovation enterprise within the Cabinet for Economic Development.
---
IT'S FREE | Sign up for The Lane Report email business newsletter. Receive breaking Kentucky business news and updates daily. Click here to sign up
---
There has been a lot of momentum in the Lexington startup community for at least the past two years, McClure said. That's when he began his role as head of UK's OTC.
That trend is likely to continue, thanks to Lexington's thriving entrepreneurial community. Commerce Lexington's Bluegrass Business Development Partnership (BBDP), along with the OTC and the Von Allmen Center at UK, angel investors and local businesses like startup incubator Awesome Inc. and others, are helping Lexington stay a step ahead of most communities by streamlining the process of starting a business. This network of agencies assists entrepreneurs through every stage – from finding shared workspace and partners to learning how to pitch to investors and everything in between.
In fall 2018, Lexington received a $750,000 grant to help serve, attract and develop more innovative entrepreneurs and startup businesses. The Awesome Center for Entrepreneurship (ACE), a not-for-profit organization created by Awesome Inc., was selected to spearhead the second of the KY Innovation's recently formed Regional Innovation for Startups and Entrepreneurs (RISE) partnerships, which is an effort to modernize Kentucky's support for potential high-tech, high-growth businesses. ACE will lead the Lexington RISE hub; four other hubs were set up across the state – RISE West Kentucky based at Murray State University; SOAR Innovation in Pikeville; the Louisville Entrepreneurship Acceleration Partnership (LEAP); and RISE NKY in Covington.
Involving partners in Central Kentucky's startup community, ACE developed a strategy to attract more startups, help grow those that already are here, and draw more investment capital.
"The Lexington RISE effort truly represents the kind of entrepreneur-led change we need to move the region and state forward," Mefford said. "Innovators in Central Kentucky and throughout the state will benefit from the clustering of resources for expert mentoring, business development and angel and venture capital investment for years to come."
Less than a year after the Lexington initiative began, tracking results show significant progress in building a stronger entrepreneurial system, he said.
"Those results are both encouraging and invigorating," Mefford added, but not surprising. True innovators are attracted to RISE's entrepreneur-led approach, and big corporations are taking note, too, he said.
Parallel efforts, such as the development of the Commonwealth Commercialization Center's (C3) plans to bring university research toward market-ready products and companies, will only contribute to the region's momentum, he said.
A guide to entrepreneurship
Brian Raney, co-founder and CEO of Awesome Inc., followed a distinct thesis when he and his team of partners wrote the RISE grant proposal. That plan was outlined by Brad Feld, an early stage investor and entrepreneur from Boulder, Colorado, in his book, "Startup Communities: Building an Essential Ecosystem in Your City."
Feld offers four basic principles to creating a successful startup environment:
• The startup community must be entrepreneur led.
• The community needs a "long view" approach instead of expecting overnight success.
• It must be all-inclusive.
• There must be continual activity to bring entrepreneurs together and engage all the players.
This is the same plan Raney and his co-workers have tried to follow at Awesome Inc., which was founded in 2009 to help build the startup community, retain talent and attract
new businesses.
"This book is the playbook for entrepreneurship," Raney said.
Through RISE, ACE has developed initiatives that incorporate those four ideas. The programs are designed to create clear pathways to entrepreneurship for local innovators.
One of the activities funded through RISE was the creation of StartupLex, a supporter-driven organization with an online meeting space that lists events and provides local information.
StartupLex is creating a guidebook to the local entrepreneurial ecosystem that, once completed, will be available for download on its website, startuplexington.org.
Another big project funded by RISE is The Awesome Fellowship, a mentor-driven program designed to accelerate high-tech startups. The program, which supports selected high-tech startups for one year, is tailored to the individual startup's needs and offers a flexible timeline. The fellowship provides access to a network of more than 85 mentors, web development and media services, 24/7 access to Awesome Inc.'s co-working space and access to pro bono legal and accounting services. The fellowship was previously funded by another grant from the Cabinet for Economic Development.
Other projects created from Year 1 of the RISE project include: an introduction to entrepreneurship course; the creation of entrepreneurship curriculum for schools; intrapreneurship corporate workshops; the formation of the Entrepreneur Association of the Bluegrass; inventor network classes; enhanced coaching and mentoring; pitch competitions, and others.
All of the programs are educational and promote the creation of entrepreneurship throughout the community, Raney said.
"RISE is about creating resources and making those resources available to entrepreneurs," he said.
Building on a strong foundation for an active entrepreneur community
Lexington has an active group of innovators who meet often, participate in an online startup forum, and host and attend informative events. It hasn't always been that way.
Twelve years ago, when Raney was starting his software company, he felt very much like he was on his own.
"It was like the Sahara Desert and trying to find some water looking for another entrepreneur who was doing anything similar to what I was doing," he said. "There just wasn't a community around entrepreneurship then, so connecting with other entrepreneurs was a very difficult thing to accomplish.
"Lexington has come a long way in the last 10 years when it comes to having resources available for entrepreneurs," Rainey said.
Now there are pitch competitions, business incubators, local podcasts dedicated to startups and several groups within groups to learn about very specific topics. Each Wednesday morning, a group of as many as 40 entrepreneurs attend a breakfast at DV8 Kitchen in Lexington. The community comes together often to discuss challenges and offer support.
Having an active entrepreneurship ecosystem is crucial, Mefford said.
"Environment is everything. Like a biological ecosystem, it takes many different inputs and types of 'players' all working together, bringing their own specialization to the mix to create vibrancy," he said.
Entrepreneurs also are finding plenty of time to collaborate while using shared working space at Awesome Inc. and Base 110, or at UK's Advanced Science and Technology Commercialization Center (ASTeCC), an entrepreneurial incubator on campus.
Base 110 is a coworking space in downtown Lexington with 51 dedicated office spaces ranging from individual areas to team suites as well as a variety of meeting areas. It utilizes over 18,000 s.f. on several floors at 110 W. Vine Street.
Base 110 hosts Freelance Friday every week. That's when their space is available to check out for free, and so are the coffee and donuts. Its mission is to strengthen Central Kentucky's community of entrepreneurs, designers and innovators by providing them with spaces that foster the sharing of ideas.
On the first Friday of every month, Base 110 hosts 110 Conversations, a lunch for freelancers, remote workers, entrepreneurs and other working professionals. The co-working space also offers educational programs, like its Startup Advantage series, which tackles challenges that entrepreneurs are likely to face.
When good ideas have grown into great ones and are ready for the next step, local entrepreneurs can participate in competitions where they can practice pitching their ideas to investors. 5 Across, a pitch competition for Kentucky entrepreneurs described as Lexington's version of "Shark Tank," is conducted several times a year. Each 5 Across meeting features presentations from local entrepreneurs who pitch their business ideas to a panel of judges. It's a fun atmosphere, with prize opportunities for audience members and dinner catered by a local restaurant.
From summits and panel discussions to breakfasts and celebrations, there are ways for entrepreneurs to get plugged in to the local community all throughout the year.
Commerce Lexington's BBDP celebrates Global Entrepreneurship Week every November with events across the city, including workshops, panel discussions and a celebration dinner hosted by SPARK, a BBDP initiative that formerly was called Lexington Venture Club.
Lexington's Global Entrepreneurship Week ends with Startup Weekend, a 54-hour frenzy of business model creation, coding, designing and market validation. It allows anyone with a business idea to look for a team, create a prototype of their idea, validate the idea and receive feedback from experienced entrepreneurs all in one weekend.
SPARK provides a forum that fosters sharing between entrepreneurs, businesses, investors and professional service providers. It hosts multiple events throughout the year, and its programs are supported by local businesses and organizations.
Nearly 150 startup business owners, investors and government officials attended the annual SPARK Angel Investors Summit in October 2018, where they discussed opportunities and challenges for new enterprises and startup investment in the Bluegrass. The summit was organized by a partnership of Commerce Lexington and the Lexington Innovation Office of UK's Von Allmen Center for Entrepreneurship.
In his keynote address, David Goodnight, fund manager for Bluegrass Angels, said Kentucky's entrepreneurial ecosystem is building momentum.
"We have more companies forming, we have more capital coming in, and we have more young entrepreneurs participating in what we do," Goodnight said.
Lexington has long been a leader in entrepreneurship, said Warren Nash, executive director of the Von Allmen Center, which helps commercialize UK research, facilitates university-industry collaborations and assists entrepreneurs and small businesses in creating jobs. The center works with UK faculty, staff, clinicians and student innovators to create startups and spinoff companies. It is located in UK's Gatton College of Business and Economics.
One popular Von Allmen-led program is an entrepreneur bootcamp, a one-semester, 14-session program open to UK students and the community. It is designed to assess and validate the feasibility of a business concept, create a business model and provide hands-on experience with real world projects. The program has grown significantly since it began in 2015, when 10 teams participated in the inaugural class. When the fall 2019 bootcamp began, there were 48 teams, Nash said, and about a third of participants were from the community.
The goal is to create jobs
The RISE initiative brought together several already strong programs to work on a shared goal: job creation, said Gina Greathouse, executive vice president for economic development at Commerce Lexington.
"The end game is to increase jobs through entrepreneurship," she said.
With all of the players on the same page, the sky is the limit for Central Kentucky's entrepreneurship community, especially in the area of ag-tech, Greathouse said.
When discussing startups, the term "the next Silicon Valley" is often thrown around loosely. While it's true that California's tech Silicon Valley has had immense success in job creation through innovation – and that a dollar goes a lot further in Lexington than it does in Silicon Valley – local leaders are not trying to become "the next Silicon Valley," Mefford said.
"Countless cities and states have fallen victim to the siren call of trying to recreate some form of Silicon Valley. We don't intend to do that here because we don't need to," Mefford said." Kentucky has sufficient unique strengths to establish an economic renaissance by intelligently building on strengths we already have and unique advantages that are close at hand."
Take Kentucky's role in the auto manufacturing industry, for example, Mefford said. Kentucky spent decades building itself into the No. 1 automotive manufacturing state per capita. Just since 2014, 18,000 new auto manufacturing sector jobs and 130 new facilities have been announced. The state's totals are now around 90,000 jobs and 450 facilities.
By leveraging existing strengths – like auto manufacturing and, more recently, aluminum production – Kentucky's innovation and entrepreneurial ecosystem can evolve, cultivating other strengths to capitalize on untapped assets.
"For example, the ag-tech startup industry can develop into an internationally competitive sector, especially with assets like Alltech and the state's leadership position in the emerging hemp industry," Mefford said. "The region also offers strong emerging clusters in biotech, robotics and logistics. We have a tradition in Kentucky of 'making things' better than most. Our history of leading in areas like bourbon, horses, mining and farming will absolutely translate into new forms of leadership in areas like ag-tech and advanced manufacturing."
These areas are ripe targets for innovation, he added, and the state is directing resources toward high-growth prospects in several of them. But the plan must be focused, because "we can't be all things to all clusters," Mefford said.
What lies ahead is targeted investment and experimentation, he said. It is an exciting time for entrepreneurs and a great time to get involved.
"Whether it's putting together a business plan for that one idea you've been dreaming about for years, investing in a promising local startup, moving your existing startup to the state to take better advantage of Kentucky's resources, or contributing your knowledge to assist
the greater ecosystem, the opportunities have never been more abundant," Mefford said.
RISE (Lexington) Partners
Nonprofit organizations
• Awesome Center for Entrepreneurship
• Small Business Development Center
• Kentucky Entrepreneur Hall of Fame
• Kentucky Chamber of Commerce
• Inventors Network KY Inc.
• Governor's School for Entrepreneurship
• Marksbury Foundation
• Kentucky Science & Technology Center
Investors and investor funds
• Airwing Ventures
• Base 110 Ventures
• Bluegrass Angels
• Cherub Fund
Institutions of higher education
• Lexington Innovation Office
•UK Coldstream Research Campus
• UK Office of Technology Commercialization
• Awesome Inc. U
Entrepreneurs and private sector leaders
• Booth Energy
• Harper Industries
• Hall of Fame Inductee Jim Host
• Hall of Fame Inductee Lee Todd
• Patco
• Forcht Group
• Base 110
• Windstream
• Techstars
• ARGI
•Dinsmore & Shohl
•Blue & Co.
• RunJumpDev
• APAX Software
Incubators/accelerators
• Awesome Fellowship Program
• Local Government & Economic Development
• Commerce Lexington
• Bluegrass Business Development Partnership
• LFUCG
I have a great idea. Now what?
Brian Mefford, executive director of KY Innovation, the state's entrepreneurship and innovation enterprise within the Cabinet for Economic Development, has this advice: "Get on KyInnovation.com and visit the RISE section. Each RISE (geographic) hub has a primary point of contact. While we are defining and building the particular areas of strength for each – say ag-tech in Lexington and health care and aging care technology in Louisville – a logical place to start is by contacting the RISE leadership nearest you. They can connect the would-be entrepreneur with the resources appropriate for their stage, industry and path forward."