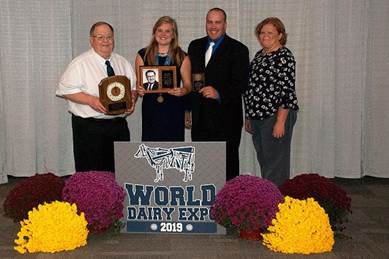 LEXINGTON, Ky. — For the past 10 years, Madison Dyment has been evaluating dairy cattle. All those years of dedication paid off when she recently won first overall individual in the 2019 World Dairy Expo's Intercollegiate Dairy Judging Contest on Sept. 30 in Madison, Wisconsin. She also took first place in oral reasons and in two breed categories, besting 65 other people.
"I've always immersed myself in the dairy industry," said Dyment, who is a senior, studying agricultural communications in the University of Kentucky (UK) Department of Community and Leadership Development and print journalism in the UK School of Journalism and Media. "I'm always observing and judging them informally. My stepdad, Jamie Howard, has always been my personal coach. He's pushed me and helped me become who I am. He's the best cow person I know."
Howard also judged dairy cattle while in school at UK many years ago. Dyment also credits her collegiate coach, Derek Nolan, with much of her success.
"We are constantly practicing," she said. "On the way to the World Dairy Expo, we spent two days going farm to farm, judging and evaluating different cows and then giving oral reasons about them. He cares so much about our team, and he loves the industry. He really wants us to have the best overall experience."
Nolan is a doctoral student in the UK Department of Animal and Food Sciences. He teaches the dairy judging class and has coached the dairy judging team for the past two years.
"I am very excited for Madison," Nolan said. "I know how much time and effort she put in to get to this point. We had a pretty good feeling going into the competition that she could win. It's a great accomplishment for her and for our program."
Dyment came to UK from Burgessville, Ontario. She plans to attend graduate school but has not yet decided where. She would like to continue studying agricultural communications and become a professor someday, giving back to the industry she loves so much.