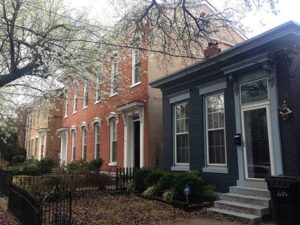 FRANKFORT, Ky. – Three historic districts from Kentucky have been added to the National Register of Historic Places in 2019, with a fourth to be considered by the Kentucky Historic Preservation Review Board when it meets again Oct. 22.
An expansion of Louisville's Butchertown Historic District was the most recent listing approved by the National Park Service (NPS), adding 52 residential and commercial properties to an area that now encompasses 423 contributing resources with a period of significance from 1800 through 1966. The original district was listed in 1976.
Also added to the National Register this year were the Williamsburg Historic District, with 61 contributing buildings and structures over 40 downtown acres, and Danville's McGrorty Avenue-Old Wilderness Road Historic District, an intact African-American neighborhood with 16 homes dating from 1871 to 1950.
Up for consideration in October is Newport's Buena Vista Neighborhood, with 1,450 contributing buildings, sites and objects. The review board is administered by the Kentucky Heritage Council/State Historic Preservation Office (KHC), which manages the National Register program in partnership with NPS.
"National Register historic districts provide access to significant tax benefits for owners who fix up their properties inside the district," said Lisa M. Thompson, KHC's National Register program coordinator. "The focus of a historic district is also on identifying and honoring significant American architecture that tells the American story. Being listed on the National Register benefits everyone because it provides recognition of our local heritage and assistance in preserving it."
The latest actions bring the total to 15 Kentucky National Register listings approved this year to date. Other sites listed are:
Metro Louisville – J.J. Reilly Manufacturing, a c1870 building nominated for its significance as a metal manufacturing facility that produced pumps for large-scale distilling operations; Shafer's Hall, a two-story Italianate commercial building in Portland dating to 1877, which operated as a social hall from 1892 through the mid-20th century; and Puritan Apartment Hotel, a six-story building in Old Louisville constructed in phases between 1914 and 1958.
Boyle County – Thomas Barbee House, Danville, a two-story, single-pen log home dating to the 1790s, constructed around the time Danville served as the first state capital of Kentucky.
Campbell County – Grote Manufacturing Company, Bellevue, built by the National Colortype Company in 1924-25 and updated by Grote Manufacturing in the mid-1940s, featuring fire-resistant poured concrete walls, ceilings and floors.
Clark County – Wright-Evans House, a stone hall-parlor residence dating to 1815 and updated in 1926 with a larger, architect-designed brick addition, merging  two distinct styles and representing two distinct periods of development.
Fayette County – Trail's End Camp, "one of the first organized camps for girls in the South," operated from 1913 through 1935 on approximately 59 acres and including a Rustic-style lodge, remnants of an outdoor playground and recreation court, and several trails.
Jefferson, Bullitt, Spencer and Nelson Counties – Louisville to Bardstown Turnpike Milestones and Roadbed, nine historic limestone mile markers and a small section of limestone roadbed along U.S. 31E marking the path of the 1830s Louisville-Bardstown Turnpike.
Letcher County – David Back Log House and Farm near Blackey, including a log house, smoke house, corn crib and barn built in approximately 1875 with local timber.
McCracken County – Petitt Building, Paducah, a brick, two-story, corner commercial building constructed from 1908-10 for a local pharmacist and designed to incorporate separate living space on both floors.
Woodford County – Heartland Farm, an antebellum farmstead of 30 acres including a brick, two-story, Queen Anne farmhouse c1886 with Eastlake-style elements; and the Ready-Twyman House, a brick central passage residence with a Gothic Revival façade, built in several stages beginning in the 1830s.
The National Register is the nation's official list of historic and archaeological resources deemed worthy of preservation. Kentucky has the fourth-highest number of listings among states, with more than 3,400. Listing can be applied to buildings, objects, structures, districts and archaeological sites, and proposed sites must be significant in architecture, engineering, American history or culture.
National Register designation is honorary and does not restrict property ownership rights, though it does provide a measure of protection against adverse impacts from federally funded projects. Owners of National Register properties may qualify for state and federal historic rehabilitation tax credits or receive tax benefits for making a charitable contribution of a preservation easement.
Other sites to be considered for listing at the Oct. 22 meeting are the Professor William Green Residence in Greenville and the James L. Stinnett House in Whitesville.
For more, or to review complete National Register nominations, visit www.heritage.ky.gov.