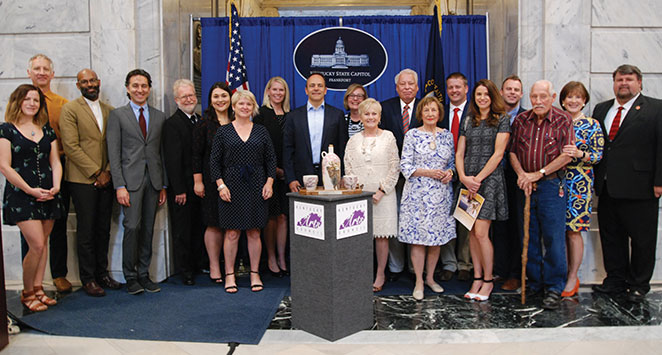 It's National Arts and Humanities Month, and we'd like to put a spotlight on our Governor's Awards in the Arts recipients, who were honored Sept. 10 at the state capitol in Frankfort. These honorees exemplify the best in the arts and support of the arts in the commonwealth.
This year's Governor's Awards in the Arts were created by Michelle Lyn Strader and Frederick Bartolovic of Silver Run Ceramics in Catlettsburg. The awards, ceramic bourbon bottle sets on decorative wooden trays, highlight the natural world that the Commonwealth of Kentucky has to offer. The inspirations for these pieces were native flora and fauna found throughout Kentucky. Inspiration for the forms were garnered from our state's rich history as the bourbon capital of the world.
A special thanks goes to the event sponsors, Kentucky Power and Country Music Highway 23. Their support of this special day for Kentucky's arts community helped immensely.
Governor's Awards in the Arts recipients were:
• Milner Award: Cornelia Dozier Cooper, Pulaski County
• Artist Award: Tim Hall, Estill County
• Business Award: First Southern National Bank, Lincoln County
• Community Arts Award: Valera Brooks, Marshall County
• Education Award: CKYO MusicWorks, Fayette County
• Folk Heritage Award: George Beard, Calloway County
• Government Award: City of Greenville, Muhlenberg County
• Media Award: Bluegrass & Backroads, Jefferson County
• National Award: Chris Stapleton, Johnson County native