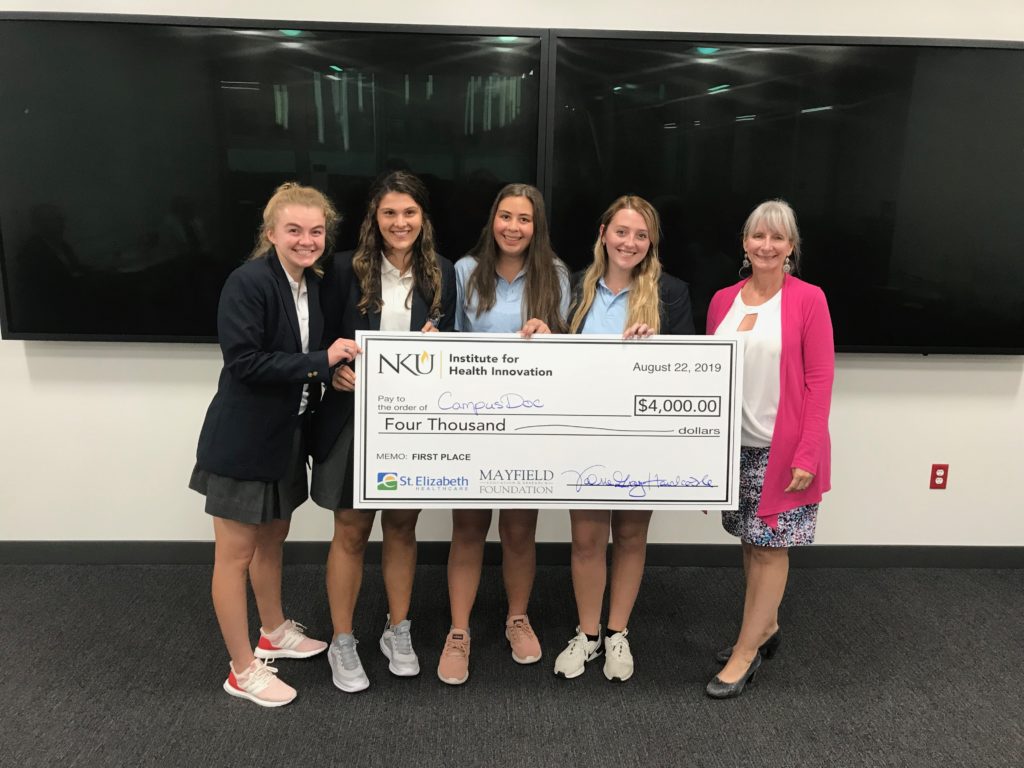 HIGHLAND HEIGHTS, Ky. — Northern Kentucky University announces the winners of its inaugural Health Pitch Competition – awarding the top prize to a group of high school students who created CampusDoc, a mobile application housing important medical documentation.
The Institute for Health Innovation's (IHI) competition was supported in part by a Department of Commerce Economic Development Administration's RIS grant. In collaboration with Tri-ED and St. Elizabeth Healthcare, NKU received one of 40 grants through the 2018 i6 Challenge, a leading national initiative designed to support the creation of centers of innovation and entrepreneurship.
This summer, the IHI put the call out for ideas or concepts related to early stage innovation efforts surrounding population health issues. Finalists pitched their ideas last month, and CampusDoc earned the $4,000 top prize, along with coaching and support through NKU's Small Business Development Center.
"Our competition was open to anyone in the region who had an idea. Regardless of age, education, or experience, you can lead change in how healthcare is delivered. CampusDoc's concept envisioned a future healthcare in which technology is fully engrained in our everyday lives," said Dr. Valerie Hardcastle, St. Elizabeth Healthcare executive director of the Institute for Health Innovation.
CampusDoc's app ensures students' health information is easily accessible when visiting campus clinics or other medical facilities. The team also wants to educate their generation on the importance of understanding medical paperwork.
"We were excited to enter in the completion as it was held at NKU, which was where we started our research. It was intimating at first because we were the youngest people and it seemed that we had the least experience and knowledge of the healthcare field," said CampusDoc. "It was honestly surprising to hear our name announced in first place. We all felt our hard work at Governor's School for Entrepreneurs finally paid off."
The team is still validating their ideas and learning about competitors. As they continue to gather information, they will be putting together a prototype of their product and testing it with customers for feedback
"CampusDoc identified a unique problem and showed clearly how they would solve for it. Our takeaway was their solution could make a real improvement for college students and have an impact in the healthcare industry," said Matt Hollenkamp, vice president of Marketing and Public Relations for St. Elizabeth Healthcare.
IHI is working to address the many layers of health challenges in our communities. In the past year, they have received three HRSA grants to address substance use disorder and healthcare gaps in the eight-county Northern Kentucky county.
With the latest grants from the U.S. Department of Health and Human Services, Health Resources and Service Administration and Department of Commerce Economic Development Administration's RIS i6 Challenge, IHI has received $3.6 million of federal grant funding since its inception last summer.