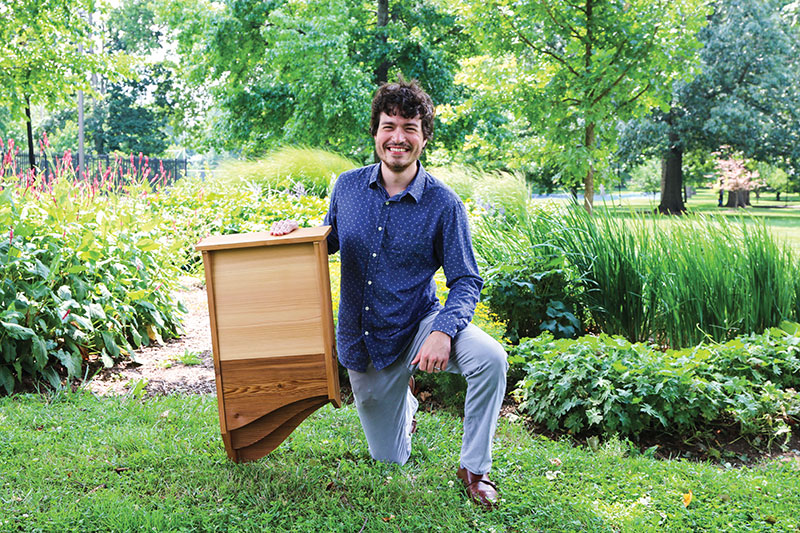 Do you like using pesticides and chemicals to get rid of stinkbugs or would you prefer to let nature's own ecosystem take care of the problem?
Billing itself as the natural solution for backyard pest control, a Kentucky-based company has gotten national press in the past year for its ecologically sound products. The owners of BatBnB have appeared in Fast Company, Huffington Post, an NPR podcast and an episode of the television show "Shark Tank."
Christopher Rännefors and Harrison Broadhurst, founders of BatBnB, make designer bat houses. For bats. As the only flying mammals, bats are super talented at pest control. One bat can catch and eat about 1,000 insects per hour, including mosquitoes, stink bugs and Japanese beetles; no chemicals required.
Homeowners and farmers love the work bats do during the night; in the daytime, however, nobody cares to see bats hanging from rafters. The bat houses crafted by BatBnB have an aesthetic appeal for the human eye and scientific specifications for housing bats and their pups.
The episode of "Shark Tank" featuring BatBnB aired on May 12, 2019, but was filmed in Los Angeles in June 2018.
"We were very fortunate that Shark Tank reached out to us and invited us to audition," Rännefors said. To prepare, Rännefors and Broadhurst watched over 100 hours of the show. They reached out to mentors and friends for potential questions and "tried to put ourselves in as many uncomfortable situations as possible to prepare for the environment of the show," he said. "But knew at the end of the day, we just needed to be ourselves and show our passion for making great homes for bats."
"Shark" Kevin O'Leary granted their $100,000 investment request, taking one-third ownership of the company. Rännefors and Broadhurst primarily interface with O'Leary's team now.
Since its inception in the summer of 2017, BatBnB already has customers in 49 of 50 states. ("We do not distribute in Hawaii because bats that roost in bat houses don't live there," Rännefors said.)
The business is working on setting up distribution in Europe because of the high cost of international shipping. Even so, they have sold bat houses to customers in Australia, Austria, Canada, Germany, Greece, Sweden and Switzerland.
---
IT'S FREE | Sign up for The Lane Report email business newsletter. Receive breaking Kentucky business news and updates daily. Click here to sign up


---
Using sustainably sourced lumber in the United States, BatBnB products are manufactured in Missouri. The Arroyo, Cascade and Sonora single-chamber models have one long vent across the front and can hold up to 50 bats at a time. The Carlsbad, Meramec and Seneca dual-chamber models comfortably sleep 100 to 120 bats during daylight hours. The largest BatBnB product is the Mammoth, which can fit up to 240 bats.
"The Mammoth and dual-chamber models have two side vents, which give them a greater thermal range within the chambers so they can work more effectively in a wide variety of climates," Broadhurst said. "We are currently looking into offering a few customization options, so stay tuned."
BatBnB bat houses are designed to be installed on the side of a house, barn or building, or on a pole. The higher the better, to keep bats safe from predators and to give them plenty of room to take off for flight when they get out of the house.
Currently taking orders from their website at batbnb.com, Broadhurst and Rännefors are open to having their products available in local or national retail spaces. The University of Virginia, Rännefors' alma mater, bought almost two dozen units to install around campus. Rännefors has a Bachelor of Science in commerce from UVA.
Broadhurst earned a bachelor's in architecture from the University of Kentucky.
"It's a really exciting time to be an entrepreneur in Kentucky," he said. "There is a lot going on in the state, and the investment capital is only getting stronger."
"Harrison and I both currently have day jobs, but we recently added a full-time employee, Sarah Carey, to help with our growing business," Rännefors said. Rännefors is a manager with Google Customer Solutions in Ann Arbor, Mich., and Broadhurst is a senior designer at the Galante Architecture Studio in Cambridge, Mass.
"From our customers to professional organizations in the area, you feel people are rooting for you," Broadhurst said of the Bluegrass State. "We feel very supported by the entrepreneurship community in Kentucky and love to call it home."