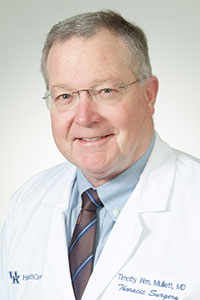 CHICAGO — Cardiothoracic surgeon Timothy W. Mullett, of Lexington, Ky., was named chair-elect of the Commission on Cancer of the American College of Surgeons Oct. 27 in San Francisco, Calif. during the ACS Clinical Congress, one of the largest international meetings of surgeons in the world.
Mullett, medical director of the University of Kentucky's Markey Cancer Center Affiliate Network is a surgical oncologist who specializes in the treatment of lung cancer. Although he began his career at the University of Kentucky as a thoracic surgeon treating heart issues, he soon shifted his professional focus to treating lung cancer, one of the state's major health problems. Today he is a co-leader of the Kentucky LEADS Collaborative to improve lung cancer survival.
During the coming year, Mullett will work closely with CoC leaders, including current CoC chair, medical oncologist Lawrence Shulman, to ensure the mission and initiatives of the Commission on Cancer remain at the forefront of quality care for cancer patients across the nation who are treated at the CoC's accredited cancer programs.
"The Commission on Cancer has done a remarkable job creating standard clinical pathways to improve cancer care, an essential initiative particularly for areas of our nation suffering the highest rates of cancer mortality. As chair-elect, I look forward to doing my part to serve the CoC's partners and continue to aid the nation in improving screening, treatment and research," Mullett said.
The CoC's accreditation program encourages hospitals, treatment centers and other facilities to improve their quality of patient care through various cancer-related services. The CoC maintains numerous reporting tools to aid cancer treatment and research facilities in benchmarking and improving patient outcomes. It also maintains the National Cancer Database (NCDB) which tracks national trends and demographics of cancer incidence. There are more than 1,500 CoC-accredited cancer programs in the U.S. and Puerto Rico, representing 30 percent of all hospitals. CoC-accredited facilities diagnose and/or treat more than 70 percent of all newly diagnosed cancer patients each year.
Mullett will begin his two-year term as CoC chair in October 2020 when he assumes this top leadership role of the organization at the CoC's next annual meeting at the next ACS Clinical Congress in Chicago.