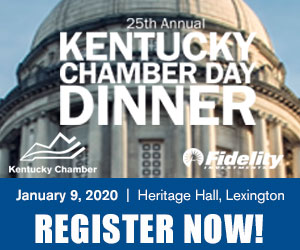 By Jacqueline Pitts, The Bottom Line
FRANKFORT, Ky. — As Kentucky heads into the legislative session in January, Senate President Robert Stivers and House Speaker David Osborne will discuss their priorities for 2020 at the Kentucky Chamber's Legislative Preview Conference on Dec. 16.
During the legislative leaders panel, moderated by Kentucky Chamber President and CEO Ashli Watts, Stivers and Osborne will cover topics including the 2019 elections, Kentucky's two-year budget, top business priorities like transportation funding and more.
Other key discussions at the 2020 Legislative Preview Conference will include the Kentucky Politics: Post-Election panel with Senate Majority Leader Damon Thayer, Senate Minority Leader Morgan McGarvey and Jacqueline Pitts of the Kentucky Chamber.
There will also be important discussions about criminal justice, education, health care, infrastructure investment, energy and more with legislators and issue experts.
Click here to view the agenda and register for the 2020 Legislative Preview Conference.