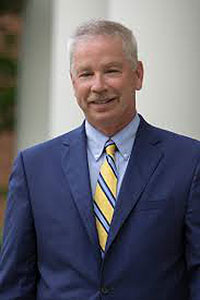 By Barton D. Darrell
The national debate about where our emphasis on postsecondary education should be seems to focus too much on pitting four-year college degrees against more technical and other job specific educations. The centerpiece to this argument is the idea of "workforce development." I think we all agree that developing people to be ready for work is critically important.
More focus, I believe, should be on exactly what we mean by that. What work? What do workforce ready people sound like? What do they think about? How far into the future do we expect our workforce development impact to last? The cost of higher education, which is not addressed herein, is the only postsecondary education issue that rivals the issue of what kind of education is needed to best prepare us for the times ahead. If we hope to maintain or even advance our economy we must allow the conversation about education and the employment markets to go further than the current discussion that dominates. We must.
The discussion of education and jobs cannot be a narrow debate or analysis focused on the short term. As important as the short term is for our labor markets, for the business and industry bottom line, and the individual family's monthly expenses, the long term focus is much more important. It is more important for the very reason some argue it is NOT as important:  We do not know for certain exactly what the long term will look like.
There is no reasonable debate to be had about whether automation in business and industry is here to stay and will increase exponentially in the years to come. There is also no reasonable debate that can be had about whether there is a significant shortage of skilled labor not just in Kentucky, but in most places across the United States and our economy. These are simply facts … and not an "alternative fact." These are real, honest to goodness, pinky swear, truths.
According to a PricewaterhouseCoopers survey, 58 percent of CEOs plan to eliminate jobs over the next few years as a direct result of automation and robotics. Specific jobs will almost certainly be eliminated or changed in form in the future … the near future. Automation and robotics will eliminate the need for certain jobs and those jobs will not be restricted to the manufacturing sector. A variety of consulting groups tend to agree that there are in excess of 70 entire professions where at least 90 percent of the tasks can be automated. These jobs include, but are not limited to, lab technicians, food preparers, tire repairers, mail clerks and butchers. There are many other "white collar" professions whose people have never considered automation and technology to be a threat to their future that are, or will be, at risk. But, new jobs will be created at the same time as a result of these technological advances. But will our population be ready and prepared for them?
So, what are we to do and what does postsecondary education need to have as its focus to prepare our population for the future economy and work place? One of my brothers, Bracken Darrell, is the president and CEO of Logitech. Logitech is a very successful computer peripheral company in Silicon Valley and has a global market reach. They make products which include your computer keyboard, wireless computer mice, the popular wireless speaker (the UE Boom), interactive conferencing equipment, and much of the gaming equipment that dominates E-Sports. Bracken was interviewed for an article by Business Insider a few years ago about skills necessary to be successful in the evolving career markets. He effectively made the point that technological advances and the liberal arts education work together to move business and individual careers forward. He said that companies having people who were educated to think critically and were taught to dissect and critique scenarios will lead business and industry in the years ahead. The ability to understand a certain task or machine will no longer be enough. That is why the article for which he was interviewed was entitled, "LOGITECH CEO:  I Love Hiring English Majors."
Bracken also wrote for the Wall Street Journal about the importance of a well-rounded education and its importance in business and career success. He offered, as an example, that even in manufacturing and engineering an understanding of art is helpful because "design is certainly more than engineering. It's really the integration" of so many things that make a product current and its most valuable to the consumer.
Critical thinking is knowing what questions to ask and when to ask them. It can be developed by acquiring knowledge outside of our specific area of expertise. Critical thinking skills creates depth and clarity to our analysis of circumstances and helps us to see things that are analogous, which is so important to adapting to change. This skill is mandatory for a person to be a good lifelong learner which includes transitioning form one career position to a new one. Chris Teare, the director of college counseling at Wardlaw Hartridge School and a Forbes magazine contributor, said in a 2018 Forbes interview that, "Given the increasing inter-activeness of technologies, systems, and economies, success requires many of us to consider factors outside of our realm of expertise, which requires us to ask questions."
As an attorney with a firm that represents business, the professions, and individuals; having represented public school districts for over two decades; and having served for five years as a college president here in Kentucky, it is my view that we must focus on the value of all types of education and promote each of them. But every type education needs to include, as a critical component, the study of subjects and areas that help develop critical thinkers prepared to transition into the unknowns of the career markets ahead.
I believe for the United States to maintain its leadership in business, manufacturing, technology, the professions and, yes, education, we must prioritize and promote the idea of broad based postsecondary education and lifelong learning. I believe the welder, the accountant, and the laboratory technician have more opportunity ahead if they know more than the area in which they are each an expert. Just because one is currently performing at an expert level on a production line does not mean that he or she should not also be reading a book on music or philosophy. Just because one is currently working as a lawyer on a large real estate transaction does not mean he or she shouldn't also be studying a great work of art or reading one of O. Henry's short stories.
The question going forward is not: "Will jobs exist for people in the future?" The question is: "Will people be able to get the jobs that do exist in the future." The answer to that question is a resounding "Yes!" if we are focused on growing a potential work force full of critical thinkers who have truly learned how to learn. If we have, then we will have increased the likelihood that these same people have more transitional skills. The future is bright if we believe more in the power of the human mind and its ability to learn to think critically, broadly and creatively. The finished "product" will be a population with more members who understand themselves, each other, and are equipped with the power to adapt.
---
Barton D. Darrell is an attorney with Bell, Orr, Ayers & Moore in Bowling Green, Ky. and is also president emeritus of Kentucky Wesleyan College. He served as Kentucky Wesleyan's president from 2014-19. Darrell received his undergraduate degree in business administration from Kentucky Wesleyan and his juris doctor from the University of Louisville School of Law.