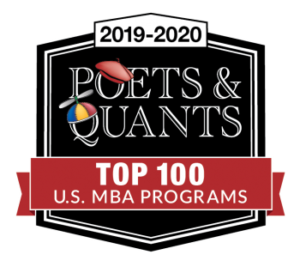 LEXINGTON, Ky. — Poets & Quants (P&Q) released their Top 100 U.S. MBA Programs and the University of Kentucky's One Year MBA jumped 19 spots to no. 74. In this 2019/2020 rankings survey, the UK MBA was one of only 12 full-time MBA programs with double-digit rankings increases and only four other MBA programs experienced a larger increase in their rankings from the previous year.
The P&Q rankings list combined the five most influential business school rankings in the world: U.S. News & World Report, Forbes, Bloomberg Businessweek, the Financial Times, and The Economist. Instead of averaging the five, each ranking was separately weighted to account for P&Q's view of their credibility. P&Q's methodology for tabulating the data and producing this ranking can be found here.
"It's rewarding to see this recognition of Gatton and our UK MBA students, alumni, faculty, staff and program," said Simon Sheather, dean of the Gatton College of Business and Economics at the University of Kentucky. "We continuously work to make our curriculum relevant and progressive in the preparation of business leaders, and this is an important step towards our journey to become recognized as a Top 50 business school in the U.S."
The overall P&Q list takes into account a wealth of quantitative and qualitative data from surveys of corporate recruiters, MBA graduates, deans and faculty publication records to median GPA and GMAT scores of entering students as well as the latest salary and employment statistics of alumni.
"This ranking is especially meaningful because it takes into account surveys conducted of corporate recruiters, alumni, other deans, academic success along with salary and employment data," says Paul Childs, associate dean for Graduate Programs and Outreach at Gatton. "Bridging rigor and relevance in our curriculum along with tangible career opportunities for our MBA alumni is at the heart of what we do here at the University of Kentucky."
P&Q has established a reputation for well-reported and highly creative stories on the things that matter most to the graduate business education market, from candid critiques of MBA rankings and in-depth coverage of MBA outcomes to innovative changes in MBA programs along with the impact technology is having on higher education. Since its founding in mid-2010, P&Q has experienced five consecutive years of record-breaking traffic growth, racking up more than 70 million-page views from all over the world.
"Our MBA faculty have extensive experience in studying contemporary business issues, and many work as consultants and advisers with corporations and organizations," says Harvie Wilkinson, MBA program director at the University of Kentucky. "They constantly update their courses to reflect the changing needs of business and work hard to create an engaging learning environment. With our faculty's support, we were able to recently launch a concentration in Entrepreneurship and New Venture Creation with plans on having more concentrations in our MBA program to meet the needs of our candidates and respective employers."
The One Year MBA  at the University of Kentucky is an accelerated option designed for recent graduates, young professionals and emerging leaders across all academic backgrounds. The program's curriculum incorporates a diverse mix of core business courses, electives, workshops, professional certifications, team competitions and career support to help candidates become well-rounded and nimble. In addition, candidates can apply what they are learning in class to real-world projects through the built-in internship experience called Project Connect.