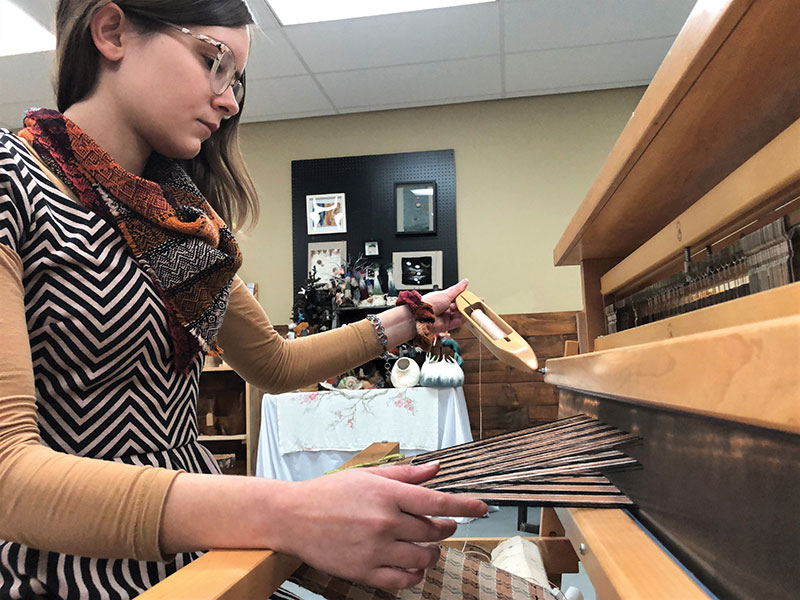 Berea College graduate Emelie Weber has made a career out of her favorite college class: weaving. As a work study school, Berea students work at least 10 hours a week in exchange for a full tuition scholarship. Weber was working in the art galleries on campus before accepting a position as an apprentice weaver with Student Crafts. "I had never woven anything before, but fell in love with the process," she said. She made baby blankets, scarves and napkins for the college to sell, but really wanted to learn how to design and bring her own ideas to life. So she kept her major, studio art, but changed her concentration from painting to fiber arts and dove into weaving headfirst.
After graduating from Berea College in 2014, Weber worked at a few customer service-oriented jobs. "I was able to see how both large corporations and small businesses operate from a customer service standpoint," she said. "It has been immensely helpful in understanding and growing my own business."
In 2017 she found herself with a lot of handwoven goods she had made, as well as "no extra money to buy materials, and family and friends asking how they could purchase my wares," she said. So she started her own company and called it Lunadendron. The name has Greek and Latin roots meaning moon tree. "I get a lot of inspiration from nature and only use natural materials, so I felt like a botanical spin would embody the essence of my work," she said.
A year later, Weber began selling her wares online, shipping to customers as far away as Canada, Mexico, France, England and Japan. And, of course, Kentucky and surrounding states.
Weaving on a loom is a time-consuming process, but it produces a high-quality fabric that's made to last for generations. During her senior year, Weber received the Sarah Fuller Smith Award from Berea College, which allowed her to purchase an 8-harness Leclerc Artisat loom. She uses her hands and feet to operate the loom and can weave fabric up to 36 inches wide. She also counts a heavy-duty sewing machine and electric bobbin winder among her most prized possessions.
---
IT'S FREE | Sign up for The Lane Report email business newsletter. Receive breaking Kentucky business news and updates daily. Click here to sign up
---
Weber uses organic cotton, hemp and other sustainable materials to make the fabric that she then turns into scarves, cowls, bandanas, jackets and shirts. She makes a practice of weaving a little more fabric than she needs for every project in order to make jewelry with the leftover material and scraps of yarn from the weaving process.  Her favorite material is Tencel, an alternative to silk that's made with the wood pulp of Eucalyptus trees. "It's very soft and has a slight sheen to it," she said. "People are always amazed by how it feels, especially when they find out how it's produced."
For her Lunadendron business, Weber buys most of her yarn at the Woolery in Frankfort. "I consider myself lucky to live within walking distance of one of the best weaving suppliers in the country," she said. "I wouldn't want to be weaving anywhere else than Kentucky. The people here are graciously supportive of my art and dreams. While online sales are important to me and my business, the face-to-face interactions and community support allows me to flourish."
In 2019 Weber added yet another title to her resume when she became the new owner of Silo Ridge Makers Market on Saint Clair Street in downtown Frankfort. At this 3,000-s.f. location, Weber and 30 other artisans make and sell their crafts. "It's amazing seeing the talent and products that our Makers Market helps facilitate," she said. "I love the little community we have. I'm beyond excited for what 2020 is going to bring for our makers and the Frankfort community."
Her loom is set up in the middle of the Silo Ridge store, where she enjoys demonstrating her craft and talking to visitors and customers about the weaving process.  She is in the process of opening her own studio next door to Silo Ridge Makers Market. "My goal is to eventually own a large studio, with lots of looms and weavers to operate them. I love production weaving and the camaraderie it facilitates," Weber said. "Kentucky has a deep history of weaving and I feel honored to be able to continue that tradition with modern designs and materials."
See Emelie Weber's work at lunadendron.com.