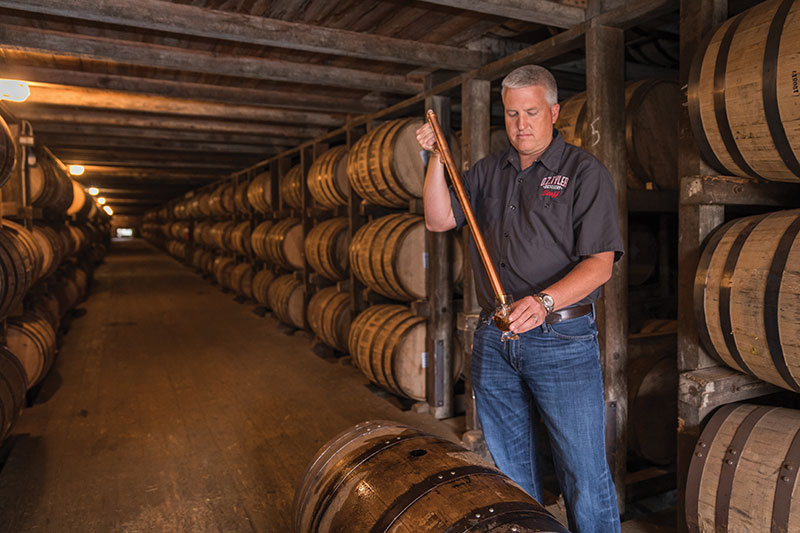 Set on a picturesque bend of the Ohio River, Owensboro lures visitors for myriad reasons. In the past seven years private-sector funding has revitalized its city center, adding hotels, restaurants and a downtown park. Besides its well-deserved honor as the Barbecue Capital of the World, this river town is home to the $15.3-million Bluegrass Music Hall of Fame and Museum; the Owensboro Art Museum, with an important collection of Kentucky and naïve art, and a cool Kaleidoscope Room; RiverPark Center's performing arts right on the riverbank; u-pick Reid's Orchard and its rockin' autumn Apple Festival; and the peaceful, strollable Western Kentucky Botanical Garden that, come summertime, sparkles with dazzling daylilies.
Add to that list the pièce de résistance for bourbon aficionados, O.Z. Tyler Bourbon Distillery (OZT). Owensboro's bourbon history is rich, thanks to its proximity to a rail line and a busy waterway, a limestone water source and vast oak forests, and hard-working grain farmers. The distillery's location has produced bourbon whiskey since the 1880s.
Begun at a site on the Green River in 1880, Monarch Distillery moved to OZT's current location in Owensboro and honored its roots by being renamed Green River Distillery. After fire destroyed the property in 1918 and Prohibition kept the industry idle from 1920 to 1933, the Kentucky Sour Mash Distilling Co. rebuilt at the location but went bankrupt almost immediately. In 1939 several Medley family members bought the facility and named it Charles W. Medley Distillers Kentucky, which changed hands a few times until it closed in 1993 and sat idle until 2014, when a subsidiary of Terrassentia, TerrePURE Kentucky Distillers Inc., purchased the 26-acre business. Terressentia, a South Carolina distillery located in North Charleston, specializes in contract production of distilled spirits for large retail chains, individual brand owners and other distilleries or exporters. An extensive $25 million renovation followed on the Owensboro property that included six warehouses and a 54-inch column still capable of producing 32,000 barrels a year.
OZT opened to the public on Sept. 1, 2016.
Founded on the idea that technology can vastly improve both quality and taste of distilled spirits, entrepreneurial Terressentia has implemented its patented TerrePURE filtration process at OZT that uses natural ultrasonic energy to filter out impurities in bourbon. The product ages for a year and a day in a barrel, and is then put into machines called "rosies," that, according to Dave Kirk of the Owensboro-Daviess County Convention and Visitors Bureau, look for all the world "like Rosie the housekeeper robot on the Jetsons." The process makes the bourbon taste like a four-year-old bourbon instead of a one-year-old.
"This makes the bourbon smoother so it doesn't have that burn," says Kirk. "You know, what we call 'the Kentucky hug.'"
Chemist, inventor and visionary Orville Zelotes "Ty" Tyler III – creator of indoor-outdoor carpeting, washable wallpaper and outdoor latex paint – and his stepson Edward Bailey developed the TerrePURE process after Tyler wondered why it took so long to age his favorite drink, Scotch whiskey. Their curiosity eventually launched Terressentia.
OZT is also aging a number of barrels the "old-fashioned way" in barrels, but a few years remain before this product will be ready.
"The TerrePURE process has been a real game-changer," Kirk adds. "People are fascinated. Between December 2017 and December 2018, visitorship to the distillery increased over 90%."
---
IT'S FREE | Sign up for The Lane Report email business newsletter. Receive breaking Kentucky business news and updates daily. Click here to sign up
---
On a behind-the-scenes tour, guests can learn every aspect of bourbon production, from grain to mash to barrel. Then comes the really fun part, tasting the end products – O.Z. Tyler Bourbon Whiskey, O.Z. Tyler Rye Whiskey, and O.Z. Tyler Honey Flavored Bourbon Whiskey.
This forward-thinking distillery is already making a name for itself in the industry. In 2017 the prestigious Kentucky Distillers Association named OZT a Heritage member of its organization, the highest level of membership, one that's based on volume produced. A production of 95,000-plus barrels of whiskey each year landed it among other esteemed Heritage members – Bardstown Bourbon Co., Beam Suntory (Jim Beam and Makers Mark), Brown-Forman, Diageo North America, Four Roses, Heaven Hill Brands, Louisville Distilling Company, Lux Row Distillery, Michter's and Wild Turkey.
In June 2018 OZT became an official stop on the Kentucky Bourbon Trail, quite an honor in a state that's home to Bardstown, the Bourbon Capital of the World. OZT's master distiller is Jacob Call, a third-generation distiller from Bardstown. Both his grandfather and father were longtime employees at Jim Beam Distillery.  Call's dad, Ron, was mentored by Booker Noe – a sixth-generation Beam and Jim Beam's master distiller emeritus who coined the term "small batch" bourbon – and became master distiller at Florida Caribbean Distillers; Jacob joined him there in 2007. The younger Call held several senior management positions before becoming part of the Terressentia team in 2014 to oversee the renovations and now manages OZT's whiskey production and warehousing.
The distillery's gift shop is open from 10 a.m. to 3 p.m. Monday through Friday and Saturdays, 10 to 4 (Central Time). A behind-the-scenes tour and tasting is available at 11 a.m. and 2 p.m. Monday through Friday and on Saturday at 11 a.m., 1 p.m. and 3 p.m.
Find out more about this cutting-edge bourbon at oztylerdistillery.com or call (270) 925-9671. Let your spirit lead you to Owensboro to discover it firsthand! Groups, contact Nicole Ebelhar at the above phone number or at [email protected].
And while you're at it, you may as well explore the whole Kentucky Bourbon Trail. Check out your luscious options at kybourbontrail.com.
---
Katherine Tandy Brown is a correspondent for The Lane Report. She can be reached at [email protected].