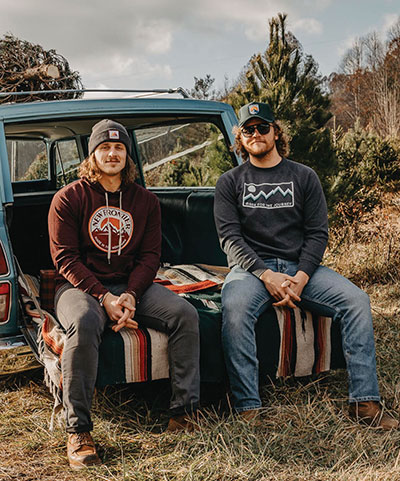 Two brothers in Morehead have turned a clothing business started out of their garage into a brand with international allure, all in barely over two years.
Brothers Jared, 27, and Josh Ravenscraft, 23, launched New Frontier Outfitters in late 2016 as a response to feeling jilted by national clothing brands like North Face and Patagonia, which seemed to focus most of their products and marketing efforts toward the American West.
The foundation for the Appalachian-branded company started being laid in the summer of 2016, shortly after Jared completed his strategic communications degree at Morehead State University and Josh finished high school. The two were briefly working as janitors at their alma mater Rowan County High School before launching a website from their parents' kitchen.
After getting inspiration for New Frontier's first apparel from a collection of retro ski badges and their dad's old '70s and '80s-era trucker hats stowed in the back of a closet, the brothers soon began completing online orders. They would jump into Jared's Jeep to personally deliver orders. Soon the Ravenscrafts headed back to campus to pitch their product to students and others in Morehead, which quickly paid dividends.
"We've noticed much more success from word-of-mouth marketing than what we've done with social media," said Jared. "It's far more effective to talk to 100 people face to face."
Bolstering the Ravenscrafts' efforts, several celebrity brand ambassadors have been spotted wearing New Frontier gear. "21 Jump Street" actor Channing Tatum began wearing the swag after the brothers caught wind of him passing through Morehead in 2017 and delivered a basket of company apparel to him.
---
IT'S FREE | Sign up for The Lane Report email business newsletter. Receive breaking Kentucky business news and updates daily. Click here to sign up
---
The brand's success has also risen alongside various musicians, including national touring country act Tyler Booth, a Kentucky native who recently signed with Song Music Nashville and Villa 40. The Ravenscrafts recall Booth shopping in their garage during New Frontier's infancy along with several members of The Food Stamps, the backing band for Tyler Childers of Lawrence County.
New Frontier's strong ties to the music community led the company to sponsor and work with several music festivals, including Kentucky's oldest event – Mount Sterling's Court Days – as well as the Main Street Festival in Franklin, Tennessee, and Live at the Garden in Memphis.
Jared said New Frontier had to branch outside of Kentucky for most of its festival engagements due to most established events in the state having already partnered with other clothing brands. Initially a disappointment, that conundrum became a blessing in disguise for New Frontier by making the brothers commit to their convictions about their brand and better tune a workmanlike sales pitch.
"Be 100% invested in what you're doing, because if you aren't all in, it's easier to give up or to make excuses to not keep pushing on during the tough times, because they will come," said Jared.
The future looks bright for New Frontier, which has over 23 wholesale locations across Kentucky, Colorado and North Carolina selling its gear in addition to a brick-and-mortar outpost opened in Morehead in 2017 that employs a staff of four, not including the brothers. According to Josh, the company hopes to also add two or three more brick-and-mortar outposts in the next five years to go with its wholesale partners. They are targeting a location in Asheville, North Carolina, which the brothers refer to as the "hub of Appalachia," to further establish the company as Appalachia's clothing brand.
Another goal is to continue expanding the company's online presence and international sales, which accounted for 8% of New Frontier's total sales in 2018, most going to U.S. troops stationed overseas along with Canada and The Netherlands.
"We're making something out of nothing, which can be a daunting task at times," said Jared. "It's a new frontier for us. We're excited to see where the journey leads."
New Frontier is currently designing its upcoming winter 2020-21 clothing line along with new sustainable products. Its website is MadeForTheJourney.com.