By Lorie Hailey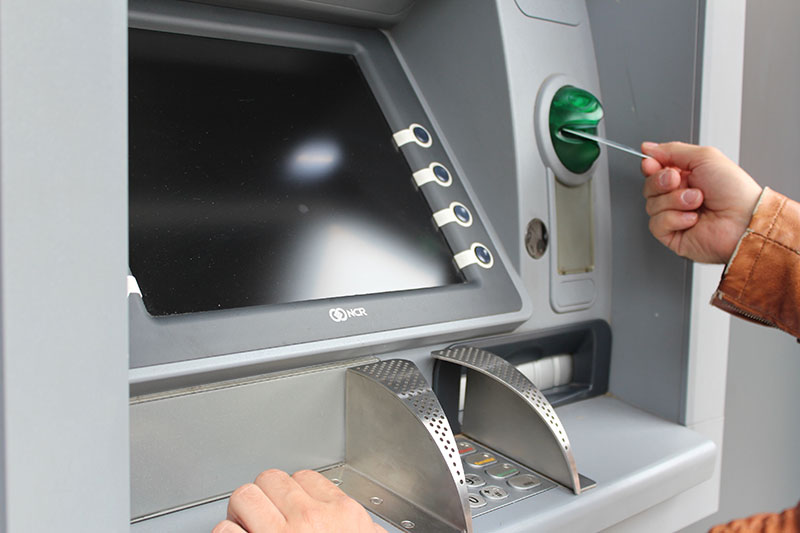 (Editor's note: This is part two in our series about how Kentucky businesses are responding to the challenges presented by COVID-19. See the full report.)
Unless your workplace is considered to be part of the nation's critical infrastructure, you are probably practicing social distancing at home – juggling your normal workload, daily conference calls and maybe your child's at-home schoolwork.
Many Kentuckians are in a much different boat. They're going to work every day at emergency services agencies, hospitals, grocery stores, gas stations, restaurants, manufacturing facilities and other workplaces, doing their part to make sure the nation's critical infrastructure stays strongly intact.
Banks are a vital component of that infrastructure. To remain open and keep their employees safe, however, banks have had to alter the ways they interact with customers. Lobbies are closed, but drive-through lanes at Kentucky banks are open and customers have access to automatic and interactive teller machines, mobile apps and 24-hour online banking. Bank employees are still processing loans and financial transactions as quickly and smoothly as possible.
The recently enacted federal Coronavirus Aid, Relief, and Economic Security (CARES) Act provides a variety of emergency relief programs for businesses and consumers, and banks will play a large role in implementation of those programs. Financial institutions also are helping their communities by following the FDIC's recommendations to defer, skip or modify loan repayments for some customers impacted by coronavirus.
---
IT'S FREE | Sign up for The Lane Report email business newsletter. Receive breaking Kentucky business news and updates daily. Click here to sign up
---
The Lane Report is talking to companies across the state about how they are adapting to meet the operational challenges posed by this global pandemic. Today, Tucker Ballinger, CEO of Forcht Bank, shares how Forcht prepared for the obstacles of COVID-19 and continues to serve its customers.
The Lane Report: Pre-pandemic, did you have any employees who telecommuted?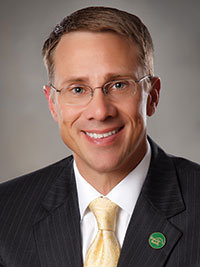 Tucker Ballinger: Typically, we don't have any staff members who telecommute on a regular basis. However, many members of our team travel throughout our community markets working with staff and customers, so we are equipped with technology to help us work remotely. This allowed us to easily transition select individuals into a telecommuting role during this pandemic.
TLR: When this situation arose, how did your company come up with a plan and how quickly did you implement it?
Ballinger: Our executive management team followed the COVID-19 outbreak from very early on as the virus arrived on U.S. soil. Once the management team understood how fast this virus was spreading, we began meeting once a day, or even twice a day sometimes, to formulate a plan of how to keep our employees and customers safe, as well as continuing to deliver banking services to our customers and communities. Following guidance from the CDC, our team began implementing measures to protect employees by allowing individuals with the ability to telecommute to do so. For our other employees, we found creative ways to spread them out and practice social distancing. These actions took place over the course of a couple of days.
TLR: What were the biggest challenges?
Ballinger: Space and equipment. Efficient organizations typically don't have additional unused space. The same strategy goes for equipment and computers. Our management team worked with our IT department to find resources and space to spread our employees out. We first asked select staff to work from home, and then began finding creative space for other staff. We have utilized conference rooms, training facilities, and other atypical spaces to set up work stations.
TLR: What is a typical workday like now with your telecommuting workforce?
Ballinger: The location of their "office" is the only difference between now and a typical workday for individuals telecommuting. We still expect our team to be working to serve our customers the entire work day and to be available for calls and department meetings as needed. As far as the management of telecommuters, we leave that up to their managers to determine the frequency of calls to ensure staff are on-track and completing work. We have a fantastic team in place throughout the bank and are not concerned about the work ethic or dedication to our customers.
TLR: Do you have video meetings or conference calls? Do you use any special messaging software to communicate?
Ballinger: Currently, we do not have any videoconferencing tools we are using to communicate internally. But on the customer side, our interactive teller machines (ITMs) have been advantageous given the directive of reducing human-to-human contact. Through our ITMs' two-way video, our customers have been able to access their funds and cash checks with the same personal service they would receive inside our banking centers, but without the risk of unknowingly passing or contracting COVID-19.
TLR: In what other ways has COVID-19 affected your business?
Ballinger: As standard practice in our industry, we have always had business continuity plans (BCP) in place for issues that may arise. Our team has implemented our BCP without missing a beat. We have had no downtime nor slowdowns in workflow across the departments in the bank. COVID-19 has not greatly impacted our business, only the means in which we conduct our business.
TLR: What kind of communication have you had with customers? Are they turning to you to help alleviate financial worries or anxiety?
Ballinger: We have kept communications with our customers to a simple message: We are here to help you with your banking needs. We have explained what we're doing to protect our employees and our customers during this unprecedented event, but the overarching message is: We are still here to serve our community.
A number of customers have reached out to us requesting relief during this difficult time, whether it be for their business or personal finances. We are working with each customer on an individual basis to identify a solution that fits their current needs. We understand the next few months are going to be difficult, but hopefully manageable with the right financial tools in place.
TLR: How has your staff reacted to the changes you have implemented?
Ballinger: We've had a tremendous amount of positive feedback from our teams. They have been very appreciative of … the additional cleaning services we have implemented and the social distancing we have put in place within our internal areas, as well as customer areas. Additionally, as many of our friends, family members and neighbors are being impacted financially through layoffs and lost wages, our team is grateful to have the opportunity to come to work every day and continue to serve their customers.
---
Share your story
We want to hear how business leaders across the state have responded to the challenges presented by COVID-19 and the efforts to stop the spread of it. If your business would like to share its story, email Lorie at [email protected].