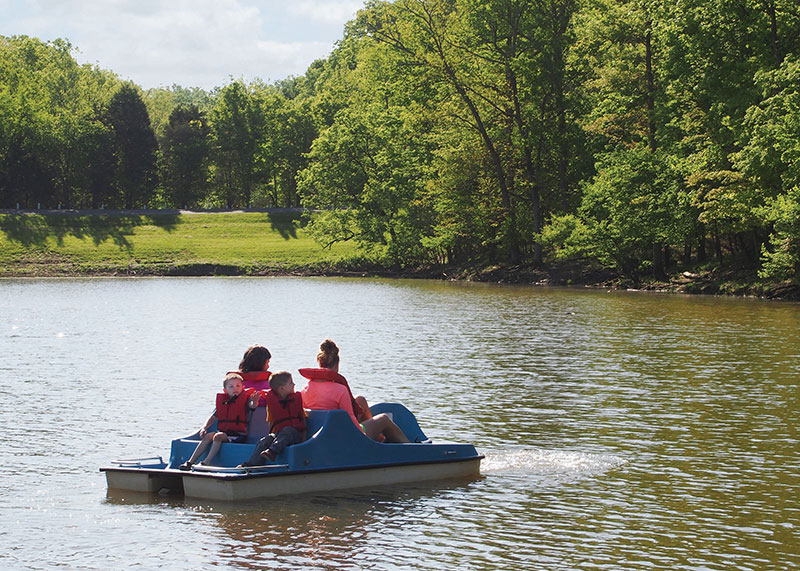 If you can drive through Boston, Concord, Knoxville and Portland within a matter of minutes, you're halfway between Cincinnati and Lexington in Pendleton County, Ky. These and other townships, along with the cities of Falmouth and Butler, make up a county rich in nature, agriculture, outdoor activities and local businesses across 280 square miles. Kincaid Lake State Park offers 850 acres of boating, fishing, swimming, camping, hiking and miniature golf for outdoor enthusiasts.
The Kentucky Wool Festival has been held in Falmouth every October since 1983, as thousands of people gather to celebrate the rural heritage of the area. The event has grown to include plenty of live entertainment, food vendors, artisans and, of course, sheep-shearing demonstrations.
In 2016 Pendleton County Tourism created the Ewenique Art Walk, now an annual event in downtown Falmouth ever September to celebrate the role of agriculture in the arts. Rose Hill Farm Winery in Butler, Ky., owned by fifth-generation farmers, grows its own blackberries and Concord grapes in a four-acre vineyard. Rose Hill produces blackberry, blueberry, apple and strawberry wines.
Pendleton County
Estimated 2020 population: 14,529
Households: 5,236
Median household income: $49,706
County seat: Falmouth, Mayor Ron Stinson, cityoffalmouth.com
Judge/Executive: David Fields, pendletoncounty.ky.gov
Chamber of Commerce: Pendleton County Chamber of Commerce, thependletonchamber.com
Economic Development Authority: Pendleton County Industrial Authority, pendletoncounty.ky.gov