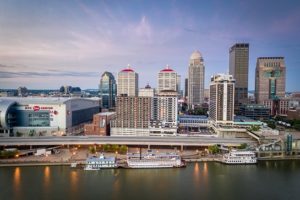 LOUISVILLE, Ky. — Mayor Greg Fischer on Friday said that Louisville Metro Government is temporarily furloughing 380 employees due to the unprecedented economic impact the COVID-19 crisis is having on the local economy and the city budget.
The employees work for the Louisville Free Public Library or serve as school crossing guards, jobs that have been largely idled with the closure of libraries and schools to slow the spread of the virus in the community. They will not lose their status as Metro employees and will retain their current benefits but will be able to apply for state and federal unemployment insurance.
"We've redeployed some workers from our libraries, community centers and our school crossing guards into other work, as skill sets allowed. But we're to the point now where we need to shift gears more to reflect a dwindling workload and an increasingly difficult budget situation," Mayor Fischer said.
The Mayor said it is a necessary but very difficult decision to furlough these employees. He stressed that it is his "absolute goal" to recall the employees back to work once the current crisis eases and their workplaces are open again.
"I truly appreciate all the men and women who've worked so hard to make our city great. But my job is to make sure we're using taxpayer dollars as efficiently as possible, and to keep our community as safe and healthy as possible," the Mayor said.
Daily COVID-19 data
As of Friday, there have been 768 confirmed cases of COVID-19 in Louisville, with 310 recoveries. There have been four additional deaths, bringing the Louisville total to 61.
Gender/Age data for today's deaths:
Female/80
Female/80
Male/73
Male/65
Currently, 27 members of LMPD, Louisville Fire, Metro EMS, Metro Corrections and the Sheriff's Office are off-duty due to COVID-19:
Seven are off with positive tests and in self-isolation.
12 are off and quarantined due to exposure to someone with a positive test.
Eight are "screened off" with symptoms and have been tested but have not received test results.
Positive test numbers for first responders/public safety since the incident began:
12 positive tests.
Five have fully recovered and returned to duty. (In yesterday's press release, a Jefferson County Sheriff's Office employee was erroneously counted as having returned to work.)
Metro Corrections inmate data for April 17:
45 inmates have been tested
Zero positive tests
Mayor Fischer thanks Kroger and its employees for response to crisis
Mayor Fischer today gave special thanks to the grocery company Kroger for providing an essential service while maintaining health and safety for customers and employees alike.
"Throughout this crisis, our partners at Kroger have really stepped up," the Mayor said. "They've implemented social distancing, installed screens in front of cashiers, and set aside special hours for seniors and vulnerable citizens to do their shopping. Now they're partnering with the state to conduct coronavirus testing."
Mayor Fischer lauded the thousands of Kroger employees who are keeping the community well supplied with food, medicine, and other essential items.
"I want to give a shout-out to the men and women working day and night to keep the shelves stocked, bagging groceries and doing deep cleans of the aisles and checkout lanes so we can all be as safe as possible while shopping," the Mayor said. "Thank you!"
Mayor Fischer also announced that starting on Friday, April 24, Kroger will begin cashing government-issued checks for free to make it easier for people to access federal stimulus aid that is being distributed across the nation to ease the impact of the COVID-19 pandemic.
"This is another example of Kroger's citizenship," the Mayor said. "This will help thousands of people in our city get their checks cashed and help them put that money to use buying food and other necessities for their families."
Dr. Sarah Moyer, director of Metro Public Health & Wellness, said the unprecedented challenge presented by the COVID-19 outbreak validates the work done over the years to build strong community partnerships to strengthen public health.
"A large part of my role as Chief Health Strategist is forming partnerships with stakeholders from across our community," Dr. Moyer said. "Metro Public Health & Wellness has been working with many of the stakeholders involved in the COVID-19 response for years. The relationships that we have created and maintained have enabled us to hit the ground running and work together effectively to keep the community as safe as possible."
WAVE-3 telethon raises money for One Louisville fund
Mayor Fischer thanked WAVE-3 TV for hosting today's One Louisville: COVID-19 Response Fund telethon. The telethon raised $32,245 for the fund, which was set up to aid Louisville residents and organizations that have been impacted by the economic fallout from the pandemic.
"Thanks to the One Louisville: COVID-19 Response Fund, we've been able to help 90 nonprofit groups that are helping our city's residents through this crisis, in addition to the hundreds of individual families we are helping," the Mayor said. "I want to thank our friends at WAVE-3 TV for partnering with us today with this successful telethon."
To donate to the One Louisville: COVID-19 Response Fund, go to www.GiveOneLouisville.com.
Mayor discusses COVID-19 impact on long-term care facilities
This morning, Mayor Fischer hosted a Tele Town Hall on Facebook Live that focused on the impact that COVID-19 has had on local nursing homes and long-term care facilities.
Although the pandemic has not been as severe in Louisville as it has been elsewhere, there have been some outbreaks and deaths among patients in local facilities that care for our most vulnerable seniors.
The Mayor was joined by Eric Friedlander, secretary of the state Cabinet for Health and Family Services; Adam Mather, who oversees these facilities in Kentucky as the cabinet's Inspector General; Dr. Muhammad Babar, a member of the state's new state Long-Term Care Facility task force; and Louisville Metro Medical Director Dr. Lori Caloia.
"Long before a lot of folks took notice of COVID-19, these facilities were working to prevent infections within their facilities, implementing CDC-recommended infection prevention protocols," Mayor Fischer said. "They're doing a good job under some difficult circumstances."
The Mayor also thanked Norton Healthcare for establishing the COVID-19 Post-Acute Call Center, a centralized call center for long-term care facilities to immediately connect with healthcare professionals for infection-control guidance and advice.
To watch a replay of Friday's Tele Town Hall go to www.Facebook.com/MayorGregFischer.
Tele Town Hall on Saturday
Mayor Fischer will be joined by Dr. Jon Klein on his Saturday morning Tele Town Hall on Facebook Live.
Dr. Klein, the Vice Dean for Research at the University of Louisville School of Medicine, will answer medical questions about the COVID-19 outbreak.
Go to www.Facebook.com/MayorGregFischer at 10 a.m. on Saturday to participate.