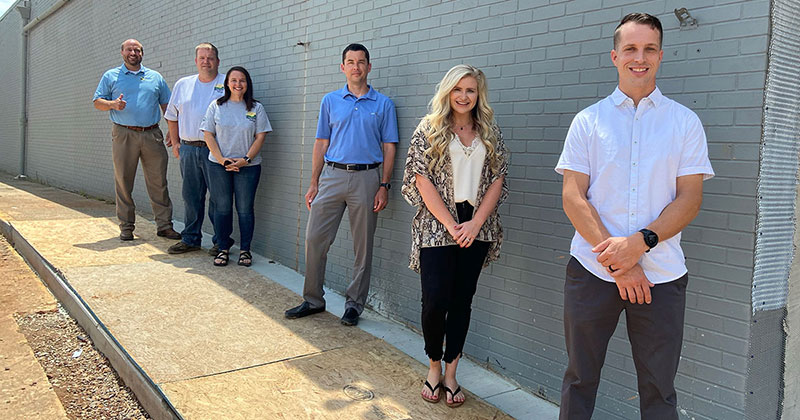 SOMERSET, Ky.  — A new mural celebrating Somerset and Pulaski County's rich history in the arts, its cultural connection to the railroad industry and its strong agricultural heritage will soon appear downtown.
The Somerset-Pulaski Economic Development Authority (SPEDA) has partnered with four local groups to fund the mural, designed by local artist Jordan Justice. It will be painted on the side of the old Food Fair downtown facing the new Lake Cumberland Farmers Market. The building is currently being converted into a retail and restaurant space.
SPEDA President and CEO Chris Girdler said the project illustrates SPEDA's commitment to enhance quality of life in the community, which is essential to successful economic development. Having a thriving downtown that promotes arts and entertainment is crucial to ensuring current and future residents have what they need to keep them healthy, happy and content to make Pulaski County their home, he said.
"The arts have a long history of building and strengthening communities," Girdler said. "Whether visual art, literature, music or theater, these genres bring people together to celebrate their heritage and share their stories, enriching lives and fostering community. With this mural, we will celebrate our story — paying tribute to our long history of excellence in the agriculture and railroad industries."
Having a healthy community is also key to enhancing quality of life, and it is another important part of this project, Girdler said. SPEDA partnered with Phoenix Wellness to apply for a grant from Norfolk Southern Railroad to help fund the mural. The mural will not only celebrate the community's history and heritage but will also promote outdoor recreation, which in turn improves the mental, physical and emotional health of the community.
"We are very pleased to be a part of this project," said Norfolk Southern representative Derek Sublette. "The aim of our charitable giving is to invest in educational, cultural, environmental and human service organizations throughout our service territory. Enhancing a public space in this way fulfills these objectives and creates a unique sense of place."
In addition to Norfolk Southern, Burnett Farms and Be You Boutique also contributed financially to the project and will be featured in the mural. Be You Boutique will have a retail store inside the Food Fair building once construction is complete.
"Our family is humbled to be a part of Somerset's downtown revitalization, and we are honored to have the opportunity to pay homage to our community's rich arts and agricultural heritage through this mural," Be You Boutique owner Ashton Dockery said. "We are looking forward to working with and supporting all of the businesses in the area. Downtown Somerset was once a shining star for all communities; we are excited to watch that star shine bright again."
Burnett Farms is a family agriculture enterprise that offers farm-fresh produce and meats at its on-site market. It joins other farms in Pulaski County in having a significant impact on the local economy — more than $50 million is generated annually by the agriculture industry here.
Owner Mark Burnett is also a member of the Lake Cumberland Farmers Market board of directors.
"It excites me to see the current and future growth of Somerset," Burnett said. "Downtown Somerset is the heart of our town and the revitalization that is taking place is promising to all citizens in Pulaski County. I trust that our city and county government in collaboration with SPEDA will continue to visualize and support a prosperous future for all businesses and consumers. My family and I are honored that Burnett Farms is featured in this beautiful mural. We are proud to call Somerset home."
Originally from Eastern Kentucky, Justice has called Somerset home for 12 years. His artwork is familiar to downtown — his most recent mural can be seen on the side of the Somerset-Pulaski County Chamber of Commerce building and will be visible from the one he now prepares to paint.
Justice's airbrushing journey began when he attended Somerset Community College's aviation program. He painted his first mural in the break room of Summit Aviation in Somerset in 2009 during his employment there. Since that time, he has painted scenes in baptisteries, masonic lodges and has completed large outdoor murals in Pikeville and Somerset.
"Twelve years ago, downtown Somerset seemed kind of lonely and bare, but it's amazing what the city has done to liven up the downtown area in such a short period of time," Justice said. "It's like our little town has gotten a complete facelift and I have felt so grateful to have the opportunity to take part in beautifying our city. I absolutely cannot wait to get started on this project share more bright, colorful artwork with our town."
The mural design will not be made public, Girdler said, in an effort to build excitement and anticipation and encourage people to watch as Justice completes his work. The mural is expected to be complete in July.
"I am so excited to see this project come to fruition," Girdler said. "This mural will be a wonderful complement to the Lake Cumberland Farmers Market while also honoring SPEDA's commitment to enhance downtown development efforts. We are grateful to our partners for making this opportunity possible and will continue to promote collaboration between the public and private sectors to advance our community."