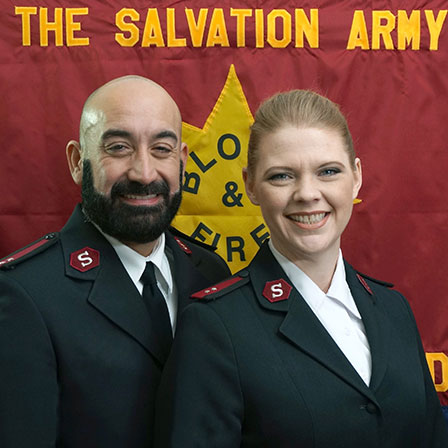 LOUISVILLE, Ky. — The Salvation Army's Advisory Board and staff welcomed recently the arrival of Captains Jimmy and Lacy Parrish as area commanders of The Salvation Army in Louisville.
"To say we are thrilled to have the Parrishes take the helm at The Salvation Army is an understatement," said Advisory Board Chair Andrea Scholtz. "The Parrishes bring an energetic and friendly vibe that is similar to that of their predecessors. It is clear they are progressive and ready to help us continue to move forward, and we are ready and excited to continue this journey with them."
Prior to arriving in Louisville, the Parrishes led local Salvation Army units in Texas (Conroe, Texarkana and the Kroc Center in Kerrville) and also supervised programming for art, music and spiritual development of young adults for The Salvation Army North and South Carolina division.
Jimmy and Lacy Parrish are passionate about their commitment to improving lives with the mission of the Salvation Army.
"Ultimately, our work is to continue providing excellent and innovative community programming and ensuring that The Salvation Army in Louisville increases its capacity to serve people at their point of need," Jimmy Parrish said. "Together with our loyal community partners – and our 'army of supporters' who offer their time, talents, and treasures — we will persist in building reliable and sustainable bridges up and out of poverty."
The Parrishes follow Majors Roy and Kathy Williams (recently assigned as Miami-Dade Florida Area Commanders,) and have been with The Salvation Army for going on 12 years; this is their fifth appointment as officers.
Captains Jimmy and Lacy Parrish will be making rounds in the coming weeks to become acquainted with the Louisville area and to meet as many community leaders and friends of The Salvation Army as possible. For more information on The Salvation Army in Louisville, please visit www.salvationarmylouisville.org.