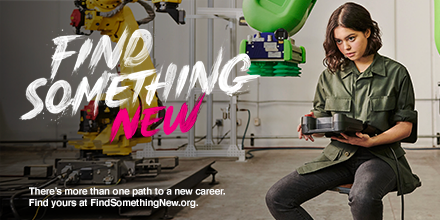 VERSAILLES, Ky. — Find Something New is a new campaign launched Tuesday by the Ad Council to help people think about new career options and how to get there. With nearly 18 million Americans out of work amid the COVID-19 pandemic, the campaign will help people of all ages, experiences and backgrounds understand how to develop their skills for the rapidly changing job market.
The Kentucky Community and Technical College System (KCTCS) supports the national campaign created in collaboration with Apple, IBM and the White House and more than 200 public, private and non-profit members of Business Roundtable and the White House's American Workforce Policy Advisory Board (AWPAB). KCTCS President Jay K. Box serves on the AWPAB and was on the committee behind the new campaign.
"We know here in Kentucky and all across our nation that people are hurting because of job loss," Box said. "This new campaign echoes the ideas KCTCS has been espousing and reinforces that there are many pathways to good careers. In fact, in as little as a few months, you can get re-skilled for good jobs with companies that are hiring now."
The campaign will appear nationwide via TV, digital, print and out of home. Omnicom media agency OMD is donating media strategy and outreach to support the campaign. Acxiom, Cox Communications, The CW Network, Facebook, Fox Corporation, NBCUniversal and Snap Inc. are among the media organizations who have committed significant support. The television ad can be viewed here.
The ads direct audiences to FindSomethingNew.org, a new website with resources to help students and adults across the U.S. identify and pursue the right path for their career goals. The website offers an interactive tool that recommends education pathways for each user, information about rising careers to consider and a directory of resources for life services like childcare, food assistance and internet access.
"The KCTCS Marketing team and I are proud to have played a role in this new campaign that can help Kentuckians, and all Americans, have better lives," Box said. "With the fall semester just around the corner, there's no better time to begin searching for new career options and get enrolled at one of our 16 colleges."
For information on the real world programs KCTCS colleges offer, or to enroll, please visit kctcs.edu or any local college website.