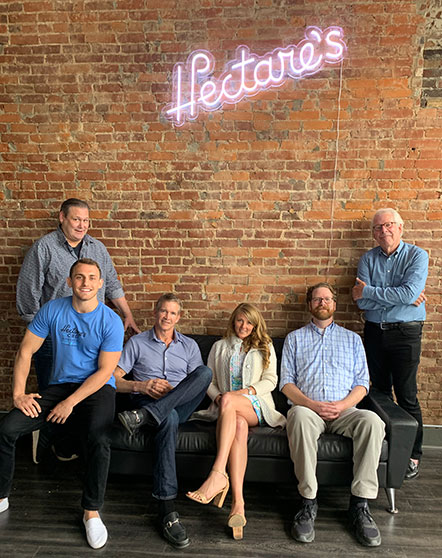 LOUISVILLE, Ky. — Louisville-based Hectare's Wellness Innovations, which manufactures and sells its own proprietary nutraceuticals and Kentucky-grown Hemp CBD-infused Wellness Shots, was not idled by the COVID-19 crisis. In fact, the startup pressed forward in 2020 on several fronts — and made a quick, bold pivot.
In a matter of weeks, the one-year-old company developed and launched a new product line, drinkable immune-boosting Hectare's Wellness Shots, to help people looking for ways to help fight off the coronavirus and other illnesses. Company leaders tapped connections in the nutraceutical industry to create a 2.5-ounce immune-boosting Elderberry shot for daytime use and travel size 2.5-ounce immune-boosting Ginger Turmeric shot for nighttime use. The immunity products sell for $4.99 on the company's website, Hectares.com, Amazon, and at several health and nutrition stores.
Meanwhile, Hectare's has ramped up for an Aug. 1 full-production run that will place its products in more than 300 health and nutrition stores, such as Fresh Thyme markets, across the country. The product placement includes the company's CBD wellness shots as well as the immune-boosting products.
Hectare's launched the immune system products through a collaboration with Louisville-based NiroWell, a natural, raw material supplier to the dietary supplement and nutraceutical industries. Hectare's vertically integrated business model allowed it to use its existing bottling and supply chain network to produce the immune-boosting wellness shots.
"Our team deserves significant praise for quickly figuring out how Hectare's could play a positive role in response to COVID-19," said Hectare's CEO Bart Miller, who founded First Omni Mortgage Lending in 2000 and led it for a decade before profitably exiting in 2011. Since then, Miller's business leadership experiences have focused on real estate, marketing and healthcare.
Hectare's is led by an experienced group of corporate executives and serial entrepreneurs. In addition to Miller, Hectare's day-to-day management team includes co-founder and serial entrepreneur Jeff Stum, who co-founded Ballotin Chocolate Whiskey and founded Rooibee Red Tea Company, where he worked from 2007-14. Prior to his entrepreneurial endeavors, Stum was a Brown-Forman Corp. manager for 12 years.
Other leadership includes Mike Fulkerson, director of operations and business development, a former Ale-8-One business and brand development executive, and Doug Keeney, chief marketing officer, who is an experienced beverage entrepreneur and creator of Old Limestone LLC as well as a New York Times best-selling author. Marketing Director Kristina Bell brings a decade of experience in the wine industry and digital marketing.
Other directors and advisers to Hectare's include serial entrepreneur Chris Lavenson, president of NiroWell and a founder and investor in numerous startups, and Bob Marino, COO of Upstrem Inc., founder and CEO of "Thank You Back" by Soniram LLC, and former CEO of CafePress.
Since the COVID-19 outbreak, Hectare's has managed to stay on track with its ambitious growth strategy for 2020 by managing increasing product sales, contacting out-of-state institutional investors, establishing a presence on Amazon.com, finalizing a Shopify Application, conducting research, and opening its new corporate office and retail center. In late May, Hectare's moved into space at 819 East Market Street in the burgeoning NuLu Marketplace development. Hectare's offices are in the back of the 3,400-s.f. space with the storefront portion set aside for retail sales. The retail operation is expected to open in mid-August.
Prior to launching the immune-boosting shots earlier this year, Hectare's lineup of patent-pending products included small-batch, artisan, liquid CBD wellness shots with specialized formulas designed to provide extra energy or enhanced tranquility. The Tune Up caffeine-infused CBD formula comes in two flavors, Cold Brew and Simply Berry. The Tone Down melatonin-infused formula's flavors are Calming Chamomile and Heavenly Hibiscus. Citrus Ginger and Goji Blackberry CBD shots that do not contain caffeine or melatonin will be added to the lineup soon. Until the Aug. 1 full-production launch, the 2.5-ounce shots can be found at hectares.com, on Amazon.com and at some specialty retailers. Wellness shots sell for $4.99.
"With our Kentucky hemp-based products, we are committed to ensure our wellness solutions are natural, safe, chemical-free and effective," Miller said, noting that all Hectare's products undergo third-party testing to ensure purity. "We are extremely bullish on the therapeutic benefits of nutraceuticals — products found at the intersection of science and the food supply. The nutraceutical industry is expanding rapidly as consumers search for natural solutions to make their bodies stronger and healthier."
Demand for cannabis-based products continues to grow, and the cannabis industry provides a broader business landscape for Hectare's to pursue. In fact, Hectare's is poised to become a national leader in the $20 billion cannabis industry, which is projected to grow at a rate of 21 percent annually for three years, reaching a value of $23 billion by 2023. Those figures are cited in a detailed industry analysis by FinancesOnline. The report also projected that the global market value of legal marijuana will reach $146.4 billion by the end of 2025. (See the Finances Online report here: https://financesonline.com/cannabis-industry-statistics/).
Miller acknowledged the industry's fast growth rate and noted that investors are eager to back Hectare's as they learn about the strong anticipated trajectory of the cannabis industry. Company officials met with institutional investors in Chicago in the fall and continue to meet with potential backers on a regular basis.
In less than a year, Hectare's has raised $700,000, and the company is currently securing final placements in a $1 million Convertible Note Round, which is anticipated to close in late July. A $1.5 million Series A Financing Round will open shortly thereafter to bring on investors as Hectare's continues to get unsolicited calls from potential backers, Miller said. He noted that one-third of the investors in Hectare's are medical professionals, which company officials believe significantly increases the credibility of the efficacy of their products.
"We tell potential investors this is the right time to get behind the cannabis industry," Miller said. "We are the perfect addition to the portfolio of an investor who is seeking a ROI well in excess of what current markets can provide. This moment with cannabis is the equivalent to the early years of Apple — not long after Steve Jobs moved the business out of his garage."
While the sale of marijuana or products containing THC is not yet legal in Kentucky, the company's home base, Hectare's has established its footprint in the 11 states that have legalized the sale of marijuana. Hectare's leadership believes the future of legalized marijuana in Kentucky is inevitable, and the company is currently conducting research and development on THC-infused cannabis products in Arkansas, Florida and California.
"We see the hemp and marijuana industries following in the footsteps of the thriving bourbon industry that is strong in manufacturing, product development and tourism in Kentucky," Miller said. "Hemp was the number one crop in Kentucky decades ago. We see its resurgence as a leading Kentucky crop, as well as legalized marijuana, eventually taking off the same way bourbon has."
Until then, Hectare's has plenty of opportunity to thrive within the THC-free hemp-based product sector. "We've been extremely busy this year, and we've had to work extremely hard to stay on top of everything," Miller said. "It feels good to be where we are at this juncture. Things are right on track for Hectare's."