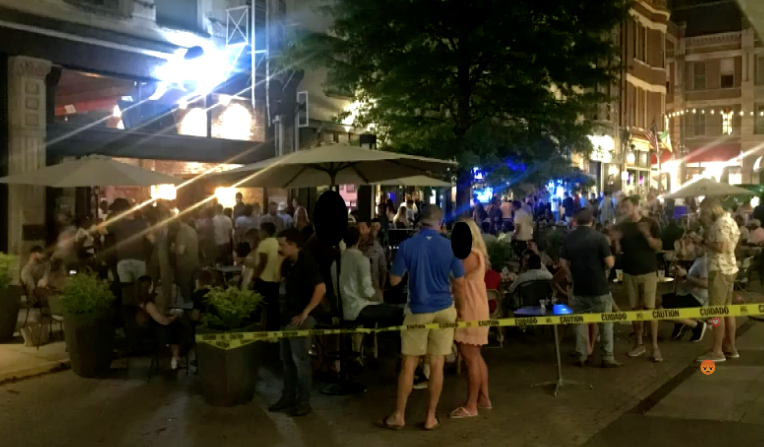 FRANKFORT, Ky. — Kentucky Gov. Andy Beshear has ordered all bars to close for a second time and all restaurants to reduce seating capacity to 25% to stem the spread of the coronavirus, the governor announced Monday during a news conference.
The measures will begin Tuesday at 5 p.m. and will be in effect for two weeks, until Aug. 11.
"Kentucky is dealing with a surge in the coronavirus," Beshear said. "We all need to be singing from the same sheet of music."
Statewide action is necessary, Beshear said. The White House believes that four steps are necessary for a state that is escalating. Those steps are (Beshear actually gave five steps):
• Facial covering mandate.
• Limit social gatherings to 10 people or fewer.
• Close all bars for two weeks effective 5 p.m. Tuesday, July 28.
• Limit indoor restaurant capacity to 25%. Unlimited outdoor capacity as long as they can provide social distancing.
• Recommends schools wait until the third week of August to start in-person classes.
The governor reported 522 new COVID-19 cases Monday and nine deaths.
---
IT'S FREE | Sign up for The Lane Report email business newsletter. Receive breaking Kentucky business news and updates daily. Click here to sign up
---
Dr. Debroah Birx from the White House coronavirus response team visited Beshear in Frankfort Sunday. The governor said Sunday he may have some new announcements and recommendations coming.
"I will not let us become an Alabama, a Florida or an Arizona," said Beshear. "We've got to take proactive steps and that's what we're trying to do."
Birx met with Beshear to go over the state's response to the pandemic. She said in order to prevent the commonwealth from slipping into dangerous territory, the state should close bars again and limit restaurant capacity even further.
Birx also visited Indiana July 24 to speak with school leaders on safely reopening schools.
"We can see what is happening in the south moving north," said Birx.
She said the current wave of COVID-19 cases spreading throughout the country is already well on its way to Kentucky, Ohio and Indiana and recommends states act now to get things under control.