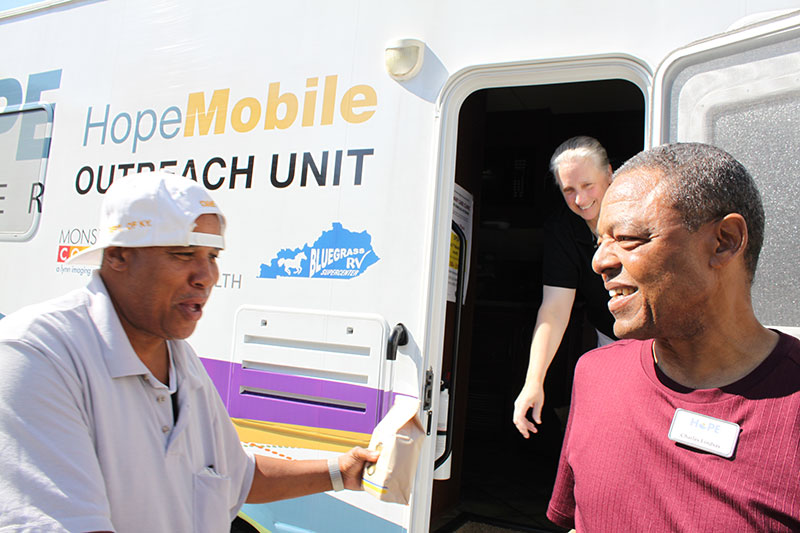 LEXINGTON, Ky. — The Hope Center's HopeMobile team is filling a gap left by many places that have been forced to close during the pandemic.
"Many spaces that serve as a safe place for the homeless have been forced to close their doors temporarily," said Janice James, interim executive director of the Hope Center. "As we move through uncertain times, the HopeMobile staff provides comfort and care to those in Lexington who need it most. It's also especially important during these hot summer days."
Its custom RV, the HopeMobile, is specially equipped to provide food, water and essential services to those experiencing homelessness, hunger and those in need of assistance with healthcare, finances, or finding community resources.
The HopeMobile team, which includes a nurse and a caseworker, reaches out to the homeless and marginally housed in downtown Lexington. The HopeMobile is parked at Calvary Baptist Church on Mondays, Woodland Christian Church on Tuesdays, Maxwell Street Presbyterian Church on Wednesdays, and Broadway Christian Church on Thursdays and Fridays.
Staff members distribute sack lunches, bottled water, hand sanitizer, toiletries and clothing to anyone in need. They also provide referrals for shelter, job training, utility assistance, healthcare and more.
The HopeMobile is accepting donations of:
Sandwiches
Sack lunches
Bottled water
Disposable masks
Small bottles of hand sanitizer
Donations may be dropped off at the Hope Center Men's Emergency Shelter, 360 West Loudon Avenue. Please call the front desk at (859) 252-7881 to drop off donated items, or contact Carey Cairo at [email protected] for more information.