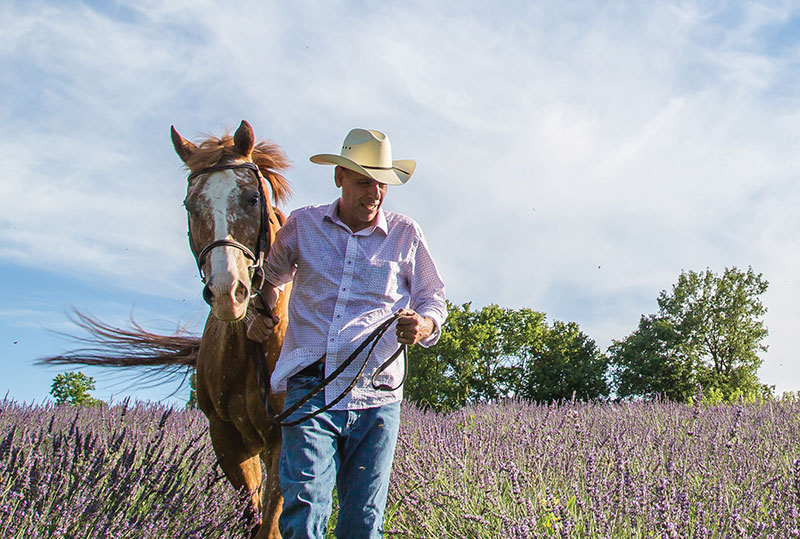 AFTER only a month or two of sheltering in place due to COVID-19, I found it easy to see the negative effects that humans' daily interference with nature can produce. Spring 2020 was exceptionally beautiful and peaceful outdoors. Birds sang seemingly with abandon. Positive human encounters with "wild" animals increased. Skies registered a cleaner, clearer blue; greens appeared greener; and flowers sprang up unbidden in surprising places. Mother Nature was starring in her own Disney movie.
Though the pandemic rages on and its outcome is unknown, more and more people are awakening to the fact that Earth needs our help. Now. It's easy to assume the job is too big for one person and dismiss it, but as more individuals wake up to the realization that each of us can live our lives a little greener, the happier our planet will become. One way to do this is to support sustainable businesses, those that consider profits, planet and people first, with an eye toward the future, instead of a total focus on the bottom line.
Two years ago, two men began such a business on a Spencer County farm, morphing its once-thriving tobacco land into a fully sustainable lavender farm, where the herb now hangs to dry in an old, perfectly vented barn. The crop appealed to the Jason Woodlief and his husband, Jason Walker-Woodlief, because it leaves no waste, is bug-resistant and drought-tolerant, requires no irrigation, has an interesting history and is popular. The whole plant is usable, whether dry, fresh or in-bud. No chemicals whatsoever are used on this lavender crop or in the surprisingly vast array of products sold at their store, Little Mount Lavender Co. (LMLC) in Shelbyville. The shelves of the store burgeon with items made from seedling lavender plants, from body care products to essential oils and aromatherapy infusers, yummy baked goods and culinary merchandise, beautifully crafted Kentucky artisan pottery and jewelry. In addition to their own handmade merchandise, the Woodliefs use as much local and in-state-sourced product as possible.
Louisville Container supplies the shop's empty glass jars and bottles and packaging. The care the couple takes with purity is impressive.
"We do our best to stay sustainable, clean and healthy, with no parabens, formaldehydes, chemical additives or preservatives," said Jason Woodlief. "Our strongest preservative is a naturally dehydrated powdered vinegar that's great for all cosmetics because it doesn't hurt the skin and does the same job as a high-based petroleum product, which is poisonous and not sustainable."
In addition, LMLC's customer relations are impeccable and have been a priority from the outset. The company's business model is that of an old-school specialty shop, offering long-lasting products and terrific customer service that keeps people returning for years.
"Everything takes time for us to install, test run and use," Woodlief added. "Whatever we have in the store has been through the 'farm test' and customers know they can trust our products."
---
IT'S FREE | Sign up for The Lane Report email business newsletter. Receive breaking Kentucky business news and updates daily. Click here to sign up
---
The early days of the coronavirus brought numerous small businesses screeching to a halt. Many have not yet recovered. Early on, the pandemic pushed LMLC to outsource hand sanitizer and keep the cost reasonable, while also focusing on its social media and building that base. The company has added about 50% more followers over the past 13 months, grew its customer base while closed, and actually posted a record month in May. Woodlief cites several influencing factors, including a strong online presence, social media, curbside service, and online ordering/delivery, all of which remain in place.
"It's all about educating and staying connected," he explains. "Even pre-COVID we always focused on multiple levels of customer service. We're very engaged with our Facebook following and have created a loyal customer base. Luckily, we'd gone online the first of this year, and as a convenience, we pushed all products online when the pandemic started. We added curbside service and allowed our clients to order online and pick up at the shop. We've demonstrated our resilience to our customers, that we'll do whatever we can to assure they're taken care of."
There's even in-store recycling. Return an empty glass container that perhaps once held a candle, farm-made jam, apple butter or lavender honey, and score a dollar off your next purchase.
Recently, LMLC added an in-store bakery, as there's now a commercial kitchen in the shop in addition to one at the farm, where the owners stay busy tending their crop, farm chores and animals, which include Swiss Alpine goats, beehives, horses and dogs. Stop by the store, smell the goodies and snap some up to take home, because they're not available online. Baked goods include herbs de province focaccia bread, lavender marmalade buns, and European-style cookies, such as lavender-orange shortbread, lavender-lemon spritzer cookies and organic coconut macaroons with white chocolate. 
So how do these two entrepreneurs get everything accomplished without investors or corporate backers? Woodlief is quick to respond with a noticeable passion in his voice.
"We own the farm, lock, stock and two smokin' barrels!" he says. "We do this all ourselves and work every day on product. We both come from corporate and military backgrounds. We have no bosses but us. It's extremely hard and a lot of work, but our loyal customers are reward enough."
If you're curious about how lavender is grown and what day-to-day farm life looks like, go to Little Mount's Facebook page, where you can watch short, informative videos about that and plenty more.
Visit the company's website –littlemountlavender.com—and prepare to be amazed. If you want to savor those luscious bakery items, the Shelbyville store is located at 524 Main St. Look for the purple horse outside.
For more information, visit the website or call (502) 600-1106. ■
---
Katherine Tandy Brown is a correspondent for The Lane Report. She can be reached at [email protected].