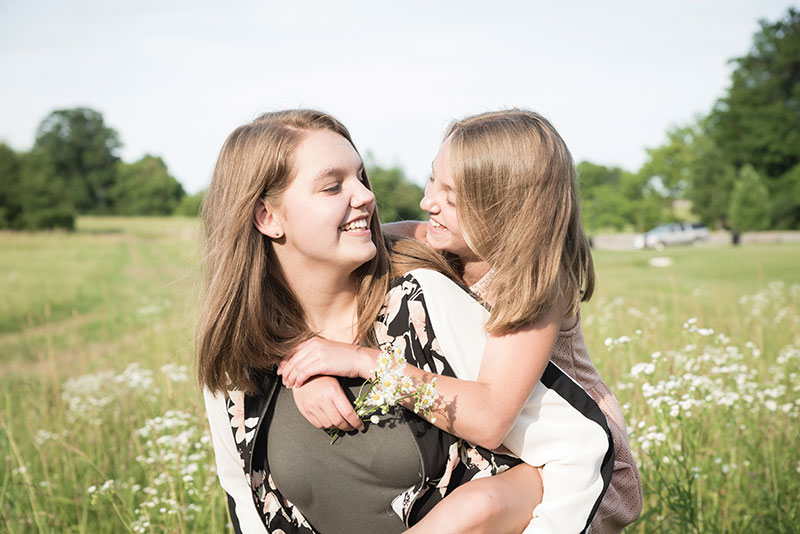 PHILANTHROPY
Children's Alliance is an association that represents and supports over 36 child welfare and behavioral health care agencies across Kentucky. The organization's mission is to improve the well-being of at-risk children and families by shaping public policy and enhancing member agency programs. Children's Alliance works in partnership with elected officials and state leaders to ensure services to vulnerable children and families are accessible and effective. Here, President Michelle Sanborn explains more about Children's Alliance and the impact it has on the commonwealth.
What is the main goal of your organization?
We believe all children should be loved, nurtured and safe from abuse and neglect. We strive to promote and advocate for quality services that achieve permanence, well-being and positive development for Kentucky's children.
What are your current needs as an organization? 
While Kentucky is recording a significant decrease in abuse and neglect reports since February, our member agencies are preparing for a spike in both abuse rates and children entering foster care due to the COVID-19 pandemic. At-risk children and families were already suffering from stress, trauma and lack of supportive services before the pandemic. Isolation and social distancing during the pandemic have placed vulnerable children and families at greater risk. Stressors like unemployment, isolation, fear of the coronavirus, lack of child care, etc. caused by the pandemic are especially challenging for families who are already experiencing household dysfunction (mental health disorders, domestic violence, substance abuse, etc.).
Increases in stressors can lead to a higher likelihood of child abuse and neglect in the home. Schoolteachers, coaches and day care workers are those who often see and report abuse and neglect and during this pandemic, these professionals are not seeing our children. Therefore, we need everyone in the community to know and be able to recognize the signs of abuse and neglect and contact their local authorities to report their concerns.
To learn more about the signs and symptoms of abuse and neglect, go online to faceitabuse.org/videos/ and watch a video that offers guidance on how to recognize and report child abuse. Anyone who knows or has reasonable cause to believe that abuse or neglect has occurred is obligated to report it. In Kentucky, everyone is a mandatory reporter. To report abuse or neglect, call (877) 597-2331. 
What is a recent achievement you are proud of?
When the COVID-19 crisis hit, our member agencies had to continue to provide quality services and ensure the safety of thousands of at-risk children and families, while pivoting to meet the unique pandemic-related challenges. We are proud that our members successfully provided needed care while keeping clients and staff alike safe and healthy. Our member agencies quickly responded to the crisis and their staff rose to the occasion as essential workers and provided exceptional care. While many of us were going home to shelter in place, our member agencies were working overtime to ensure children served in our foster care system were well cared for. In addition, our community-based member agencies swiftly began providing services via telehealth, thanks to the quick response from our state leaders at the Cabinet for Health and Family Services.
---
IT'S FREE | Sign up for The Lane Report email business newsletter. Receive breaking Kentucky business news and updates daily. Click here to sign up
---
While there is no substitute for laying physical eyes on a child, many member agencies reported telehealth as a positive change during the pandemic. Some traumatized children opened up through the use of technology. Some parents were able to be part of their child's therapy session and communicate with their child's therapist for the first time. Telehealth eliminated transportation issues that often plague our vulnerable families in our rural communities.
We believe the use of telehealth has been a positive outcome from this pandemic and are advocating that policies be put in place to ensure the expansion of telehealth is permanent. Our members learned that telehealth services will not be a solution for all clients, but they have seen tremendous success with many children and families. 
How can people get involved?
In addition to watching for and reporting child abuse and neglect and considering becoming a foster or adoptive parent, we need people to contact their legislators to advocate for federal funding to help cover additional costs incurred during this pandemic by our child welfare and behavioral health members. Our member agencies that are providing care for Kentucky's at-risk children and families are relying on state and federal funding now more than ever. The agencies have had to increase their workforce to provide in-person care for children and had to invest in increased technology to implement expanded telehealth services. They were struggling to cover the cost of care before the pandemic and the increased cost for staffing and technology due to the pandemic is untold.
We encourage the public to contact their state and federal legislators today and urge them to support bills that will address the essential needs of our children and families (i.e. health care, housing, access to needed services).  More information about federal policy priorities for child welfare is available at cwla.org/action-center/.
Can you share some of your success stories?  
One of our members worked with a teenager whose anxiety was so severe that they could not leave their home and the idea of therapists coming to their home caused panic attacks. Several different things were tried but as soon as we implemented telehealth, they were able to engage fully in both therapy and medication management and made tremendous progress. They are currently taking walks around the neighborhood and planning for a trip to a public place.
Another member was working with a single mother with three children who worked full time. With telehealth, the therapist was able to meet with the mother more frequently and the meetings were able to be more flexible to meet the mother's needs. Because of the increased sessions, the mother has been able to manage depressive and anxiety symptoms more effectively. The therapist has been able to have more family contact with the children and telehealth has allowed the mother to have therapy with each child individually, allowing for deeper understanding and insight into their relationships. Telehealth has been a true blessing to these children and families.    
What are the primary challenges your organization faces? 
Our continued disappointment is the needs of hurting children and families, and systems that often do not solve or fix the issues causing their hurt. Trying to balance limited resources to meet children and family's needs is a constant challenge. While we strive to make positive systemic changes to child welfare and behavioral health care for our clients, there are still those who have not been able to access what they need to overcome their trauma histories, rise up out of poverty, or recover from addiction, and that's heartbreaking. But, we also have hope that children and families can overcome even the most difficult of situations and we will continue to advocate toward a system that will give them the opportunity to do just that. ■
Can You Help?
History tells us that during times of economic recessions, child injuries and death due to abuse and neglect increase. As Kentucky children return to daycares and schools, Children's Alliance is anticipating an increase in children entering the foster care system. As a result, Kentucky urgently needs more foster parents. If you are curious about what it would take to foster or adopt a child in Kentucky, take the next step by attending a virtual information meeting at a local or state agency today. Foster care is and should be the option of last resort for children, but for those who need it, it is a critical lifeline. To find an agency you can work with, visit childrensallianceky.org/about/directory/search-directory/ and search for an agency in your area.