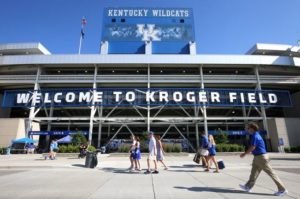 Lexington, Ky. — This weekend, the University of Kentucky and Lexington Police will kick off a partnership designed to help fight the spread of COVID-19, Lexington Mayor Linda Gorton and University of Kentucky President Eli Capilouto announced today.
The partnership, involving both police agencies and the Lexington-Fayette County Health Department, will step up efforts to monitor and respond to pandemic-related, off-campus Student Code of Conduct violations. This collaboration will begin in preparation for the first UK home football game this Saturday, Oct. 3.
"Everyone involved in this partnership is concerned about public health and safety in Lexington," Gorton said. "This new collaboration among UK, Lexington-Fayette County Health Department, and the City will focus on reducing the spread of COVID-19 within our community. We are working together in a way we've never done before. The university has been a leader among higher education in taking proactive COVID-19 measures for their students, and adding this additional collaboration makes those measures even stronger."
"We share the goal of doing everything we can to ensure the health, safety, and well-being of the community," Capilouto said. "Even as our data, through robust contact tracing, clearly show the virus has largely stayed contained to the UK community, it's critical that we do our part to protect everyone and limit spread. This partnership is one more way we are working together in a comprehensive approach to confronting this unprecedented public health crisis."
Specifically, UK data gathered by its 50-member Health Corps team demonstrate that the number of exposures among members outside the university community who live in Fayette County is only 5.5 percent. That means the vast majority of exposures have remained among UK students or employees. UK has conducted and collected more than 32,000 tests for the virus since early August and is continuing with randomized testing among students as well as community testing at two campus sites.
With this partnership, both police departments will jointly patrol off-campus student housing areas observing for law violations. UK Police will be able to also intervene when responding to student group gatherings not abiding by COVID-19 health guidelines by enforcing the university's Student Code of Conduct. The joint patrol will begin Friday, Oct. 2.
"It is great to see the city and university working together to ensure students are safe and healthy by adhering to UK's student conduct policies and public health standards," said Courtney Wheeler, UK's student government president. "The University of Kentucky's goal is to keep our students and our community safe. This partnership is another step designed to help ensure that."
Citizens can report complaints in several ways. Reports of student misconduct can be reported to UK by visiting www.uky.edu/studentconduct, emailing [email protected], or calling 859-218-SAFE. It is requested complaints contain as much information as possible regarding the location of the complaint and those involved.
Reports regarding restaurants, bars, and public facilities can be made to the Lexington-Fayette County Health Department COVID-19 hotline, 859-899-2222, during the hours of 8 a.m. to 5 p.m.
If there is perceived criminal activity, citizens should call the Lexington Police Department. Non-emergency concerns should be relayed to 859-258-3600. If there is an emergency, citizens should dial 9-1-1.