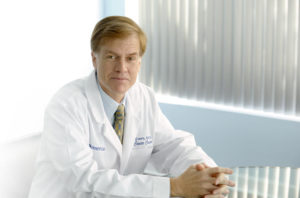 LEXINGTON, Ky. — Dr. B. Mark Evers, professor of surgery at the University of Kentucky College of Medicine and director of the UK Markey Cancer Center, has been elected to the National Academy of Medicine.
Election to the Academy is considered one of the highest honors in the fields of health and medicine and recognizes individuals who have demonstrated outstanding professional achievement and commitment to service. New members are elected by current members through a process that recognizes individuals who have made major contributions to the advancement of the medical sciences, health care, and public health. A diversity of talent among NAM's membership is assured by its Articles of Organization, which stipulate that at least one-quarter of the membership is selected from fields outside the health professions — for example, from such fields as law, engineering, social sciences, and the humanities.
Evers is one of 100 new U.S. and international members elected by their peers. According to the Academy, Evers was elected for his expertise on intestinal hormones and hormonal arcades in oncogenesis. His seminal insights defined the role of gut hormones on normal physiology and metabolism, pioneering the innovative understanding of neuroendocrine cell biology and the role of neurohormonal pathways in the development and progression of neuroendocrine tumors.
"This distinguished and diverse class of new members is a truly exceptional group of scholars and leaders whose expertise in science, medicine, health, and policy will be integral to helping the NAM address today's most pressing health challenges and inform the future of health and health care for the benefit of everyone around the globe," said National Academy of Medicine President Victor J. Dzau. "It is my privilege to welcome these esteemed individuals to the National Academy of Medicine."
Coming to serve as director of the UK Markey Cancer Center in 2009, Evers took on a significant challenge in leading efforts to address Kentucky's high cancer rates and the associated health disparities that contribute to them. Under his leadership, the UK Markey Cancer Center has grown to become a nationally ranked cancer center that treats patients from all over the world.
"Dr. Evers is an accomplished physician-scientist and has been a tremendous asset to the University of Kentucky during his time here," said University of Kentucky President Eli Capilouto. "As the director of UK's Markey Cancer Center, he has been the driving force behind its many accomplishments in the past decade, including earning a National Cancer Institute designation and becoming a top 50 cancer center in the U.S. for the past four years. His work, whether behind the bench, in the operating room, or leading Markey's team of faculty and staff, is unparalleled. This recognition is richly deserved."
As a scientist, Evers has been a transformative leader and an internationally renowned expert in the neurohormonal arcade that leads to the oncogenesis of neuroendocrine tumors. He is a leading authority on gastrointestinal hormones (e.g., neurotensin) and their role in cancer development as well as in metabolic syndromes. Studies from his laboratory over the years highlight the discovery of the roles of neurohormonal pathways in tumor development, treatment and progression, signaling mechanisms leading to intestinal differentiation, and the role of intestinal hormones in obesity and comorbid conditions. He has produced more than 330 peer-reviewed publications and been continuously funded by the National Institutes of Health for the past 28 years, establishing him as one of the highest NIH-funded surgical scientists in America.
Throughout his career, he has received more than 30 honors and awards, including an NIH Merit Award (2002-2012), the American Surgical Association's  Flance-Karl Award, and an Outstanding Alumnus Award from the University of Tennessee College of Medicine. He has held numerous leadership positions in national and international organizations including the Society for Surgical Oncology, American College of Surgeons, the American Gastroenterological Association, and is an elected member of the American Society of Clinical Investigation and the Association of American Physicians. He is the past president of the Society of University Surgeons, past president of the Southern Surgical Association, a senior director of the American Board of Surgery, and the current Treasurer of the American Surgical Association. Since 1998, he has served as an associate editor for the Sabiston Textbook of Surgery (16th-21st editions).
"This is a huge honor, and I am truly humbled to be considered among this elite group of health and medicine professionals," Evers said. "Throughout my career, I've been fortunate to work alongside exceptional colleagues and collaborators, including many talented and dedicated investigators in my laboratory. Without them, this would not have been possible."
Established originally as the Institute of Medicine in 1970 by the National Academy of Sciences, the National Academy of Medicine addresses critical issues in health, science, medicine, and related policy and inspires positive actions across sectors. NAM works alongside the National Academy of Sciences and National Academy of Engineering to provide independent, objective analysis and advice to the nation and conduct other activities to solve complex problems and inform public policy decisions. The National Academies of Sciences, Engineering, and Medicine also encourage education and research, recognize outstanding contributions to knowledge, and increase public understanding of STEMM. With their election, NAM members make a commitment to volunteer their service in National Academies activities.