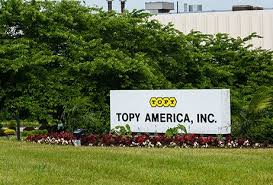 FRANKFORT, Ky. — TOPY America Inc., a steel wheel manufacturer for the North American passenger car and light truck markets, has completed a $38 million renovation at its Frankfort operation, a project positioning the company and its employees for success in the years ahead.
Originally announced in late 2017, investment at the 500,000-s.f. facility included the installation of a new state-of-the-art automated steel wheel assembly line, an additional painting line, and two center-disc line enhancements, as well as lighting and climate control upgrades.
"For 35 years, TOPY America has been a vital part of the Frankfort community, providing stable jobs and quality products that families depend on," Gov. Andy Beshear said. "We are proud to see the company make this major reinvestment, take a big step forward in efficiency and modernization, and work to secure the future of its business and employees. Now more than ever, as we build a better Kentucky, companies need to reposition themselves for long-term success. I look forward to the years ahead for TOPY and the jobs, wages and families it supports here in Frankfort in a press release."
"TOPY America has updated our facilities to position ourselves for 35 more years of supplying world-class quality steel wheels to the North American market and to secure our associates and their family's future," said Todd Dorsey, director at TOPY. "Our associates and their families and this community have always been our greatest assets."
By meeting its annual targets over the agreement term, the company can be eligible to keep a portion of the new tax revenue it generates. The company may claim eligible incentives against its income tax liability and/or wage assessments.
In addition, TOPY can receive resources from the Kentucky Skills Network. Through the Kentucky Skills Network, companies can receive no-cost recruitment and job placement services, reduced-cost customized training, and job training incentives.
TOPY produces steel road wheels for automotive manufacturers throughout North America, with the Frankfort facility producing conventional, bead seat and full-face steel wheels to Fiat Chrysler Automotive, Ford Motor Co., General Motors Corp., Honda of America and Canada, Kia Motor Manufacturing in Georgia, Hyundai Motor Manufacturing in Alabama, Nissan North America in Tennessee and Mississippi and Subaru of Indiana.
TOPY was founded in 1985 in Frankfort as Topy Corp. TOPY America was established in 2007 following reorganization to include an Undercarriage Division in Tennessee and an Off the Road Division with facilities in Illinois and Utah.
The company is a subsidiary of TOPY Industries Ltd. in Japan.