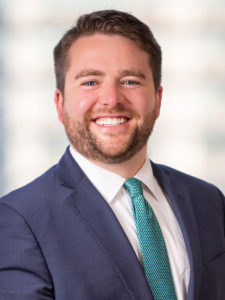 Stites & Harbison, PLLC welcomes attorney John Weber to the firm's Louisville, Ky., office. He joins the Real Estate & Banking Service Group. His practice focuses on commercial real estate and business transactions, advising developers, investors, and lenders in the acquisition, construction, development, and sale of multifamily, office, retail, industrial, and other commercial properties nationwide.
Before joining Stites & Harbison, Weber was a real estate attorney with a local law firm in Louisville from 2018-20. Prior to that, he worked as a corporate law clerk for LG&E-KU from 2017-18. He earned his J.D. from the University of Louisville Louis D. Brandeis School of Law, cum laude, in 2018. Weber also received a Master of Education, magna cum laude, from Lipscomb University in 2013. He is admitted to practice in Kentucky.
Outside of the firm, Weber is active in a variety of professional and community organizations. He has served on the Kentucky Bar Association's Young Lawyers' Section Executive Committee, the Louisville Bar Association's Board of Directors, and the American Bar Association's House of Delegates. Weber is also a member of the American Bar Association's Young Lawyers Division Civic Engagement team and Liaison to the Standing Committee on Election Law. He serves as a New Leaders Council Kentucky Chapter Co-Director and Institute Co-Chair, as a speaker coach for TEDxCorbin, as a Co-Founder and Chair of Teach For America Louisville Alumni Board, and as Secretary and General Counsel of Young Professionals Association of Louisville. Weber is a board member of the University of Louisville Alumni Association.