LOUISVILLE, Ky. – An increase in the number of COVID-19 cases in Louisville has elevated the city's COVID status to alert level "red."
Speaking during the city's weekly COVID-19 update, Public Health and Wellness Director, Dr. Sarah Moyer, explained that a Red alert level means there are more than 25 positive cases per 100,000 people per day, based on the most recent 7-day average.
Louisville's current rate is 28.9 cases per 100,000 people per day, up from the prior week's 24.2.
"We've got uncontrolled spread happening here in Jefferson County," Moyer said.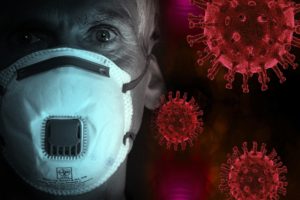 Mayor Greg Fischer on social media accounts today urged residents to be aware that reducing those levels will require that everyone follow the recommended measures of mask wearing, social distancing and avoiding large crowds to contain the virus.
"Our individual health, our health care systems, and our economy are under threat if we don't reverse this trend," the mayor said. "The virus isn't going away anytime soon and each of us plays a role."
COVID-19 cases increased over the previous week for a total of 21,513; Louisville's rolling two-week average positivity rate is at 8 percent.
Below are some key data metrics for the week of October 20, 2020.
Hospitalization data:
6% of patients currently hospitalized have COVID-19
44 patients in ICU with COVID-19 as of Oct. 20
27 COVID-19 patients on ventilators as of Oct. 20
COVID-19 cases are in every Louisville ZIP code. There continues to be a higher rate of positive COVID cases in west and south Louisville among Black and Latino communities.
The Department of Public Health and Wellness and its partners are working to alleviate some of the issues by offering more testing in impacted areas. This includes three new sites that offer free testing for COVID-19 or free COVID-19 tests and free flu shots in west Louisville and in Shively.
Moyer advised community members to get tested if they have any symptoms related to COVID-19, the flu or a cold, to stop the spread to family and community members.
"Unfortunately, we cannot tell the difference between flu or COVID symptoms," Moyer said. "Get tested, stay home until you get the results."
COVID-19 Harm Reduction and substance abuse
The ongoing challenges presented by the COVID-19 pandemic adds a complicated layer to those working to battle the drug and opioid epidemic across the nation.
According to Moyer, there have been 427 overdose deaths in Jefferson County since January 2020. By comparison, from January to September 2019 there were 273 overdose deaths in Jefferson County.
Donald Davis, executive director of the Kentucky Harm Reduction Coalition attributed that increase in part to broad shutdowns in March and early April, as the city, state and nation worked to contain the spread of COVID-19.
"People were restricted to their movements and asked to quarantine at home," Davis said. "They may have been at home by themselves, and you can't administer Naloxone to yourself if you overdose."
Ben Goldman, Community Health Supervisor for the Office of Addiction Services at Louisville Metro, said another issue is that the local drug supply has become more tainted with deadly synthetic drugs at a time when people are experiencing additional stress, economic pressure, and less access to services.
Goldman said the Syringe Exchange Program at Louisville Metro responded to the uptick in overdoses by quickly expanding naloxone distribution and continuing to offer services six days a week from its main location at 400 East Gray Street. So far in 2020, the Syringe Exchange Program has distributed over 8,600 doses of naloxone and program participants have reversed over 2,000 overdoses.
"We know that when people are connected, they're safer," Goldman said. "We know substance use is not a zero-risk activity, but there's a huge amount of power that each individual and we as a community have to manage that risk."
First responder data
Currently, 63 members of LMPD, Louisville Fire, Metro EMS, Metro Corrections and the Sheriff's Office are off-duty due to COVID-19:
28 are off with positive tests and in self-isolation
22 are off and quarantined due to exposure to someone who tested positive
13 are off with symptoms, pending test results
Positive test numbers for first responders/public safety since the incident began:
248 positive tests
220 have fully recovered and returned to duty
Metro Corrections inmate data:
3,730 inmates have been tested
232 positives
0 tests are pending