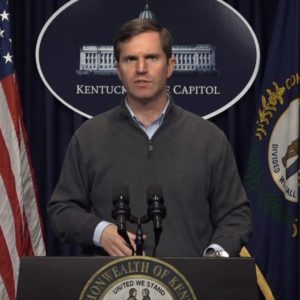 FRANKFORT, Ky. — Gov. Andy Beshear on Wednesday said the White House is saying Kentuckians in red or orange counties shouldn't have gatherings at all beyond their immediate families.
Beshear noted that Kentucky already has guidance limiting to 10 or fewer people gatherings such as backyard barbecues and house parties, but the recommendation from the White House this week goes even further.
"There is so much spread at family gatherings, events at the house, as well as weddings and funerals," the governor said. "At the very least, we need people to be a lot more cognizant of the dangers of these gatherings, especially when people aren't wearing masks the whole time."
The governor said one wedding resulted in 44 cases, one funeral caused seven cases and one coffee gathering resulted in eight cases and two deaths. While weddings and funerals will continue, the governor said more Kentuckians need to step up and follow the rules to make them safer.
The governor said the guidance is timely because on Wednesday he reported the highest number of cases ever reported on a single day, aside from the day when he reported a significant backlog of cases from Lexington.
"The difference between where we are now and where we were in March is that now we know how to stop the spread," Beshear said. "It's like being in the challenge of your lifetime, it's like being in a war – except you know 100% how to win. The question is, are you going to execute the plan to win?"
Case information
As of 4 p.m. Oct. 21, Gov. Beshear reported the following COVID-19 numbers:
New cases today: 1,487
New deaths today: 21
Positivity rate: 4.99%
Total deaths: 1,363
Currently hospitalized: 794
Currently in ICU: 203
Currently on ventilator: 94
Top counties with the most positive cases today are Jefferson, Hardin, Kenton, Boone, Fayette, Elliott, Hopkins, Laurel, Pike, and Madison.