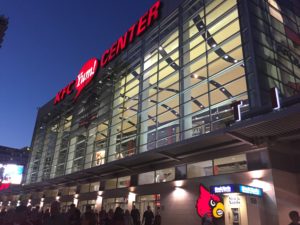 LOUISVILLE, Ky. — According to fansided.com, The Toronto Raptors could play the 2020-21 NBA Season in Louisville.  The NBA still has a lot to figure out for its upcoming season. From its start date to its quarantine and testing protocols to the length of the season itself, the 2020-21 campaign still has a lot of wrinkles for the league to iron out.
While NBA expansion is not immediately on the horizon, cities like Seattle, Las Vegas, and Louisville have been frequently mentioned as logical spots for potential expansion teams down the road. Louisville has a huge college following in a state that's crazy about basketball, and the KFC Yum! Center where the Cardinals play is already NBA-ready.
This is just one of several topics to be discussed at the upcoming NBA Board of Governors meeting, along with the season's potential start date.
It remains to be seen how the NBA will transition into the next campaign as it attempts to revert the schedule back to its normal October through June trajectory. With the new season not expected to start until December or January, and no start date set for free agency yet, commissioner Adam Silver has his work cut out for him on multiple fronts — without even factoring in player health and safety during the pandemic.
However, on the Raptors front, temporarily relocating them to Kentucky would avoid the whole issue of international travel and allow the league to get a premature look at what an NBA team in Louisville might look like … even with no or limited fans in attendance.