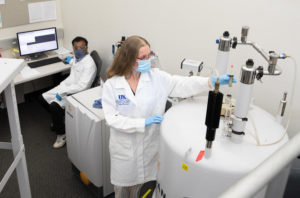 LEXINGTON, Ky. — The University of Kentucky College of Pharmacy was recently awarded a prestigious National Institutes of Health (NIH) High-End Instrumentation (HEI) grant to support the purchase of a state-of-the-art nuclear magnetic resonance (NMR) spectrometer, an instrument critical to supporting chemistry efforts at UK. Sylvie Garneau-Tsodikova, a professor in the College of Pharmacy's Department of Pharmaceutical Sciences, is the principal investigator on the grant.
The grant is a culmination of a strategic effort to sustain and expand essential chemistry infrastructure in the UK PharmNMR Center. The funds will support the purchase of a new Bruker AVANCE NEO 600 MHz NMR spectrometer with CryoProbe. Additional key contributors to the grant include the center's director, Vivek Subramanian, and a cadre of federally-funded user group projects based in UK's Colleges of Pharmacy, Medicine, and Arts & Sciences.
Under Garneau-Tsodikova's leadership, UKCOP is working with others on campus toward a model for consolidating NMR resources on campus to improve capabilities and efficiencies for all UK researchers. As part of this effort, UKCOP has made substantive strategic investments in the PharmNMR Center.
"We need stronger and more united NMR capabilities at UK and securing funding for this new state-of-the-art NMR instrument is a first step toward achieving this important goal," Garneau-Tsodikova said.
The new spectrometer will enable UK PharmNMR users to rapidly determine three-dimensional structures of small organic molecules and natural products, observe chemical and enzyme-catalyzed reactions in real-time, and view drug-target interactions on a molecular level.
"The NMR is an indispensable tool in chemistry and biology. A significant amount of biological research at UK, including the Colleges of Pharmacy and Medicine, the Biomedical Biological Sciences Research Building, and the Chemistry department use NMR to focus on the structure of proteins, the interaction between them, and protein-ligand interactions for drug development to cure diseases," Subramanian said
"The acquisition of this new instrument will allow us all to push our research projects in directions that were previously impossible here at UK," said Nishad Thamban Chandrika, a research scientist at the college of pharmacy.
In addition to accelerating the translational objectives of UKCOP's campus partners such as Markey Cancer Center, the Center for Clinical & Translational Science, and the recently funded COBRE for Pharmaceutical Research and Innovation, the new instrument will also support the research and training of the next generation of scientists.
R. Kip Guy, dean of the College of Pharmacy, views this award as an essential step in building the chemistry infrastructure needed for UK-based drug discovery and chemical biology research.
"This award allows us to significantly upgrade our NMR capacity and capabilities in order to support innovative science while increasing our ability to collaborate with others across UK's campus," he said. "I'm extremely proud of our team for all of the work that went into this application that provides for a much-needed addition to the UK PharmNMR Center and our campus research community."