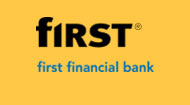 LOUISVILLE, Ky. — First Financial Bank and its foundation have distributed $44,500 to organizations in Greater Louisville as part of its focus to support programs and organizations that enhance and develop the communities in which First Financial does business, in particular low-income communities, focusing on the priorities of neighborhood development, workforce development and education, and culture and the arts.
These grants are part of a larger initiative in which the First Financial Foundation is providing support to organizations throughout Ohio, Indiana, Kentucky, and Illinois.
Grant funding is being provided to the following organizations:
Family & Children's Place family service center
Home of the Innocents community services
Junior Achievement of Kentuckiana
Louisville Housing Opportunities and Micro-Enterprise Community Development Loan Fund (LHOME)
Louisville Urban League
Mercer Area Family Education & Wellness (Harrodsburg)
New Directions Housing Corporation
First Financial also secured additional funds for local organizations through two outside sources. These include CREA, a national low-income housing tax credit organization, and the Ohio Capital Impact Corporation, which awards philanthropic grants to enrich the lives of residents and improve communities. These additional funds build upon the direct support from the First Financial Foundation to create an even greater impact throughout First Financial's service area.