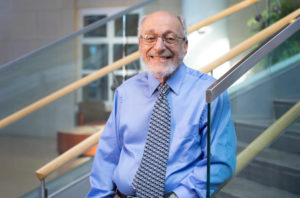 LEXINGTON, Ky.  — At age 13, Robert Baumann began working at a children's camp owned by his family, shaping his desire to find a career in which he could help children. "I also thought the brain and neurology were just fascinating. So, it turned out to be the only logical combination."
The one-time camp counselor now finds himself known as Dr. Baumann and is receiving the Brumback Lifetime Achievement Award from the Child Neurology Society (CNS) after nearly a half-century of work at the University of Kentucky.
Baumann was born in Chicago, Illinois. He received his undergraduate degree from Tufts University before going on to attend medical school at Western Reserve University (now known as Case Western Reserve). Baumann then was able to really work on his specialty as he focused on pediatrics and neurology at the University of Chicago.
His training there was interrupted for two years due to service with the United States Air Force. Upon completing his training, he joined the University of Kentucky in 1972. It was a hire that has not only greatly impacted the university but also the entire eastern region of Kentucky.
Through a partnership with the Division of Maternal and Child Health and local health departments, Baumann was able to establish the first two clinics in Pikeville and Manchester. Baumann and his staff would travel to the satellite locations the night before, then start clinics at 8 a.m. the following morning. After running the clinics for the entire day, the group would pack up and travel back to Lexington.
Initially, the clinics would average 15 kids per day. With two clinics a month, around 300 patients were seen each year.
After joining with the Commission for Children's Health Care Needs in the 1980s, Baumann was able to make the clinics permanent and reach more patients.
Achieving and expanding on the goal set for him as a young doctor fresh out of his training – running satellite clinics – has been the main highlight of his career and has led to the second highlight of his career, teaching the next generation of doctors. With the clinics utilizing medical students and residents, Baumann says they provided a greatly needed teaching benefit.
Keeping all of those things in mind and where this journey started – working at a children's camp – receiving a Lifetime Achievement Award for the work to which he has dedicated his life is extremely rewarding. "To have people in your own field feel that what you've done have been major achievements is very gratifying."
Baumann will be formally recognized and honored during the 50th CNS Annual Meeting set to be held this fall in Boston.