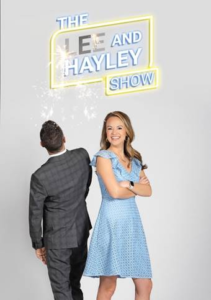 LEXINGTON, Ky. – "The Lee and Hayley Show" announces it will its signature brand of entertainment has been picked up for this summer on the Cape Fear CW, part of WWAY, in the Wilmington (North Carolina) market.
The show stars nationally touring comedian and SiriusXM regular Lee Cruse and the Emmy Award winning Hayley Harmon. The show will air weekdays 12-1 p.m (EST) beginning June 14.
The duo launched their new show on WTVQ ABC36 in Lexington in February of 2020 and has recently announced new market launches on WBKO (FOX Bowling Green, Ky.), WCBI-CW4 (The CW Columbus-Starkville-Tupelo, Miss.), WXXV (Biloxi-Gulfport, Miss.), and now WWAY.
"It's been quite a ride over the past year or so," Cruse said. "There was such a build up to our initial launch, and then the pandemic hit. Now we find ourselves going into syndication. It's been humbling to say the least, and we owe it all to our amazing fans and the talented team of professionals we've been blessed to surround ourselves with."
Cruse and Harmon focus on current event features, comic sketches, human-interest stories, and their weekly Charity Spotlight segment. Fan favorites include "Driving Me Crazy," "Crazy Arms," and daily antics with their staff.
"When Lee and I started this, our goal was to deliver laughs and entertainment while giving viewers a break from all the negativity in the world," Harmon said. "We absolutely love and adore our fans, and it's been a privilege to share our best hour of the day with them during, what we hope, has become their best hour of the day."
The Cape Fear CW, which is part of WWAY, is in the Wilmington market and serves the Cape Fear region. WWAY is owned by Morris Multimedia, which also is the  parent of WTVQ and WXXV.
WWAY general manager Andy Combs spoke highly of adding Cruse and Harmon to his roster.
"We're thrilled to welcome Lee and Hayley to the WWAY family," Combs said. "Their tremendous talent and broad-based appeal, with fans and advertisers alike, will be a game-changer in this market. Their professionalism, effortless delivery, and chemistry is really something special."