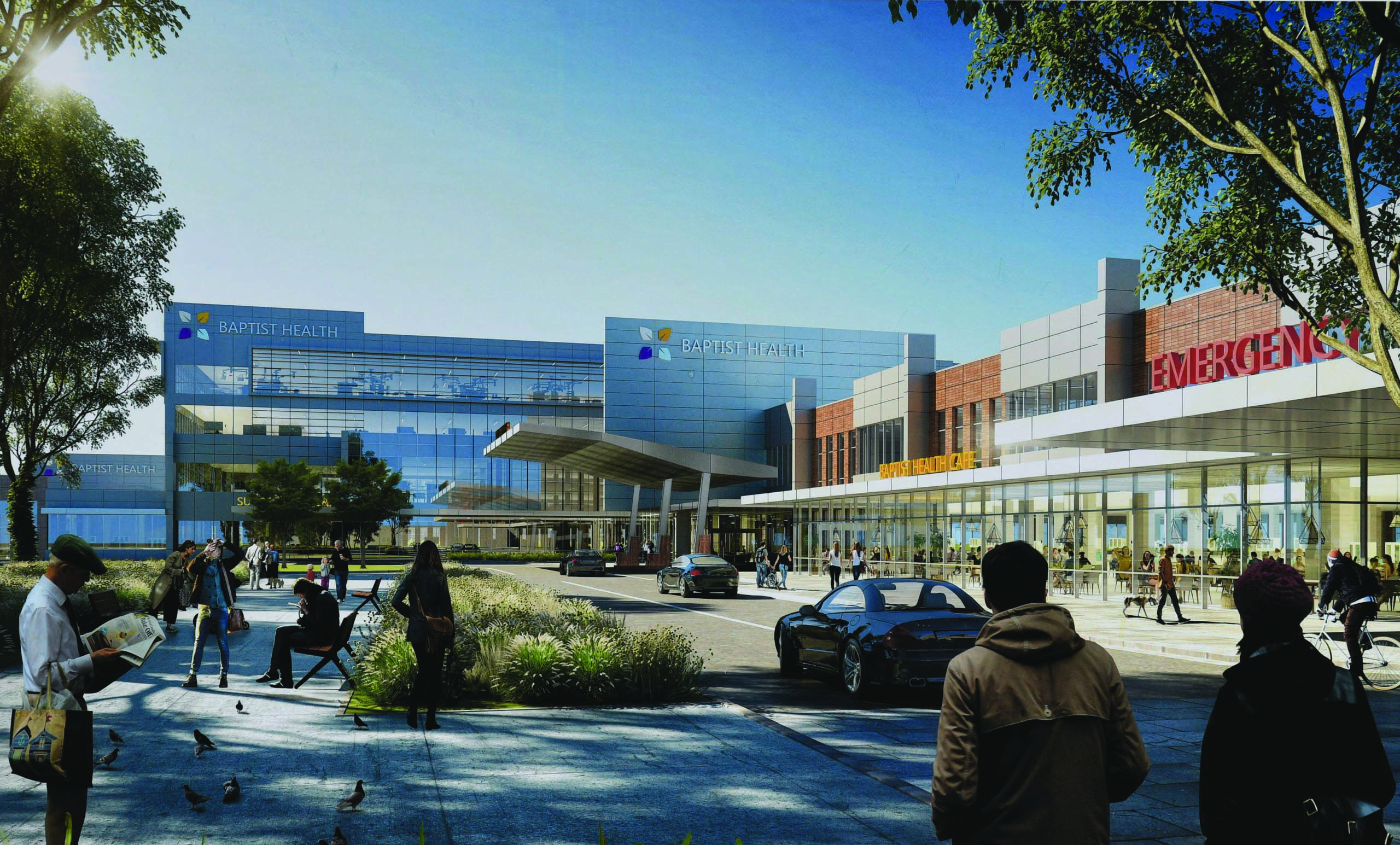 After valiant efforts in an unpredictable, unprecedented year, health care systems across the commonwealth are looking ahead to happier horizons, expanding their footprints and furnishing these new—or newly renovated—facilities with the latest technological innovations.
Improving patient access is a phrase that comes up often to justify the need for both new construction and technologies like telemedicine and e-ICU.
One of the largest projects is Baptist Health's new, $1 billion medical campus in the Hamburg area of Lexington, which has been exploding with both residential and commercial growth. Baptist Health is partnering with Lexington Fayette Urban County Government on the project.
Long-term plans for 129-acre medical campus call for a multi-story hospital, an outpatient surgery center, 12 other buildings containing a combination of retail and medical office space, and two parking garages. Work began on the project in November 2020, and it is expected to be completed in 2024.
As part of the project, Baptist will give the city three acres of land, valued at $2 million, for the construction of a new fire/emergency medical station. Baptist also will provide annual flu shots to city employees for 20 years. (Flu shots for city employees cost about $40,000 a year.)
Baptist Health Chief Strategy and Marketing Officer Dr. Jody Prather said in the past, medical facilities were built in selected locations and people were expected to come to them.
Now, he says, the mindset is to meaningfully group different services with highest-level services housed on main hospital campuses and others in more convenient locations where consumers live. That philosophy is reflected in the hospital system's strategic plan, which includes nearly $1 billion in expansion projects.
"Our goal is to ensure we provide the right care when, where and how people want it," Prather said.
Initiatives for Baptist Health Louisville include expanding surgical capabilities at the St. Matthews campus, including cardiovascular and neurosurgical hybrid operating rooms and additional surgical suites; continued renovations of medical office space and a new five-story outpatient center for physician practices; an ambulatory surgery center; urgent care; physical and occupational therapy; imaging lab and retail pharmacy.
Two hybrid emergency room projects underway in southern Indiana and eastern Jefferson County are a joint venture with Texas-based Intuitive Health, combining ER and urgent care in freestanding emergency rooms so patients can receive the appropriate level of care in one location, according to information provided by Baptist Health officials.
Baptist Health LaGrange is undergoing a $5.8 million expansion/renovation of its ER department wrapping up this summer. A planned $13 million renovation of an existing building on Fern Valley Road in Louisville will house a multidisciplinary health center serving southern Jefferson and Northern Bullitt counties.
The transition continues at Baptist Health Hardin, where an acquisition was completed last fall. Expansion plans include new surgical and cardiac catheterization suites, an on-campus medical office building and a comprehensive cancer center, a total investment of more than
$200 million.
CHI Saint Joseph Health received a nearly $1 million Appalachia Regional Commission grant to create a new $1.4 million neonatal intensive care unit in London. And in the virtual realm, a United States Department of Agriculture (USDA) grant is enabling the development of a new telemedicine initiative for patients with acute and chronic conditions in 11 rural Kentucky counties to receive specialty care via Saint Joseph Hospital in Lexington.
In addition, CHI Saint Joseph officials announced in January 2021 the opening of a new outpatient surgery center near Saint Joseph Hospital in Lexington.
Several projects are in the works at Veterans Affairs facilities across the commonwealth, VA Public Affairs Officer Catherine Trombley said. That includes a Community Living Center scheduled to open in Lexington in late 2021 that will provide a home-like, less institutional environment for its senior residents. The new Community Living Center will replace an existing facility and will have two units, each with about 20 beds.
A renovation project has begun at the VA's Troy Bowling Campus in Lexington to modernize its mental health inpatient unit, and another renovation project is expected to open later this year for dental and audiology services at the Franklin R. Sousley Campus in Lexington to help meet growing demand, Trombley said.
Sayre Christian Village expanded to 164 beds last year, said CEO Karen L. Venis.
"We couldn't wait for COVID to wind down to grow; the need was there. We, and many other skilled nursing facilities (SNFs) are focusing on expanding dining and resident-centered programming, but mostly on helping the residents bounce back."
As a health measure, Sayre invested in UVC lighting for its HVAC system although that was not in the budget.
"It was one of the single most effective things that could be done to stamp out COVID spread in SNFs before the vaccine was available," Venis said. "Expensive for a building this large? Yes. Worth it? Absolutely. We have not had a single resident case of COVID or the flu since the system was installed; that's unheard-of."
Sayre Christian spent more than $2 million on COVID-related measures, some of it to maintain staffing.
Meanwhile, at UK Healthcare, Vice President of Operations Colleen Swartz said additional third-floor beds at UK Good Samaritan Hospital recently opened and plans are underway for projects on two more floors.
There's also construction activity in the ambulatory space, optimizing clinic locations for improved access, she said.
"I think we've realized that coming on campus for everything may be onerous for some people," she said, so making more convenient access to these services is important.
Recent and upcoming projects at Norton Healthcare in Louisville include consolidation of primary care offices on the Norton Audubon Hospital campus into a new building nearby later this year, with freed space dedicated to expanding the Norton Heart and Vascular Institute, according to Maggie Roetker, Norton Healthcare director, public relations.
Primary care offices will be consolidated from the Norton Healthcare St. Matthews campus into a new building, and CPA lab service will be consolidated into a new building near the new Norton Express Care drive-thru testing facility, both later this year.
Norton Healthcare has committed to investing an additional $20 million over five years to address health equity by increasing access to care in traditionally underserved areas. The health care system has established the Norton Healthcare Institute for Health Equity to focus on identifying and removing obstacles that prevent underserved communities from receiving health care, among other goals designed to eliminate disparities in care and increase access, leadership diversity and education.
Other ways in which Norton officials determine where new facilities should be located include looking at a "heat map" of where the population is growing and locating in areas that provide maximum coverage for primary care and specialty care, Senior Vice President of Operations Scott Watkins said.
Mercy Health opened its new J&R Walk-In Care facility in Benton last summer, and its Reidland Family Medicine facility opened last summer in Paducah, providing family medicine and radiology and lab services, among others. And in March of this year, Mercy Health opened its Paducah Pulmonology facility.
St. Elizabeth's $140 million Cancer Center opened on the Edgewood campus last year, and the health care system signed an agreement in May 2020 to acquire Lawrenceburg Ind.-based Highpoint Health (now renamed St. Elizabeth Dearborn). Hospital officials have said a forthcoming $70 million investment there will include construction of a new hospital/cancer center on the Greendale, Ind., campus.
UofL Health–Jewish Hospital Chief Administrative Officer John Walsh said UofL Health has committed to providing greater access to care in Louisville's West End neighborhoods. Late last year it was announced that five new urgent care centers called UofL Physicians–Urgent Care Plus would open in the metro area, including one in the West End.
In the northeast part of Jefferson County, UofL Health and Kindred Healthcare LLC announced a joint venture earlier this year to build and operate a new 40-bed inpatient rehabilitation hospital for patients recovering from stroke, brain or spinal cord injuries, amputations and other injuries and disorders.
Technology is changing treatment
In addition to a host of capital projects, Kentucky's health care systems continue to invest in the latest technological innovations to increase efficiency and expand their treatment capabilities.
Investments in robotics are front and center at UofL Health–Jewish Hospital, to the tune of more than $6 million, Walsh said. This includes the purchase of a new da Vinci Xi surgical system used in heart surgery and general surgery; the Monarch Platform, which enables deeper lung probing for biopsied tissue samples; upgrades to three surgery rooms into state of the art cardiac catheterization labs; and a Mako robotic system used in orthopedic surgeries.
"Part of our focus as a university health care system is to capture innovations when we can and make the proper investments in technology," he said.
At UK Healthcare, Swartz said an e-ICU initiative launched in January 2020 enables critical care nurses and physicians to virtually monitor patients at UK Good Samaritan Hospital and UK Albert B. Chandler Hospital.
"It provides a fairly sophisticated application that includes artificial intelligence so that we're feeding all the patients' physiological data into an algorithm" that notices any deviations from certain baselines, Swartz explained.
In June, UK Healthcare will transition to a new documentation system impacting revenue cycle, registration and professional documentation to enhance quality, safety and efficiency and allow for better continuity of care, Swartz said.
Along with a less invasive MitraClip repair for some heart patients, CHI Saint Joseph Health now offers minimally invasive convergent therapy as a cardiac procedure to treat atrial fibrillation, a common and potentially fatal heart health concern, Houston said.
He also touted CHI Saint Joseph's virtual nurse program enabling hospitalized patients to be connected with a virtual nurse while in-house nurses are working with other patients, and reports it's received good patient feedback thus far.
Baptist Health Chief Information Officer Dr. Brett Oliver said technological innovations include the use of the electronic health records system Epic, as well as a continuous remote patient monitoring platform used for 24-hour medical observations in home-care patients with chronic conditions. Baptist has 116 of these devices in use in Kentuckiana.
A device is worn (except when showering) that automatically takes and transmits a patient's vital signs. A baseline for each patient is established, and any unwelcome changes notify health care providers who can take appropriate action.
"The telemonitoring system recently saved the life of a Western Kentucky woman with COPD (chronic obstructive pulmonary disease)," Oliver said. The system detected decreased oxygen levels and other signs of instability in the woman's vital signs, and she was sent to the hospital for treatment.
Other technology-based projects and platforms include those that determine how different medications may affect patients based on individual genetic makeup; an online tools and support program for employees' chronic condition management; one that alerts Baptist Health personnel if flagged patients receive care from other providers on the network; and a social-distancing tool that detects patients' arrival for appointments and facilitates social distancing instructions.
At Norton Healthcare, imaging technology investments include the transition of mammography to 3D tomosynthesis, Roetker said.
Telemedicine programs beyond urgent care have expanded, including working with local school systems and specialty offices.
Dr. Brooke Phillips, an oncologist and director of St. Elizabeth Healthcare's Center for Precision Medicine and Genomic Health, said genetic testing can be used to assess hereditary cancer risk, determine the DNA of a particular tumor and assess an individual's metabolism of certain drugs based on genetics.
She said some industry experts predict that in time, everyone may have genomic testing as part of their routine health care plan.
Mike Yungmann, president of Bon Secours Mercy Health's Kentucky market, said telemedicine was already in the works there when the pandemic began.
"The timing could not have been better to implement those services as well as advancing all of our telehealth capabilities," he said.
Now a new telemedicine platform, SOC Telemed IQ, is providing ICU patients at Mercy Health–Lourdes Hospital in Paducah with expanded access to critical care services by making intensivists available for 24/7 on-demand consultations and daily collaborative interactions with the hospital's on-site ICU team.
Other services and programs that have advanced recently include Western Kentucky's first endovascular fistula procedure, connecting an artery and vein for dialysis access without requiring surgery, and the less invasive transcatheter aortic valve replacement (TAVR) procedure, introduced last fall.
The hospital is also using a certified cancer genetics nurse navigator to help patients navigate genetic testing to determine cancer risks. Looking ahead, he said a comprehensive cancer center is needed in Western Kentucky, a project that's being aggressively pursued.
Overall, "I think the challenge for health care organizations currently is to try to determine the proper balance of virtual health and traditional outpatient services and also traditional inpatient services and what new service developments or enhancements need to be made to keep pace," Yungmann said.
Shannon Clinton is a correspondent for The Lane Report. She can be reached at [email protected].