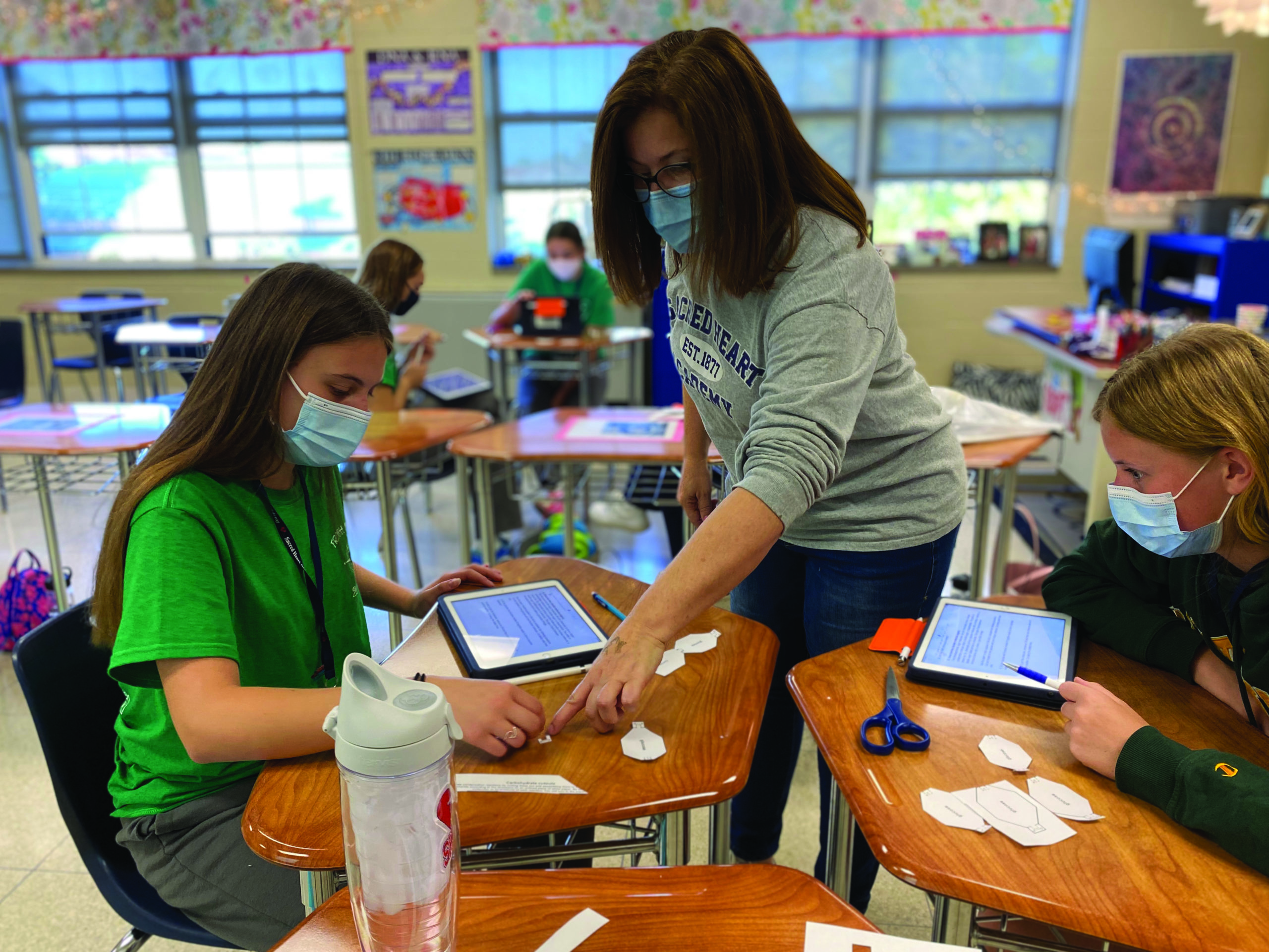 Private schools are outside most of the state's accountability system and draw little scrutiny from the media, education advocates or even the business community, whose top concern for a decade has been workforce development. Kentucky's hundreds of K-12 private schools, however, are key suppliers in the workforce pipeline.
Students' families pay thousands of dollars a semester in tuition. In exchange they get smaller student-teacher ratios, more individual attention and strong academic outcomes—leading to the high achievers, young professionals, entrepreneurs and successful leaders every community strives to create, attract and keep.
All 20 of Kentucky's best college preparatory schools are private schools, according to a Niche compilation based on graduation rates, advanced-placement class enrollment, SAT/ACT scores, state test scores, and the quality of colleges that students consider.
"We feel a tremendous responsibility to create ethical leaders in the workforce, humane and generous leaders," said Robert Macrae, head of school at Louisville Collegiate School, which Niche ranks the best college prep school in Kentucky. Founded in 1915, it has roughly 660 students in prekindergarten through high school. With a student-teacher ratio of 8:1, the average ACT score is 30 and the average SAT score is 1350.
Travis Burton, director of political affairs for the Kentucky Chamber of Commerce, helps lead the chamber's education and workforce policy work.
"Building a world-class workforce requires all hands on deck, and the work that the state's private schools are doing to prepare their students to help take Kentucky to the next level is greatly valued," Burton said. "The unique experience they offer students is valuable and fosters an environment that undoubtedly helps prepare them to be productive participants of Kentucky's workforce. No student is the same as another, and Kentucky's private schools offer families options that can best meet their education needs."
Because private schools do not have to follow all state guidelines, Macrae said, they can be more creative in their curricula, choose with whom they will work, and experiment with approaches and programs.
"We can specialize in niches. We are not going to be all things to all people," said Macrae, who makes it a point to express respect for public schools and educators.
"We have great reverence for our public school system," he said. "A great democracy is absolutely predicated on a great public school system."
There are nearly 70,000 pre-K through 12th-grade students currently attending Kentucky's private schools, and most were in the classroom for the past year rather than distance learning from home. In contrast, Kentucky's largest public school systems and a majority of all enrollments across the state taught by distance learning for the first half of the 2020-21 academic year to avert spread of COVID-19. They finally resumed in-class learning in April.
With the COVID-19 pandemic raging, Catholic and Christian schools in Kentucky held their own in enrollment, which might be surprising since this is not the case in other areas of the country.
Nationally, about 150 Catholic schools—approximately 2%—closed in fall 2020 as the pandemic put more pressure on declining enrollments and donations, according to the National Catholic Education Association.
The Archdiocese of Louisville—the largest operator of private schools in Kentucky, with 17,577 students in 48 schools across seven counties—held in-person classes at its 48 schools in the fall. There was a small surge of cases about a month into the term, with 80 active coronavirus cases among students and 13 staff active cases. The school system quarantined individuals, classrooms or entire grades for short periods to reduce community transmission.
Students and teachers wear masks throughout the day at archdiocese schools. The schools also have several modified schedules with remote learning or early dismissal days to allow more time for cleaning and other COVID-19-related demands on the school schedule. No schools under the Archdiocese of Louisville jurisdiction closed permanently due to COVID.
For the 2020-21 school year, there are 393 private and faith-based schools in Kentucky serving 69,596 students. Average private-school tuition is $6,133 for elementary schools and $7,803 for high schools, according to Private School Review.
For this school year, Kentucky has 125 Roman Catholic private schools with 36,700 students. (In addition to the Archdiocese of Louisville, there are three other Catholic dioceses, located in Covington, Lexington and Owensboro.) There are 50 schools in the Kentucky of Association of Christian Schools International (ACSI), serving 11,132 students.
Other Christian school models have actually expanded during the pandemic, such as the Christian Academy of the Bluegrass in Georgetown, which mixes home schooling and on-campus instruction.
"We have about 25 students in sixth to 12th grade on our campus (during the fall), and we also have a guided home school model for kindergarten through third grade, where students can connect occasionally on campus live," said Jana L. Sheridan, administrator of Christian Academy of the Bluegrass. "Home schooling was already exploding across the country before COVID-19, and parents realize that small teacher-student ratios in the classroom makes a difference."
Sheridan and her team select home-schooling curricula; books are delivered bundled with instructions upon signup. Rates are at $1,500 per student with some sliding scale pricing.
The school, now in its fifth year, launched a $3 million capital campaign last fall for an expansion onto an adjacent 5.1 acres. It is affiliated with several Church of Christ parishes, including Scott County Church of Christ and the North Lexington Church of Christ. Its fall 2021 plans are to have more portable classroom space, allowing for 50 to 75 more students on its K-12 campus.
Enrollment at faith-based schools in Kentucky has seen an increase in diversity in recent years. The Archdiocese of Louisville has seen a 30% growth the past five years in enrollment from ethnic groups, including blacks and Latinos. About 27% is attributable to African American students.
Academic achievement measures remain important to an increasing number of Kentuckians making the choice to send their children to private schools. Standardized test scores in recent years show Archdiocese of Louisville schools typically achieve in the top 15% nationally, according to the archdiocese. There's a stronger focus since 2019 on technology and virtual instruction investment, and an emphasis on professional learning for teachers with a focus on STEAM (science, technology, engineering, arts and math) curricula.
In Louisville, DeSales High School and Mercy Academy received national STEM (science, technology engineering and math) accreditation through Cognia. In September, the U.S. Department of Education named three Archdiocese of Louisville elementary schools as 2020 National Blue Ribbon Schools: Saint Agnes School in Louisville made the list for the fourth time, Saint Raphael School in Louisville was ranked for a third time and Saint Aloysius School in Pewee Valley for the second time.
Investment in 2021 for the Archdiocese of Louisville includes preschool buildings at two schools with a library at one. Capital projects are underway at Saint Xavier, Assumption and Holy Cross high schools.
"We see that parents are committed to a faith-based education. Our Catholic schools continue to be bright spots of civic engagement within our parishes," said Leisa Schulz, archdiocese superintendent of schools.
Dawn Yankeelov is a correspondent for The Lane Report. She can be reached at [email protected].