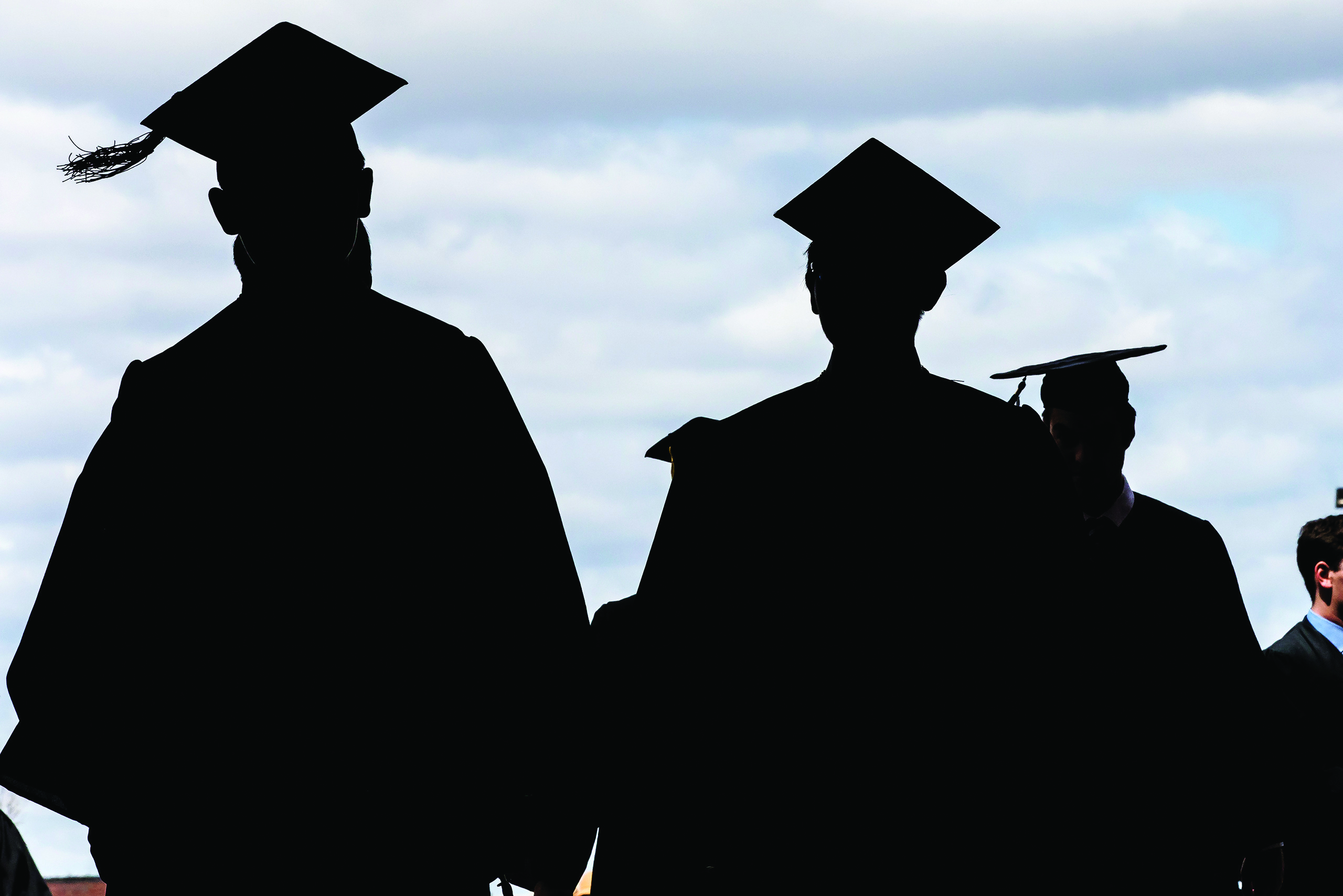 Some call it upskilling. Others speak of reskilling. The biggest buzzword might well be microprograms. There are myriad names for this new trend but they all involve education and job preparation akin to constructing something with Legos: building skills and academic credentials one small piece at a time and snapping them together to create the qualifications needed for a desired job.
It is a supply and demand function.
A tech-driven seismic shift in work is creating yet another vast skills fissure and an equally vast need for education and training to close the gap. According to the latest "Future of Jobs Report," a respected annual analysis by the World Economic Forum, total jobs numbers are unlikely to change much in the next five years, but by 2022—just seven months from now—emerging technologies are predicted to displace 75 million jobs across 20 major economies.
Kentucky's educational institutions do not fear or dread the change, however. They are bulking up traditional programs and adding new ones at an impressive clip. They are providing more ways to get the skills and education tomorrow's jobs require, particularly in hot fields such as information technology and cybersecurity.
Perhaps most importantly, they are reaching out in ways not seen before in Kentucky.
Talk today is of lifelong learning, stackable credentials and multiple pathways rather than yesterday's terminal degrees. The new ongoing job preparation fits busy adult lives and provides a solid foundation for what sometimes is a new career.
Microprograms—short dives into a specific field—offer a taste of what a job in a certain field might be like and provides basic skills. Certifications are a direct path to a possible job. More certifications or a degree earn a better job. Microprograms can stack together to create a credential or add onto a degree. And of course, the traditional path, college degrees, is still open.
Big picture: The jobs of tomorrow are different and so are the educational choices to prepare for them.
New types of students spark new types of programs
To see the future of job creation, look to Louisville where Bellarmine University has a storied tradition of academic excellence and community involvement. Its newest initiative is dramatically different from traditional business school offerings.
The Women of Color Entrepreneurs-Leadership (WoCEL) certificate at the university's Rubel School of Business launched March 27. It meets a deep community need and grows talent where it has rarely been nurtured.
Sponsors include Kroger, Republic Bank, Pro Rehab and Maker's Mark.
"The new non-credit initiative is offered as part of our executive education and certificate programs," said Natasha Vijay Munshi, dean of the Bellarmine's W. Fielding Rubel School of Business. "It is a new addition to the Rubel School of Business portfolio that is focused on lifelong learning."
The first class is giving 10 minority women from the west end of Louisville an opportunity to go through an intensive leadership program like those normally reserved for top executives. The course is free and does not offer college credit but provides an opportunity to learn skills that can help participants transform their lives and community and help others do likewise.
"I don't think there is another college program that is entirely focused on women-of-color entrepreneurs," said Munshi.
The idea bloomed from a Chamber of Commerce event in the west end of Louisville, where business leaders asked what they could do to transform communities and support residents.
"I thought what a wonderful thing it would be for local women entrepreneurs to receive training they would normally not get and become catalysts of community change through entrepreneurial work," said Munshi, who is a California transplant.
The business community's reaction was swift and positive: "That would be fantastic. Let's do it."
And it wasn't just words. Patricia Carver, an advocate for Black rights in Louisville, was chosen to lead the program. Other Kentucky business leaders offered to provide financial support and decided each woman would have a sponsor who pays for them to go through the program. The instructors are minorities and each participant has a mentor for support.
"Women are capable of transforming society. We know this," Munchi said. "To empower how we are going to see our society transformed, major change is needed at the societal level."
There are high expectations for the new Women of Color Entrepreneurs-Leadership (WoCEL) certificate.
"It is also the nature of women to support other women. We will be asked why we didn't throw this open to 100 people," Munchi said. "I wanted these 10 women to have the same experience they would get in an established high-level leadership program. Why should those programs be limited to people who are top leaders in corporations? These women are entrepreneurs. We will give them an executive touch experience and they will become ambassadors for others. It is a pay-it-forward approach."
Across town, the University of Louisville offers a multitude of certificates (Check it out here). More intense and typically a longer commitment, many of these programs lead straight to high-demand jobs such as truck driving or entry-level computing.
Innovations in traditional programs
Although the changes are individual, similar innovations can be seen across the state.
Just ask Zachary Barker how he earned a master's of science in economic development from Murray State University (MSU) in nine months while living in Colorado Springs, Colo.
"I did my entire master's online," Barker said. "To be fair, my job was to consult, and I would travel to communities. COVID stopped that. I spent the first three months thinking this would go away. When it didn't, I enrolled at Murray State after looking at a lot of different programs. There wasn't anything else like Murray's program in the U.S."
Barker is a nontraditional student who brought significant job experience to his academic pursuit. MSU gave him credit for that experience and what he had learned through it. But it was another innovation that drew Barker to the school.
"One of the most unique aspects was MSU's split semesters," he said. "They cut the semesters in half: you could take two classes in the first half and two in the second. I did that and added one summer course. If you can manage the workload, you can finish the program in two to three semesters.
"It also makes it financially viable. For example, I only had to pay resident fees three times instead of every semester for three years.
"Admissions honored my background and work. The approach was very flexible. The professors were unbelievably supportive. It meant so much to me that I want to walk through the line to get my degree and shake my professors' hands."
Barker is flying to MSU's campus this month to do just that."
While he was at it, Barker also earned the credentials to become a certified economic developer (CEcD), passing a difficult exam to get what he said is now the gold standard in economic development. As his required semester of directed study for the master's degree, MSU allowed him to prepare for the CEcD test.
"I considered that a big part of the university honoring the industry," Barker said. "It really reaffirmed that MSU was exactly the program for me."
Chris Wooldridge, associate professor at MSU and one of Barker's professors, said the flexibility Barker was given was done with intention.
"It's a case of looking at what the student is looking for in terms of education," Wooldridge said. "We work with traditional students who come up through postsecondary education, but we also look at what nontraditional students might be seeking. A traditional MBA is a widely offered degree, but it is still a very powerful mark to employers."
The university is also assessing microcredentaling and badges because of demand, Wooldridge said.
"These are geared toward specific skill sets. Certificates also offer the opportunity to begin to create that academic side or advance education."
MSU's College of Business offers programs in organizational communication that are more typical in a college of media or communications and has a 12-semester-hour certificate in nonprofit leadership.
"Someone who works for a nonprofit may ask how they move up," he said. "This program provides some credentialing and opens a career path for them to market themselves.
Likewise for MSU's certificate in leadership and communications training.
"Certificates start to open doors for people where previously it was a four-year commitment or nothing," Wooldridge said. "Murray State makes it possible to start advancing your career a little faster, and after that certificate you can build on that 12 hours. In the business world, we can all use more leadership, communication skills and the ability to problem solve. A credential is a great flag to potential employers."
That's why the programs are in the College of Business, according to Wooldridge.
"We feel there are some extremely powerful synergies in teaching people to communicate, along with business disciplines. All of that is powerful and synergetic. We are proud that these programs are not split across two colleges.
Smaller bites, sharper skills
Kentucky's Community and Technical School System (KCTCS) has long been a leader in offering career-specific programs and technical skills.
Corey Scott, who describes himself as "closer to 40 than 30," is enrolled in Bluegrass Community and Technical College's (BCTC) associate degree program in computer information technology. Cybersecurity, one of the most in-demand skills today, is a component of that program.
"I went back to school to sharpen my technical skills," he said. "I hope and believe it will open up more opportunity in IT security and advanced technology."
Scott is already a CRM (constituent relationship management) administrator at the University of Kentucky and uses a software system that keeps information on students and their college activities.
"I like the hands-on aspect of creating things and programming," he said. "This degree is really hands-on.
Hands-on is a hallmark of most degrees and certificates within KCTCS, where Kris Williams serves as chancellor.
The requirement to prove one's effectiveness, be on time, communicate well and work in a team—all qualities highly prized by employers—is built into all KCTCS certificates and associate degrees, Williams said.
"Faculty expect students to not only take a class," she said, "but to be present and engaged."
KCTCS calls it the educational highway and provides multiple on and off ramps so that students can add to their education as they desire.
Using nursing as an example, Williams said it takes three credit hours to become a state-registered nurse's aide. With more education, that can translate into a licensed practical nurse, and then with a bachelor's degree into a registered nurse.
Another good example is the commercial driver's license (CDL).
"There is a tremendous shortage of truck drivers in the U.S.—about 300,000," according to business news provider Bloomberg.com.
Kentucky has more than 13,000 trucking companies, and driving pays well. The American Trucking Associations (ATA) released its latest Driver Compensation Study in May 2020, showing average driver compensation rose nearly $6,000 from 2017 to 2019.
Across the commonwealth "89.2% of communities solely rely on trucking to deliver their goods," Kentucky Trucking Association President/CEO Rick Taylor said. "So there's opportunity for drivers throughout the state."
KCTCS plays a big role in trying to alleviate the driver shortage with several of its 16 colleges offering CDL programs, including new CDL simulators that give students a virtual-reality experience.
New, new, new
Chris Boggs oversees the Ashland Community and Technical College CDL program as well as certification programs in marine technology and power lines that also can be completed in less than one semester. Boggs calls it the technical side of careers.
It takes about four weeks to earn a Class-A CDL license, Boggs said.
"You can go to work just about anywhere nationally as well as locally with a CDL," he said. "There are a ton of opportunities."
Boggs said today a CDL driver may be home for dinner every night because many Kentucky companies need drivers to make daily runs between Lexington, Louisville and Northern Kentucky.
"The jobs are not necessarily over the road from here to Colorado like it was 10 years ago," he said.
Boggs expects CDL program enrollment to keep increasing. In January 2022, truckers must meet new federal standards requiring certification from an accredited organization. In the past, a person with no formal training who could pass the exam could earn a CDL.
KCTCS is expanding the CDL program to include endorsement certificates for drivers trained to haul double or triple loads. UPS and FedEx, in particular, desperately need drivers with this specialty.
The Bureau of Labor Statistics expects the shortage of truckers to continue. Commercial truck drivers' average age in the U.S. is 55, so a large number will retire in the next 10 years.
The new certificate program in marine technology prepares individuals to do entry-level work on barges. The formal training only lasts one week, but it is quite a week. To replicate what students will experience in an actual job, classes on two days start at 5 a.m., some days run 12 hours, and study is different in the morning and afternoon.
"Marine technology is a career segment that is exploding from Pittsburg to Mississippi," Boggs said. "It is a good opportunity, with starting wages between $40,000 to $50,000, but it is a different lifestyle. Marine technologists typically are on board a barge for 24-28 days and then off for 24-28 days."
"There is a lot of turnover in this career," Boggs said. "That is why we throw in a few curveballs. We want them to see if they are able to acclimate to the hours and all the changes. If they can't do it for five days, they can't do it for a career."
A beginning point
A high school diploma or general equivalency degree (GED) is required for most certificate programs and up.
KCTCS also offers GED Plus. KCTCS and KY Skills U (formerly adult education) have partnered to offer an innovative GED program where students can co-enroll in both Skills U and short-term KCTCS classes and earn a GED plus a college certificate, tuition-free.
The program offers certificates in five fields: health care; business and information technology; advanced manufacturing; construction; and transportation logistics.
Kentucky Educational Television has also offered a GED program for decades. The network pioneered television shows that helped provide lively instruction on topics for the test. These were coupled with workbooks that made learning possible anywhere.
Northern Kentucky University has stepped into GED prep as well.
Short and sweet
One of the most notable changes on campuses is the introduction of microprograms.
Typically less than 12 semester hours and often much less, microprograms help participants get a feel for an occupation and can be added to other microcredentials, certificates or degrees to earn academic credentials in an array of fields.
NKU offers an interesting array of microcredentials, (nku.edu/microcredentials.html), amounting to around 55 as this article was compiled. They include basic skills such as introduction to languages; specific skills such as ethnographic research and primatology; business skills such as workforce communication and leadership; and business basics such as leadership and process and project management.
NKU and Campbell County Skills U recently announced the GED-Based Scholars program to help students earn college credit at a fraction of the usual cost while completing high school degree requirements.
With the new program, students can begin working on a bachelor's degree while completing their GED. NKU and Campbell County Skills U developed the program as a way to keep positive momentum for learners and provide a smooth transition to their postsecondary degrees.
"NKU's singular focus is to advance student success aligned with the needs of the region, and our Success by Design strategic framework embodies our commitment to providing better access to higher education," said NKU President Ashish Vaidya. "We are investing in unique ways to better serve current and future learners while stepping in to tackle workforce barriers throughout the commonwealth."
State government agrees.
"To prepare our commonwealth for the jobs of the future, our students need access to affordable and efficient educational opportunities," said Lt. Gov. Jacqueline Coleman, who is also the secretary of the Kentucky Education and Workforce Development Cabinet. "This program will bridge the gaps between high school and postsecondary learning, helping to build a cradle-to-career education system in Kentucky."
In addition, students benefit from a reduced tuition rate of $74 per credit hour, more than an 80% tuition discount compared to NKU's undergraduate in-state tuition. Courses can be online or on NKU's campus.
"This is an exciting program for our state," said Council of Postsecondary Education President Aaron Thompson. "We cannot attain our goal of 60% of Kentuckians with a postsecondary credential by 2030 without the upskilling of our adults."
No end in sight
Back to the World Economic Forum's 2020 "Future of Jobs Report."
"In addition to the current disruption from the pandemic-induced lockdowns and economic contraction, technological adoption by companies will transform tasks, jobs and skills by 2025. Forty-three percent of businesses surveyed indicate that they are set to reduce their workforce due to technology integration, 41% plan to expand their use of contractors for task-specialized work, and 34% plan to expand their workforce due to technology integration.
"By 2025, the time spent on current tasks at work by humans and machines will be equal. A significant share of companies also expect to make changes to locations, their value chains, and the size of their workforce due to factors beyond technology in the next five years."
All of these predictions make it easy to predict that the need for upskilling—or whatever you choose to call it—can only increase. ■
Debra Gibson Isaacs is a correspondent for The Lane Report. She can be reached at [email protected].