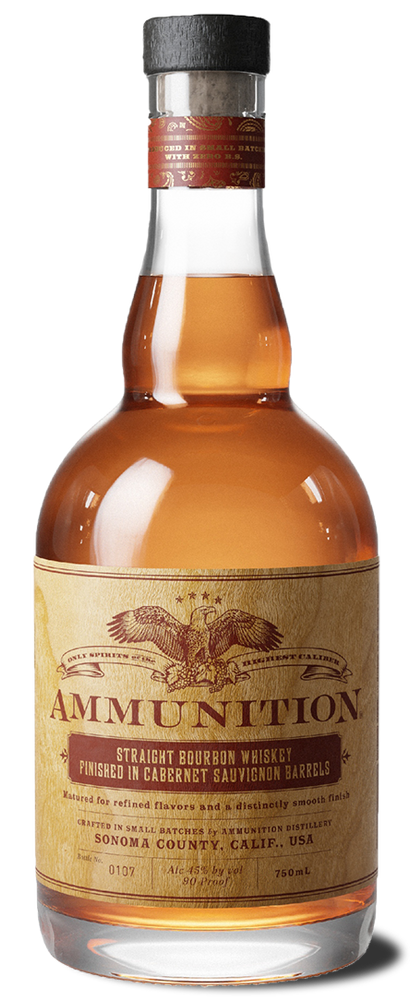 Daylight Wine & Spirits, one of Sonoma county's fastest-growing independent wineries, is going all-in on its Ammunition Straight Bourbon whiskies.
Daylight founder and winemaker, Andy Wahl, takes a winemaker's approach to the whiskies, quite literally. Ammunition Straight Bourbon Whiskey is produced in small 2, 3, and 4-year-old batches and finished in French Bordeaux wine barrels, which once held Ammunition's very own Sonoma Cabernet Sauvignon.
The unique marriage between bourbon finished in wine casks paired with the relentless pursuit of independence and appreciation that true mastery requires a little ammunition, enter Ammunition Wine & Whiskey
The bourbon is a blend of 2, 3, and 4-year-old Bourbon finished no less than 3 months in wine barrels which previously held several vintages of Ammunition Sonoma Cabernet Sauvignon. This unique process imparts sweetness and tannin unlike that of any other bourbon. You can smell it on the nose and see it with your eyes.
TASTING NOTES:
Dark amber in color, you can expect notes of caramel, butterscotch with a finish of vanilla, and a hint of richness courtesy of the Cabernet Sauvignon French Oak casks.
Special mash bill of 60% Corn, 25% Wheat, 10% Rye, 5% Malted Barley.
Click here for more Bourbon Flight news.